Japan, U.S. amid global disarray / U.S. gives economic engagement in Asia another try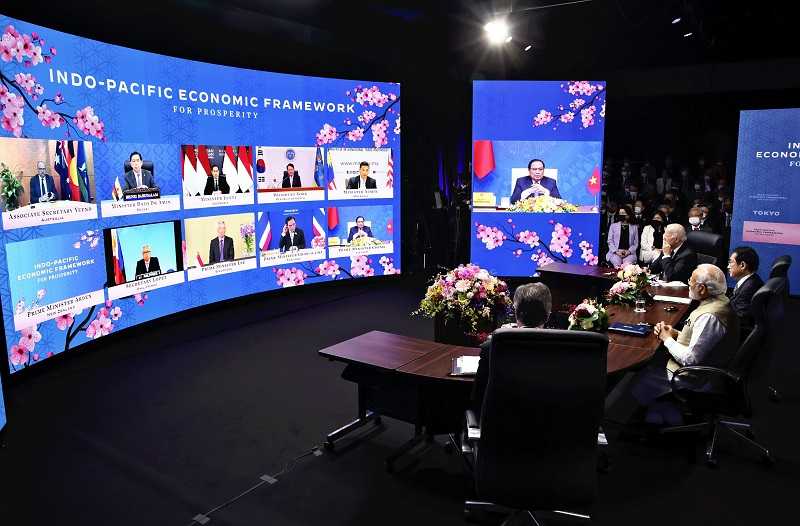 7:00 JST, May 29, 2022
Prime Minister Fumio Kishida has wrapped up a busy few days for Japanese diplomacy. Kishida met with U.S. President Joe Biden, who was on an official trip to Asia, and hosted a Quad summit with Biden and the leaders of Australia and India. These meetings came as the international order is being shaken by Russia's invasion of Ukraine and other events. This is the second of a three-part series exploring some of the challenges confronting Japan.
As he sat down next to Prime Minister Fumio Kishida and Indian Prime Minister Narendra Modi at a meeting to launch the 13-nation Indo-Pacific Economic Framework in Tokyo on Monday, U.S. President Joe Biden spelled out what the leaders were embarking on.
"We're writing the new rules for the 21st century economy," Biden said at the meeting held in an event hall in the Roppongi district of Tokyo.
Five years have passed since the administration of then U.S. President Donald Trump announced the United States was pulling out of the Trans-Pacific Partnership trade agreement. Now, Washington has changed tack and is reasserting its economic involvement in the Asia-Pacific region. Concerns over China's emergence are a major factor behind this shift.
Two major economic frameworks started in this region while the United States was absent. The TPP came into force in December 2018, and the Regional Comprehensive Economic Partnership — whose participants include Japan, China and members of the Association of Southeast Asian Nations — did so this January.
The United States is not involved in either of these frameworks. Washington decided to launch IPEF because standing idly on the sidelines would allow China's influence in the region to grow stronger.
Unlike the TPP and RCEP, IPEF does not seek to lower tariffs. Instead, IPEF aims to establish rules in four area: facilitating trade, including cross-border data flows; strengthening supply chains; decarbonization and infrastructure; and tax and anti-corruption.
Each nation can choose one or more of these areas they would like to participate in. IPEF prioritizes bringing in many countries over realizing lofty ambitions. This has resulted in 13 nations, including South Korea, India and Indonesia, participating in the framework.
Many challenges remain. The scope of the economic impact IPEF could achieve remains unclear because it does not involve negotiations on tariffs.
"Each nation has different motives," said Toru Nishihama, chief economist at Dai-ichi Life Research Institute. "The hurdles to making this an effective economic partnership are high."
Even so, the fact that the United States has returned to the table is hugely significant. At a press conference Monday, Kishida said Japan "highly" values the U.S. posture that indicates a deeper interest in the Indo-Pacific region from an economic perspective and demonstrates enhanced engagement in this region.
Biden's Democratic Party is expected to face an uphill battle in midterm elections scheduled for November, as approval ratings for his administration remain low. It remains uncertain whether IPEF would be maintained if the 2024 U.S. presidential election ushers in a new administration. Japan will need to continue serving as a bridge between the United States and ASEAN and lead the way toward effective economic cooperation.