Japan, U.S. amid global disarray / Defense budget boost becomes Kishida's 'international pledge'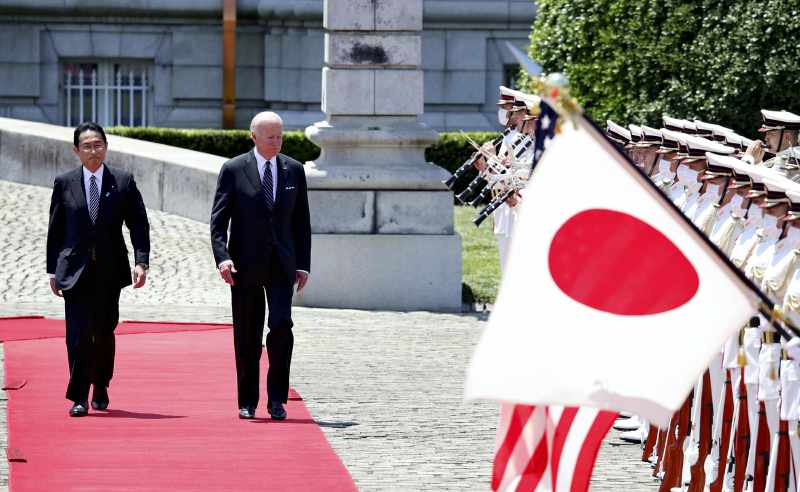 21:00 JST, May 27, 2022
As Joe Biden and Fumio Kishida were having dinner in a room at the luxurious Happo-en garden estate in Minato Ward, Tokyo, on Monday, a hanging scroll caught the U.S. president's eye. As Kishida's wife, Yuko, served Biden a cup of tea, she explained the meaning of the word — senri dofu — written on the scroll.
"It means that no matter how far apart people are, if they understand each other's feelings, the same wind will carry them and they will reach the same place," Yuko said. "Japan and the United States might be geographically distant, but we share universal values and have the same spirit."
Biden seemed deeply impressed by the explanation. "That's a nice story," he reportedly said.
The first full-fledged talks between Kishida and Biden deepened their relationship of trust. In addition, both leaders agreed to bolster the Japan-U.S. alliance and strengthen its deterrence and response capabilities. This comes at a time when Russia is pushing ahead with its invasion of Ukraine, and China is taking increasingly hegemonic actions. Kishida declared his determination to secure a "substantial" increase in Japan's defense budget, a move that even some members of the ruling parties oppose. Kishida also told Biden he is considering possessing — for self-defense purposes — counterstrike capabilities against facilities including enemy bases that launch missiles at Japan.
Biden replied that the United States will absolutely fulfill its commitment to defend Japan. The president even stated the United States would get involved militarily to defend Taiwan. This remark infuriated China, and the U.S. government scrambled to defuse the situation by saying there was no change to conventional U.S. policy on Taiwan. However, Biden did not retract his comment. Some observers have suggested Biden was emboldened by Kishida's strong resolve on defense issues.
Kishida has started making moves to implement his own statement, which has become an "international pledge."
Following this summer's House of Councillors election, key items on Kishida's to-do list before the end of this year include work to compile next fiscal year's draft budget and the revision of three key documents, including the National Security Strategy. Kishida intends to push on with efforts to give concrete shape to the "substantial" increase in the defense budget and possession of counterstrike capabilities. However, there will inevitably be discussions over where the funding for this defense budget increase will come from, and compiling a priority-based budget will be essential.
Japan's neighbors continue to take provocative actions. Russian and Chinese bombers made a joint flight in airspace near Japan on Tuesday, and North Korea fired several ballistic missiles Wednesday. Although the Japanese public is becoming increasingly understanding of the need for strengthened defense capabilities, Kishida's strong leadership and ability to provide clear explanations will be tested so that talks of such steps becomes more specific.]
Add TheJapanNews to your Google News feed.