Digital torrent / Japan's growing array of data centers present a matter of national security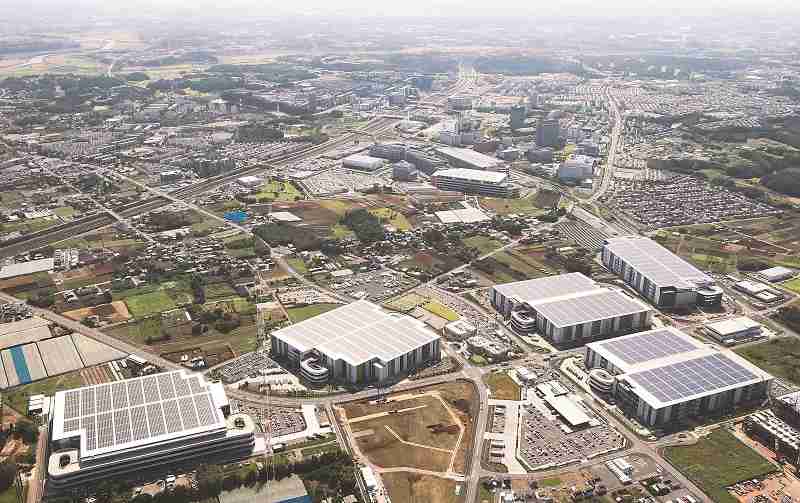 17:38 JST, September 13, 2021
Data centers have been cropping up amid the fields and suburbs of Inzai, Chiba Prefecture, site of the old Chiba New Town development project roughly 40 kilometers from Tokyo Station.
The boxy architectural behemoths are brimming with storage servers and telecommunications equipment — although one would be hard pressed to tell, given the buildings' conspicuous lack of windows.
"They've appeared out of nowhere over the past two, three years," said a local resident, looking up at the towering new additions to the skyline.
Large-scale data centers have been drawn to Inzai for its relatively close proximity to central Tokyo, plus the solid footing of the Hokuso plateau for resilience in the event of natural disaster.
With these large-scale centers has come sprawling powerlines and telecommunications networks, fueling the rapid development of even further data centers in the area.
Amazon.com data reportedly courses through one building in the center, and construction is underway on a new facility assumed to be for Google. Many companies are loath to disclose the specific locations of their data centers, citing security concerns.
However, Daiwa House Industry Co. has said it is working to construct up to 15 data center buildings in the area.
As Kazuki Inoue of the company's construction division explained: "Data centers now play a critical role in society; demand for this infrastructure will continue to grow."
Zettabytes
The smartphones and myriad other devices carried around in pocket are constantly mapping the wide spectrum of human behavior as digital zeros and ones.
When analyzed with artificial intelligence, this data gains new meaning and value.
A report by a U.S. firm predicts that by the year 2025, the amount of data generated annually across the globe will reach 175 zettabytes. "Zetta" means sextillion. In other terms, global data output will equal 175 trillion, two-hour-long films.
Data has been called the new oil in the 21st century.
The handling of this intangible and invisible yet invaluable asset will be a great task for our time — one that will affect the fates of companies and entire nations.
This spring, it was revealed that KDDI Corp. had outsourced the management of some user information to a contractor in the United States, which stored the data on a server in Hong Kong.
Although there was no impropriety in how the data was managed, Beijing's strengthening grip on Hong Kong prompted KDDI to preemptively pull its data from China entirely.
Security breaches also became an issue for Line Corp., after it surfaced that data from users of its ubiquitous free messenger app was accessible to Chinese contractors.
Tighten the lasso
Many nations, particularly emerging economies, are now moving to corral their data.
Indonesia currently regulates the transfer of data overseas, and India has been considering similar measures.
China's increasingly stringent controls on data have raised alarm among the international community. Jones Lang LaSalle Inc. (JLL), a Tokyo-based real estate services company, has been fielding a growing number of inquiries from companies in the West and Asia, shopping for land plots suited to building data centers.
According to the company, there has been brisk interest in relocating stored data from Hong Kong to Japan.
"Japan is attractive because it has less geopolitical risk," said Fuminori Asaki, a senior director at JLL.
Japan is home to the second-largest number of data centers in Asia, second only to China. Even so, the total floor space of all such facilities in Japan is a paltry one-fourth of those in China.
Data centers have an insatiable thirst for electricity. As companies worldwide step up their decarbonization efforts, Japan has been hamstrung by high electricity costs and a lopsided reliance on thermal power plants.
And in the words of Takushoku University Professor Heigo Sato, "When it comes to data, crisis management is a matter with a direct connection to national security."
Add TheJapanNews to your Google News feed.