Digital torrent / Japan aims for a comeback in digitization race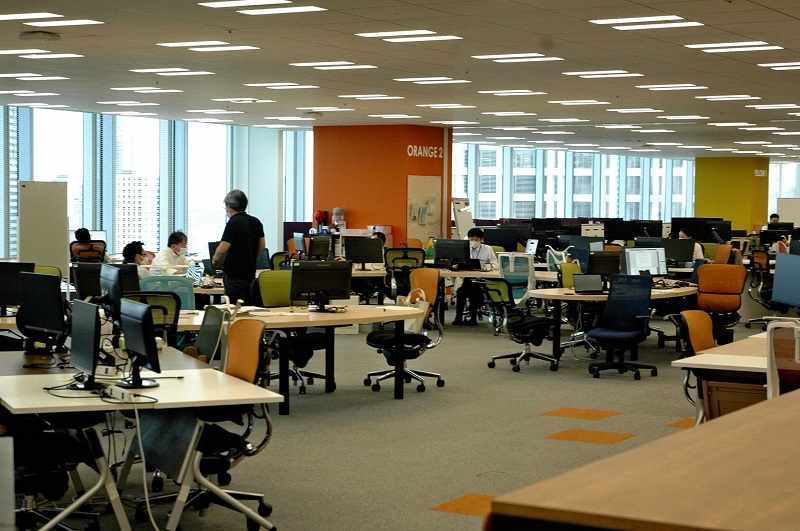 19:38 JST, September 11, 2021
The Digital Agency was launched on Sept. 1 to remedy Japan's slow progress in digitizing its society, a serious issue as the country lags behind other advanced nations. With the birth of a new government agency, attention is focused on whether the country can break out of a seemingly hopeless situation. Factors, such as the rise of IT giants, have brought about a sea change in the global economic environment. Part 3 of the ongoing Yomiuri Shimbun series "Digital Tech Rushes Forward" examines the changing structures in our society.
The offices of the Digital Agency in a building complex located in Kioicho, Tokyo, look like an IT company workplace.
In late August when the agency was preparing for its launch, online conferences were being held everywhere. Some staff members were wearing T-shirts and standing around while working with computers.
"We've gathered a highly skilled staff, including engineers specializing in data design and application development," said Masaki Saito, a 37-year-old official in charge of personnel affairs.
The Digital Agency has been established as part of the "digitization of administrative procedures," a centerpiece policy of Prime Minister Yoshihide Suga's administration. To the public, the most tangible work the agency will do is implementing measures related to the My Number personal identification system.
Taking effect in 2016, My Number is a system in which a 12-digit number is assigned to every resident in Japan. So far it has mainly been used for administrative procedures in three areas: taxation, social security administration and disaster response.
At the top of the agency's to-do list is to fully expand the use of IC chip-equipped Individual Number Cards to serve as health insurance cards, slated to start in October.
"It used to take quite a while to manually input the information on the health insurance card into the computer system," said Yosuke Toyoda, a 51-year-old pharmacist at Sanae Yakkyoku, a pharmacy in Adachi Ward, Tokyo. "But [with Individual Number Cards,] that information is read instantly."
Sanae Yakkyoku adopted the system in March, earlier than other pharmacies.
If a person has their Individual Number Card read at a terminal and their identity is confirmed via facial recognition, such personal data as their name, date of birth and health insurance card number will be entered into a computer. From October onward, other functions will be added, reportedly including one that can check a person's prescription medication record.
Within fiscal 2022, if a person has bank account information registered on the card's designated website Mynaportal, they can automatically be paid public benefits in times of disaster. Residents will also be able to carry out administrative procedures via smartphone.
The integration of Individual Number Cards and driver's licenses is planned to start at the end of fiscal 2024.
Low rank
Japan has lost the race to digitize its society over the past two decades.
In 2001, Prime Minister Yoshiro Mori's Cabinet spelled out the "e-Japan strategy," which aimed to digitize administrative services. In 2003, the government set up the Basic Residents' Registration Network, known colloquially as Juki Net, and started to issue Juki Cards that contained personal information.
The card was originally envisioned as an official ID card that could be utilized for various purposes, such as filing tax returns online. However, issuance stopped at the end of fiscal 2015. The card's penetration rate at that time was a mere 5.6%.
Digitization of administrative procedures has made little progress since then.
According to a survey conducted by the Organization for Economic Cooperation and Development, the online use of administrative services in Japan was just 7.9% in 2019, the lowest among the 29 countries polled.
Snail's pace
The propagation of Individual Number Cards holds the key to the success of the Digital Agency.
Both the central and local governments have been touting the system's various benefits and calling on people to obtain a card.
However, the campaign has not been going well. The central government has set a target of having most people get a card by the end of fiscal 2022, but the acquisition rate stood at 37.4% as of Aug. 26.
"The situations in which the card can be utilized have been limited so far, and there's been little inconvenience in people's daily lives from not having the card," an Internal Affairs and Communications Ministry official offered as the reason why the card has not been embraced.
But that is not the only reason. The public is concerned about the management of personal information.
In fiscal 2020, the Personal Information Protection Commission received reports of 132 cases in which the cards were used inappropriately by the central or local governments, exceeding 100 cases a year for the fifth consecutive year.
Also, an incident occurred in Kanagawa Prefecture in which hard drives with My Number information on them were resold through an online auction.
"The card hasn't become popular because public trust in the government is low," said Yukiko Miki, managing director of an organization advocating freedom of information. "As there is concern over the use for unintended purposes, the government must properly explain the purpose of the cards and the measures taken to prevent personal information from being leaked."