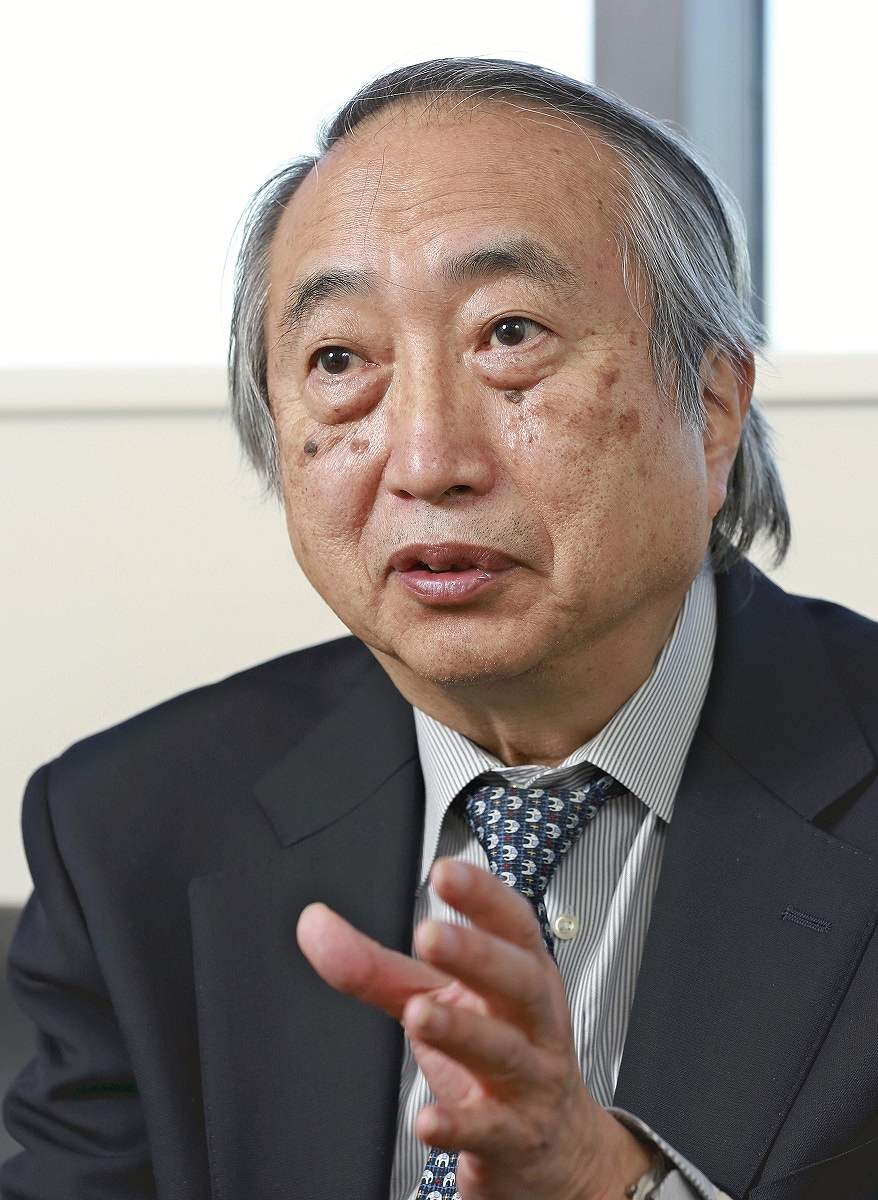 11:30 JST, January 12, 2021
This is the fifth installment of a series in which intellectuals share their thoughts on political issues the administration of Yoshihide Suga will tackle this year. For this installment, The Yomiuri Shimbun interviewed Nobuhiko Okabe, special advisor to the Cabinet. The following is excerpted from the interview.
Since mid-March, I've been called in by Prime Minister Yoshihide Suga [then chief cabinet secretary] to have face-to-face talks on measures to deal with the novel coronavirus. Because I am also a member of the government's subcommittee on measures against the virus, I believe my role is not only to express my opinions but also to convey directly to the prime minister, like an interpreter, what the subcommittee is discussing.
Due to an increase in the number of infected patients, the medical system in the Tokyo metropolitan area has become strained. The important thing is to maintain a situation whereby people can receive medical care in general. A situation must be avoided in which patients who can be treated in normal times cannot be treated.
Compared with the initial phase of the pandemic when we didn't know well what we should do, we have come to know quite a lot about this virus and the disease caused by it.
Variants of the coronavirus have been confirmed in Britain, South Africa and elsewhere. It is quite natural that over time a virus undergoes mutations both major and minor. While these variants are considered to be more easily transmitted, there is no evidence to suggest they cause serious illness. We have become able not only to detect minute changes in the virus but also to predict changes that could soon occur. Nevertheless, we must continue to watch it carefully.
Vaccines are crucial tools for containing infectious diseases. In the old days, it was not surprising if it took more than 10 years for a new vaccine to be developed. So, it can be considered a marvel of science that we have reached the phase of mass production of coronavirus vaccines in less than a year. However, unless we obtain lots of data, we cannot make a detailed analysis of their efficacy and safety. We have to take a long-term view of the vaccines calmly, without being overly optimistic.
■ Observe public hygiene basics
As the amount of information in our society has increased, it has become ever more difficult to distinguish between correct and dubious information. The principle for dealing with infectious diseases is that, until the vaccines and wonder drugs become widely available, it is important to follow the basics of public hygiene: wearing masks, washing hands frequently and social distancing.
European and North American countries appear to be managing to maintain their medical systems even with their resources almost reaching their limits while people are forced to lead uncomfortable daily lives. In comparison, Japan is in a better situation.
The government handled the coronavirus well up to a certain point, but it was unable to contain infections last year. This is unavoidable in some respects because taking tougher measures can cause more negative effects such as an adverse economic impact. We won't know for a little while whether the measures taken to cope with infections are appropriate or not.
■ Virus spreads with people
It is a truth that the risk of an infectious disease spreading increases as people move. I believe the government's Go To Travel tourism promotion campaign helped many people, but when the number of cases starts rising again, such a campaign should be suspended from the standpoint of preventing infections from spreading further. Decisions sometimes have to be made even if there is not enough substantial evidence.
Some have criticized suspending the Go To Travel campaign for the entire nation, describing it as "too abrupt." The subcommittee had proposed that the government should consider a temporary suspension of the campaign if the outbreak becomes even more serious. It seems that when the campaign was launched, the government should have decided on how to temporarily suspend it.
■ Profile
Nobuhiko Okabe, 74, special advisor to the Cabinet
Born in 1946 in Tokyo, Okabe graduated from the Jikei University School of Medicine. He served as an assistant professor at the school's pediatrics department and as the director of the Infectious Disease Surveillance Center of the National Institute of Infectious Diseases. Currently, he is director general of the Kawasaki City Institute for Public Health. His specialties are pediatrics and measures against infectious diseases. While serving as a member of the government's subcommittee on measures against the virus, Okabe was appointed special advisor to the Cabinet in October.
— This interview was conducted by Yomiuri Shimbun Staff Writer Kazunori Hakkaku.
Add TheJapanNews to your Google News feed.