New Year's Outlook: Tokyo Games Provide Light in Uncertain World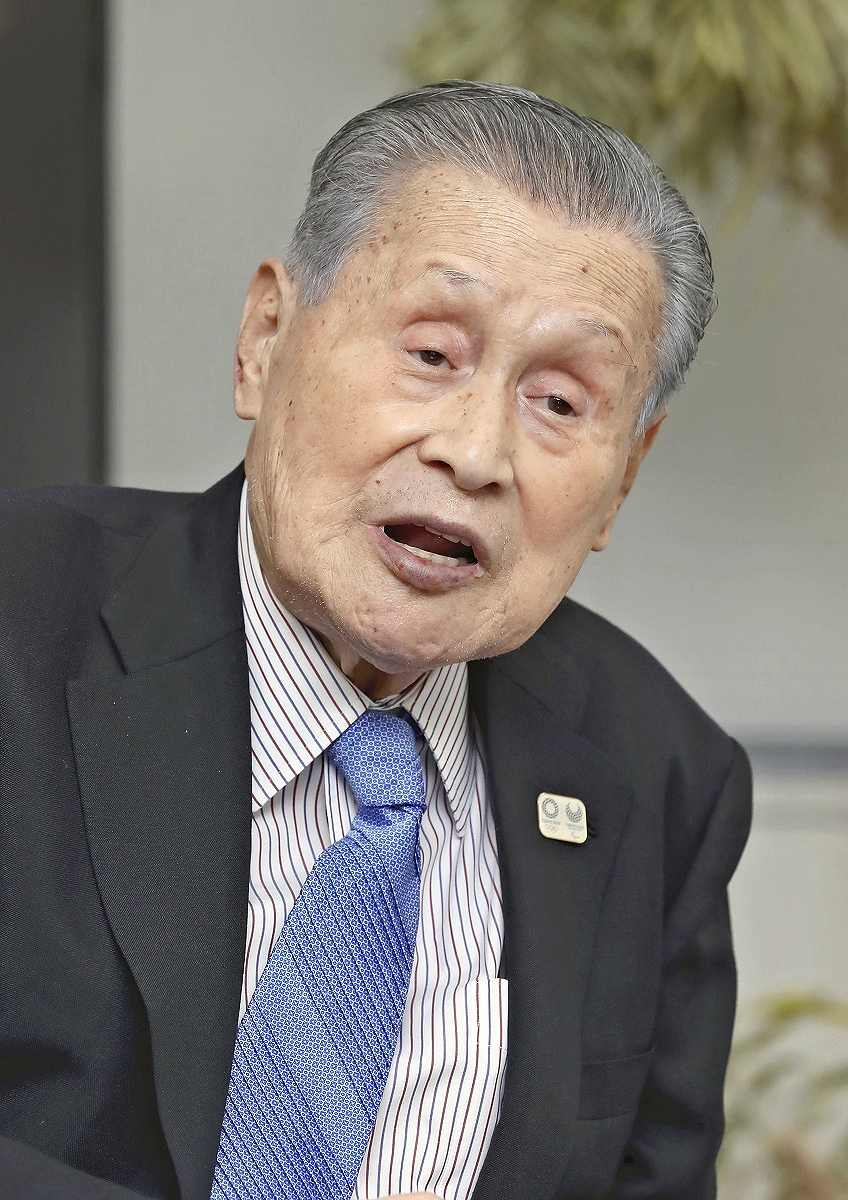 8:04 JST, January 8, 2021
How is Prime Minister Yoshihide Suga's Cabinet planning to lead Japan in 2021? In this series, intellectuals share their thoughts on political issues the administration will tackle this year, ranging from novel coronavirus countermeasures and the Tokyo Olympics and Paralympics, to diplomacy and security. For the first installment, The Yomiuri Shimbun interviewed Yoshiro Mori, former prime minister and president of the Tokyo Organizing Committee of the Olympic and Paralympic Games. The following is excerpted from the interview.
At any cost
It is difficult to decide what kind of event we want to make the Tokyo Olympics and Paralympics. In a time like this with so many uncertainties, everyone was saying it would be all right once the new year arrived, but with decisions regarding spectators to professional baseball games still unclear due to the coronavirus, I understand that it is a difficult time for anyone to make plans.
International Olympic Committee President Thomas Bach said [when he visited Japan last November] that a time like this will be a springboard for a new era. Regarding the work of the Tokyo Organizing Committee of the Olympic and Paralympic Games, Bach said it showed "a light at the end of the dark tunnel" when everyone was stuck in this uncertain, unstable situation, not knowing when they would get out of it.
I believe if we all work together to reach the exit [which is the opening of the Tokyo Games], a new era will eventually come. That's how I feel.
That's why we really need the public's understanding. Looking at public opinion polls, everyone is in favor of holding the Olympics, but when it comes to individual issues, various opinions emerge, from what will happen to Games spectators to the situation if the virus is not contained. There are still problems to be solved, but I believe what is required now is to move forward with the determination to solve them.
Those in a position to make the Games happen must move forward with strength. We must never hesitate or show any doubt. Let's continue to move forward. Right now, I feel like we're trying to score a try in a rugby match no matter what.
Entry conditions for athletes, staff and the media were discussed in compiling the interim report of the government's coordination meeting for COVID-19 countermeasures. The most difficult part is how to handle spectators, but this is something we can talk about a little further down the road, and right now there is no need to simulate an event with no spectators at all, or even what percentage of the capacity will be used.
The Games will begin in July, so if we keep an eye on the situation until around spring, we can grasp the latest situation at home as well as how things will turn out abroad. Depending on the situation, things will change. Right now, I think it's natural to have spectators for all the events.
Pledging safety, security
We are proceeding with the necessary virus measures in the way that has been decided. Regarding those who enter Japan, including athletes, it is necessary to create an environment to keep track of information such as where they go. On the technical side, there are almost no problems, as experts are studying various approaches using smartphones and other methods. As the host country, we should do this as a matter of course because we have pledged safety and security to the world, not only measures against the coronavirus.
There have been times when the Games were canceled due to war, but this is the first time that they have been postponed. The world has become so uncertain that there is no guarantee that the Games can be held every four years. Therefore, I think the Tokyo Games will be the Olympics that proves that even if they are postponed, they can still be held.
Japan has an interesting kind of circular luck that keeps returning. The first Olympic bid in 1940 was to show the world that Japan had recovered from the 1923 Great Kanto Earthquake, but it was canceled due to World War II.
By hosting the postponed Olympics, Japan intended to show our gratitude for the sympathy and help from rescue teams and others that we received from all over the world when we were devastated by the Great East Japan Earthquake, and also to cheer up people in the affected areas in the Tohoku region. From there, the purpose has expanded to dedicate the Games to everyone in Japan, not only the people in the Tohoku region, because the country has experienced a number of disasters.
In the wake of the Great East Japan Earthquake, many more people have taken up volunteer work for various causes, and as a result, what we call a volunteer culture has taken root in this nation. I think this is a big thing.
Because of the one-year delay, I thought the number of volunteers for the Games would decrease significantly, but it has hardly dropped. There are still many people who want to volunteer. The last time the Olympics were held in Tokyo in 1964, the reconstruction of Japan was said to have gotten off to a strong start in the economic and industrial sectors, among other fields. I think things have changed since then and now we're helping each other, cooperating and sharing values. I hope the Games will be an event that shows our colors.
Focus on athletes
Athletes are the main part of the Games. It's been about seven years since the organizing committee was formed, and we've spent a lot of time with them over a long period. So I know that nobody is as hard-working as them and how disappointed they were when the postponement was decided. They have all worked so hard together even when it was very difficult for them to take part in competitions.
Various competitions such as swimming and track and field are scheduled to be held, and it is just so amazing to see how hard all athletes work. They are so immersed and keep their spirits so high that I am worried how they will perform in the actual competitions. There is something wonderful about sports that lifts their spirits so high. The power of sports is that it gives this wonderful thing to many people and moves everyone.
When I watch the Paralympics, I truly admire the athletes as they are really working hard. So our biggest task is to make sure that the Games go smoothly for participating athletes.
When I first took on the role of organizing committee president, I was already in poor health, so I told [former Prime Minister] Shinzo Abe that it would be just about time for him to assume the post when his second term [as Liberal Democratic Party president] is over, and he resigns from the prime ministership. I had been trying to hang in there until then.
My condition was at its worst around the 2015 Rugby World Cup in England. I had surgery for lung cancer, but I didn't get better. The doctor told my wife that I would be around only until the end of the year. After I came back from the World Cup, I was able to use [the anticancer drug] Opdivo, and thanks to that, I am still alive. I am grateful for that, but because I was given the chance to live, I feel I must do my job properly, and I believe that's my destiny.
Profile
Yoshiro Mori, 83, former prime minister, president of the Tokyo Organizing Committee of the Olympic and Paralympic Games
Born in Ishikawa Prefecture in 1937 and graduated from the School of Commerce at Waseda University. Serving 14 terms in the House of Representatives, he was the 85th and 86th prime minister. He formerly headed the Japan Sports Association and the Japan Rugby Football Union.
Add TheJapanNews to your Google News feed.