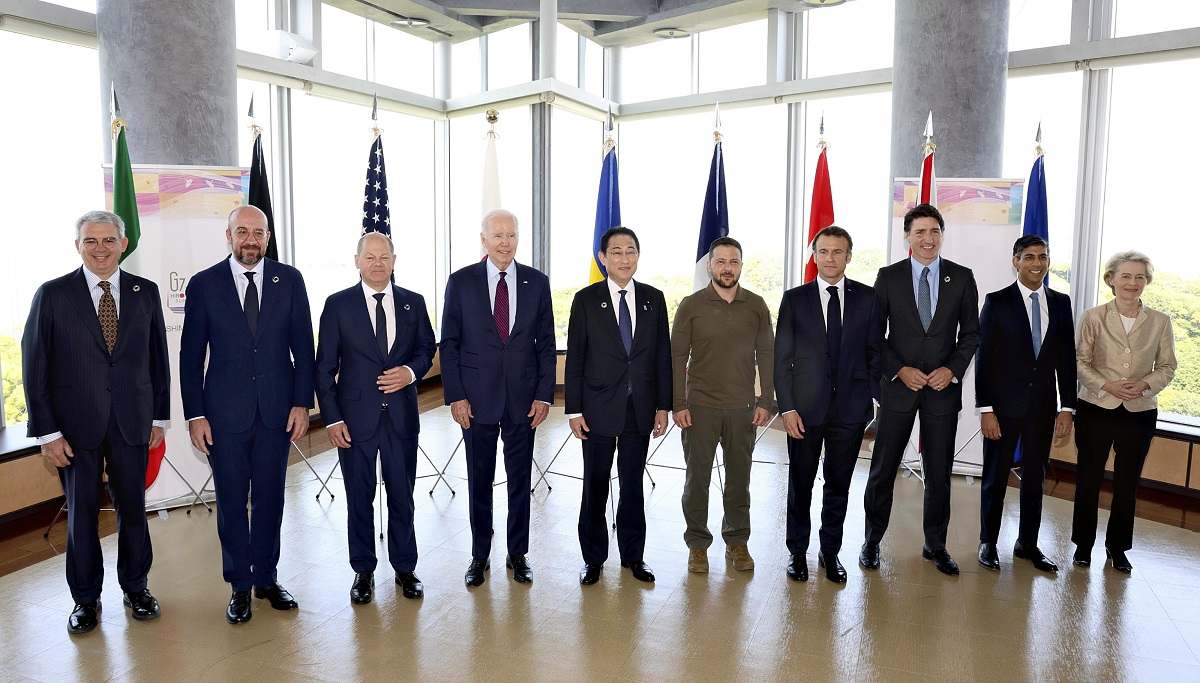 17:16 JST, May 22, 2023
The Group of Seven summit in Hiroshima has produced a number of achievements that could serve as a turning point in rebuilding the international order, of which the very foundations are being shaken by Russia's invasion of Ukraine.
Just as the member states were beginning to show support fatigue for Kyiv, the participation of Ukrainian President Volodymyr Zelenskyy in the G7 gathering reaffirmed the leaders' determination to continue their assistance until the Ukrainians win the war.
This has been symbolized by the G7's policy of providing F-16 fighter jets to Ukraine. The deployment of the aircraft will likely change the tide of the ongoing war and be conducive to helping secure long-term peace in Ukraine.
Zelenskyy, the president facing Russia's aggression and threat of nuclear weapons, and the G7 leaders gathered in the atomic-bombed city of Hiroshima and pledged peace by sharing that they will never tolerate the use of nuclear weapons or any attempt to change the status quo by force. This will definitely go down in history.
It will also have great significance for Japan, which is holding China and Russia in check, and its security has been under increasing pressure from them.
In recent years, the solidarity of the G7 alone can no longer sustain global peace and prosperity. Many developing and emerging countries collectively known as the Global South have been gaining economic weight and have adopted a neutral stance toward Russia's aggression against Ukraine. These circumstances are preventing the G7-led sanctions against Moscow and the attempts to diplomatically isolate Russia from being effective.
For the G7 summit to continue to play a leading role in the world order, it is vital that the bloc evolves in a way that strengthens its ties with the Global South.
India and other invited countries joined the discussion on global peace and stability on Sunday. Previously, most discussions were held in such a way that the G7 nations were mainly considerate of developing countries, thus this is said to be an unprecedented attempt for the G7 to bring the major Global South countries onto the side of supporting the international order.
What is important is to make this framework, which could be called "G7-plus," take root and lead to concrete action. Since the end of World War II, Japan has built good relationships with many Global South countries through development assistance and other activities. Japan needs to continue to play a role as a bridge between the G7 and these countries after the summit.
Add TheJapanNews to your Google News feed.