G7 Hiroshima Summit ― Ongoing Crisis / Ukrainian Student Learns From A-bomb Survivor in Hiroshima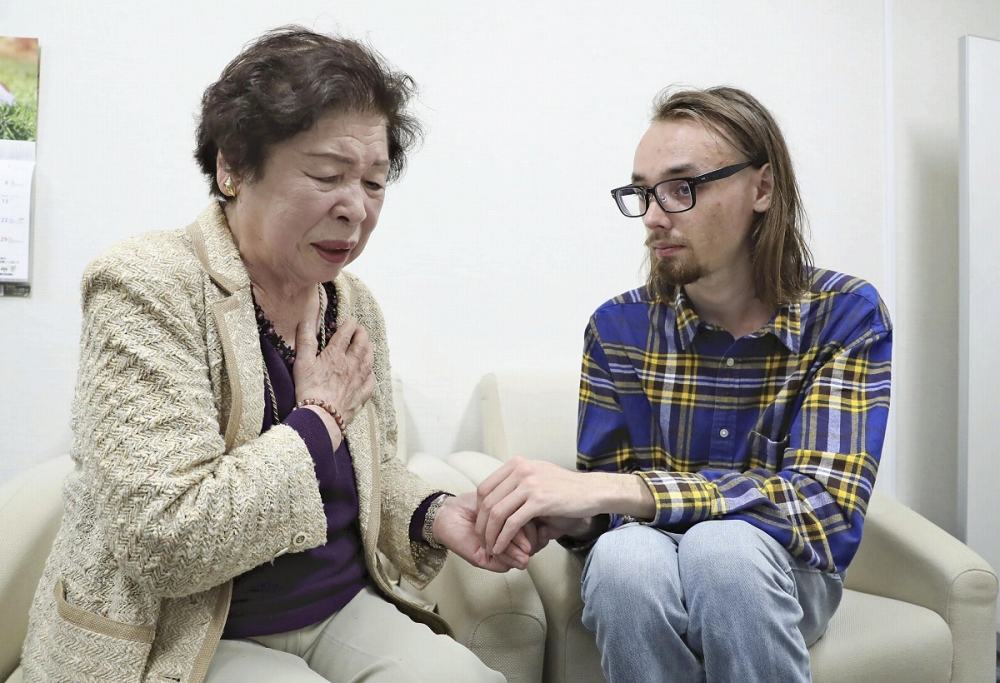 20:00 JST, May 5, 2023
Japan is set to host a Group of Seven summit in the atomic-bombed city of Hiroshima later this month, amid concern over a rising threat that nuclear weapons could be used again. This is the first installment in a series focusing on what can be learned from atomic bomb survivors and others, while considering the ideals and realities of trying to achieve nuclear abolition.
***
HIROSHIMA — A Ukrainian student in Hiroshima said he hopes world leaders will have an opportunity to speak to atomic bomb survivors and work toward a world without nuclear weapons when they visit the city later this month for the G7 summit.
Anton Kudriavtsev, 23, who moved to Hiroshima to escape war in his country, visited the Hiroshima Peace Memorial Museum in Naka Ward for the first time last month.
The facility details the consequences of the atomic bombs dropped by the United States during World War II.
Browsing the exhibition items, including a charred lunchbox and a photograph of a soldier with purple spots all over his face, Kudriavtsev stopped in front of a display showing male junior high school students' tattered clothes. "The boys must have had so many things they wanted to do," he said.
Kudriavtsev said he saw some similarities between what happened in Hiroshima 78 years ago and what is now happening in his war-torn home country, where lives continue to be lost.
Kudriavtsev, who left Ukraine in August, is currently a foreign research student at Hiroshima University.
For Kudriavtsev, the atomic bombing of the city was something that had taken place in a faraway country. However, the event has taken on new meaning following Moscow's invasion of Ukraine and repeated suggestions by Russian President Vladimir Putin that his country could use nuclear weapons.
The leaders taking part in the G7 summit talks from May 19 are scheduled to visit the museum.
"I believe the world leaders will realize the devastating consequences of nuclear weapons and their potential to destroy everything instantly," Kudriavtsev said. "I hope the summit talks will help put an end to Russia's aggression and contribute to restoring peace."
Kudriavtsev visited the museum on April 16 to learn about the damage caused by the atomic bombing. "I have to see the true reality of nuclear weapons at least once," he recalled thinking to himself.
On Aug. 6, 1945, the Enola Gay, a B-29 bomber, dropped an atomic bomb on Hiroshima that exploded about 600 meters above the ground. The ground surface temperature at the blast center was estimated to have reached 3,000 C to 4,000 C, razing buildings within a 2-kilometer radius. It is thought that about 140,000 people had died by the end of 1945 due to the bombing.
As of March last year, the number of living atomic bomb survivors totaled 118,935 — including survivors of the bombing of Nagasaki. Many of these individuals suffer from the aftereffects of radiation exposure.
Prior to moving to Hiroshima, Kudriavtsev had lived with his parents and younger brother in the western city of Lviv, which was bombarded following the Russian invasion that began in February last year.
Russia attacked a Ukrainian nuclear power plant and even threatened the world with the possible use of nuclear weapons. This angered and terrified Kudriavtsev.
At that time, Kudriavtsev was studying engineering at Lviv University and aspiring to become a researcher. He graduated from university last June but was worried about inadvertently becoming involved in the production of weapons or similar activities if he continued to study engineering.
As a result, he decided to change his major to geometry — a field of mathematics that had always interested him — and began searching for opportunities to study at a graduate school in his home country. However, many academic institutions were facing disruptions amid the war. While looking for opportunities at institutions overseas, he happened upon Hiroshima University, which he recalls as being very supportive. After consulting with his family, who encouraged him to pursue his studies somewhere safe, Kudriavtsev obtained permission from the Ukrainian government to leave the country.
Kudriavtsev now studies geometry at the School of Science at Hiroshima University and says he is happy he is able to stroll around the lush green campus and devote himself to his education. He is currently working hard on his Japanese skills with the aim of entering graduate school this fall.
Previously, Kudriavtsev had little in-depth knowledge of the consequences of the atomic bombing in Hiroshima. He knew only what he had learned from a history textbook when he was about 12. But with his country facing the threat of nuclear weapons, he became increasingly keen to learn about the events that unfolded in the Japanese city 78 years ago.
While at the museum, Kudriavtsev spoke with atomic bomb survivor Kiyomi Kono, 92. Kono was exposed to radiation when she went to Hiroshima a day after the atomic bombing to search for her sister. Kudriavtsev was shocked to hear Kono's tragic stories about her experiences, including encounters with people whose skin had burned off, who were screaming, "Just kill me!" She also recounted seeing the bodies of junior high school students piled up like logs on a flower bed on the grounds of a hospital.
"That's really horrible. Unbelievable," Kudriavtsev said to Kono quietly.
Kono took Kudriavtsev's hand gently and said: "I felt hopeless when the Russian invasion began. All our efforts in sharing our experiences seemed to have amounted to nothing. But I won't give up because we're the only ones who know the horror of the atomic bombing. You mustn't give up hope, either."
A meeting is being planned between the leaders who will participate in the G7 summit and hibakusha, or victims of the atomic bombings.
"Kono's stories were so vivid that I could almost see the scenes coming to life," Kudriavtsev said. "I hope the leaders will listen to the voices of the survivors and send a strong message that they will never let nuclear weapons be used."
The Hiroshima Peace Memorial Museum's collection comprises about 20,000 atomic bomb-related items and has attracted more than 70 million visitors to date. At the museum, 33 people aged 80-95 who are registered with the Hiroshima city government share their experiences as atomic bomb survivors. Kono numbers among these survivors and has played an important role in conveying the tragedy of the atomic bombing for about 20 years.
Hiroshima has been receiving increased global attention as foreign reporters begin to cover stories related to the upcoming summit talks. At the Peace Memorial Park in the city on April 25, Kono shared her experiences with 11 reporters from eight countries and regions, including France, Spain and Taiwan. As she spoke, she urged the journalists to "Tell the young people of your countries about what happened in Hiroshima." The reporters nodded in agreement, which Kono says made her feel hopeful.
Modern nuclear weapons are far more powerful than the bombs dropped on Hiroshima and Nagasaki. What would happen if nuclear powers went to war with each other? Kono believes that while in Hiroshima, the world leaders will realize the possible consequences of nuclear conflict. Kono said she would be happy to share her stories with them during the summit period if she gets the opportunity.
"I hope [the leaders] will take a step toward nuclear abolition after seeing the scars left by the atomic bombing in Hiroshima," Kono said.
Add TheJapanNews to your Google News feed.