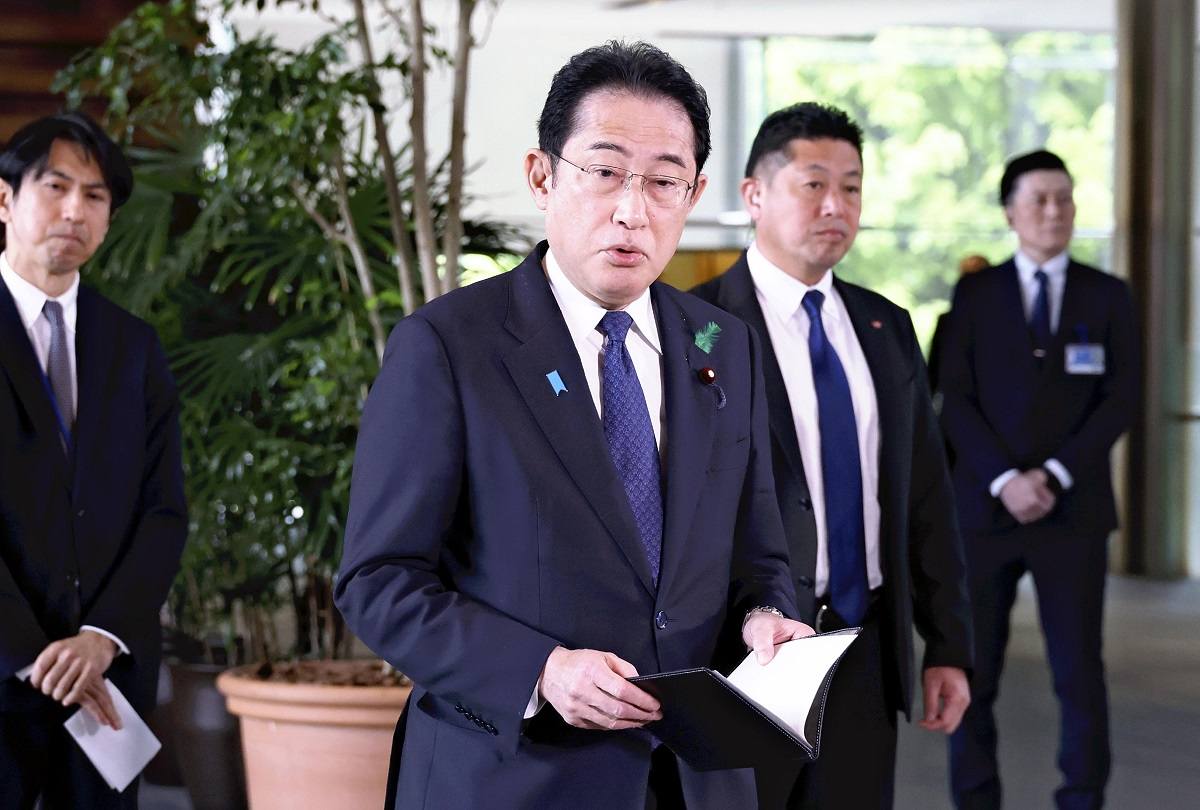 16:46 JST, April 24, 2023
Prime Minister Fumio Kishida's administration received a certain level of approval from the public as his Liberal Democratic Party won four out of five Diet by-elections Sunday.
The LDP, however, narrowly secured victory in most of the constituencies, so the party is moving to shore up its handling of Diet affairs.
In the opposition camp, the election results showed a sharp contrast between the Constitutional Democratic Party of Japan, which failed to defeat the LDP in any by-election, and Nippon Ishin (Japan Innovation Party), which rode its recent wave of success in the Kansai region to a triumph over the ruling party in Wakayama.
"We've received firm encouragement to carry through with important policies," LDP President Kishida said to reporters at the Prime Minister's Office on Monday morning. "We want to strongly advance political affairs."
While the terms of House of Representatives members ends in October 2025, Kishida was asked if he was going to dissolve the lower house.
"I'm not thinking about dissolving for a general election at the moment," he said.
In Yamaguchi Constituency No. 4, slain former Prime Minister Shinzo Abe's seat went to Shinji Yoshida. Yoshida, 38, won his first lower house seat by defeating Yoshifu Arita, 71, a candidate of the main opposition CDPJ, and three other candidates.
In Yamaguchi Constituency No. 2, Nobuchiyo Kishi, 31, won a one-on-one race against Hideo Hiraoka, a 69-year-old independent who served as justice minister under the administration led by the now-defunct Democratic Party of Japan. The lower house seat was previously held by Kishi's father, former Defense Minister Nobuo Kishi who is Abe's younger brother and had resigned for health reasons.
In Chiba Constituency No. 5, Arfiya Eri, a 34-year-old former U.N. official, secured her first lower house seat in the battle against six candidates, including former Chiba prefectural assembly member Kentaro Yazaki, 55, endorsed by the CDPJ.
In Wakayama Constituency No. 1, Ishin candidate Yumi Hayashi, 41, defeated LDP-fielded Hirofumi Kado, 57, and other candidates.
In the Oita Constituency of the House of Councillors, LDP candidate Aki Shirasaka, 56, won a one-on-one battle against Tadatomo Yoshida, a 67-year-old former upper house lawmaker fielded by the CDPJ.
After the LDP was forced to face an uphill battle in the latter three constituencies, some LDP members were cautious.
"We can't be too optimistic about the results," one veteran member said. "The administration needs to steadily build up achievements from now on."
Add TheJapanNews to your Google News feed.