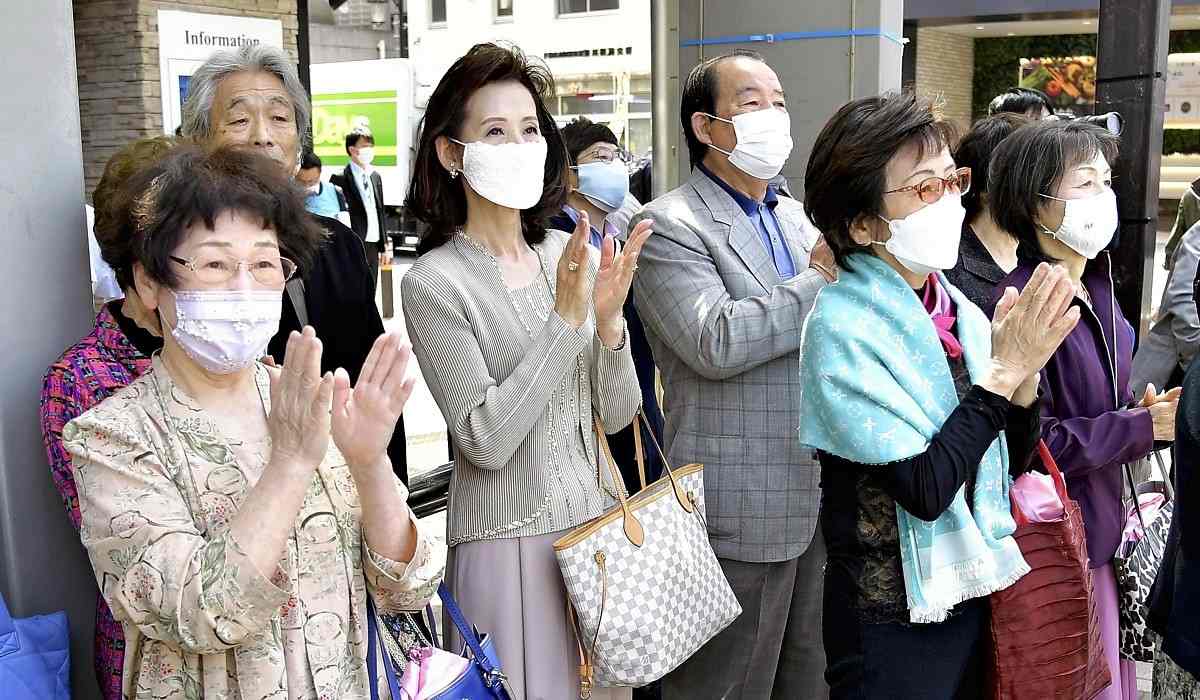 20:00 JST, April 12, 2023
With the ruling and opposition parties set for a showdown, five upcoming by-elections to fill Diet seats are seen as a prelude to the next House of Representatives race. The outcome of the by-elections is also likely to affect Prime Minister Fumio Kishida's decision over when to dissolve the lower house.
"Chiba Constituency No. 5 is seeing the fiercest contest, drawing the greatest nationwide attention," Toshimitsu Motegi, secretary general of the ruling Liberal Democratic Party, said in a stump speech in front of JR Ichikawa Station in Ichikawa, Chiba Prefecture, on Tuesday.
Motegi, standing on a vehicle, was surrounded by banners bearing photos of Kishida, who is the LDP's president, and a candidate fielded by the ruling party.
The by-election in the Chiba constituency was necessitated by the resignation of a former LDP lawmaker over a money and politics scandal. In by-elections and repeat elections held following scandals, the party to which the scandal-hit former lawmaker belonged tends to face an uphill battle.
Five opposition parties have fielded candidates, as the LDP is likely to face strong headwinds in this constituency. When campaigning for four lower house by-elections officially kicked off on Tuesday, the leaders of three opposition parties — the Constitutional Democratic Party of Japan, the Japanese Communist Party and the Democratic Party for the People — chose to visit the constituency in Chiba to support their respective candidates.
In Urayasu, CDPJ President Kenta Izumi said: "A politician who had been nurtured by the local community has caused a scandal. You must raise your voices for justice."
DPFP leader Yuichiro Tamaki stressed, "It is a prerequisite that we must not tolerate problems of politics and money."
Some LDP members are wary about the situation. "If we lose in the face of many opposition candidates, the defeat will deal a considerable blow to us," a former Cabinet member of the party said.
Can Ishin keep momentum?
In the by-election in Wakayama Constituency No. 1, there is a growing focus on whether Nippon Ishin (Japan Innovation Party) can demonstrate its strength again, repeating the leap it achieved in the first half of unified local elections, which were held Sunday. Nippon Ishin not only produced strong results in their stronghold of Osaka Prefecture, but also won the Nara gubernatorial election, marking the first time for an Ishin candidate to become a governor outside Osaka.
On Tuesday, Ishin leader Nobuyuki Baba, wearing a jacket in the party's signature yellow-green color, said during a stump speech in Wakayama, "Leave it to Ishin to bring about exciting and thrilling politics."
The LDP hopes to halt Ishin's momentum. Standing in front of JR Wakayama Station, Hiroshi Moriyama, chairperson of the LDP Election Strategy Committee, cautioned local residents, saying, "Osaka shouldn't decide Wakayama's affairs."
There will be two lower house by-elections in Yamaguchi Prefecture. The seat for Constituency No. 2 became vacant when former Defense Minister Nobuo Kishi resigned from it for health reasons, and the seat in Constituency No. 4 became vacant when former Prime Minister Shinzo Abe was murdered. As the two were both LDP heavyweights, the party must defend those seats.
The by-election in Oita Prefecture will be held to fill a House of Councillors seat that was vacated by a former lawmaker to run for Oita governor. In the by-election, for which official campaigning started on April 6, candidates officially backed by the LDP and CDPJ are having a one-on-one battle.
LDP's victory lines
LDP executives believe that in the five by-elections, three victories — in the Chiba and Yamaguchi constituencies — would be a passing grade. Four wins or more would give the Kishida administration a major boost.
In early April, the LDP anticipated that it would face a tough battle in the Chiba and Oita constituencies, and that Ishin would give it a close race in Wakayama. If the LDP scored two victories or fewer, Kishida's ability could be called into question as the party's flag-bearer in elections. Kishida is scheduled to visit Chiba and Wakayama prefectures on Saturday and Oita Prefecture on Sunday to support LDP candidates.
According to its latest projection, the LDP has seen the situation improving in all these constituencies after its ruling coalition partner Komeito announced its endorsement of the LDP candidates on April 3. On Monday, the LDP's Moriyama expressed his gratitude to Makoto Nishida, Komeito's election chief, saying, "Komeito's support is spreading steadily."
Add TheJapanNews to your Google News feed.