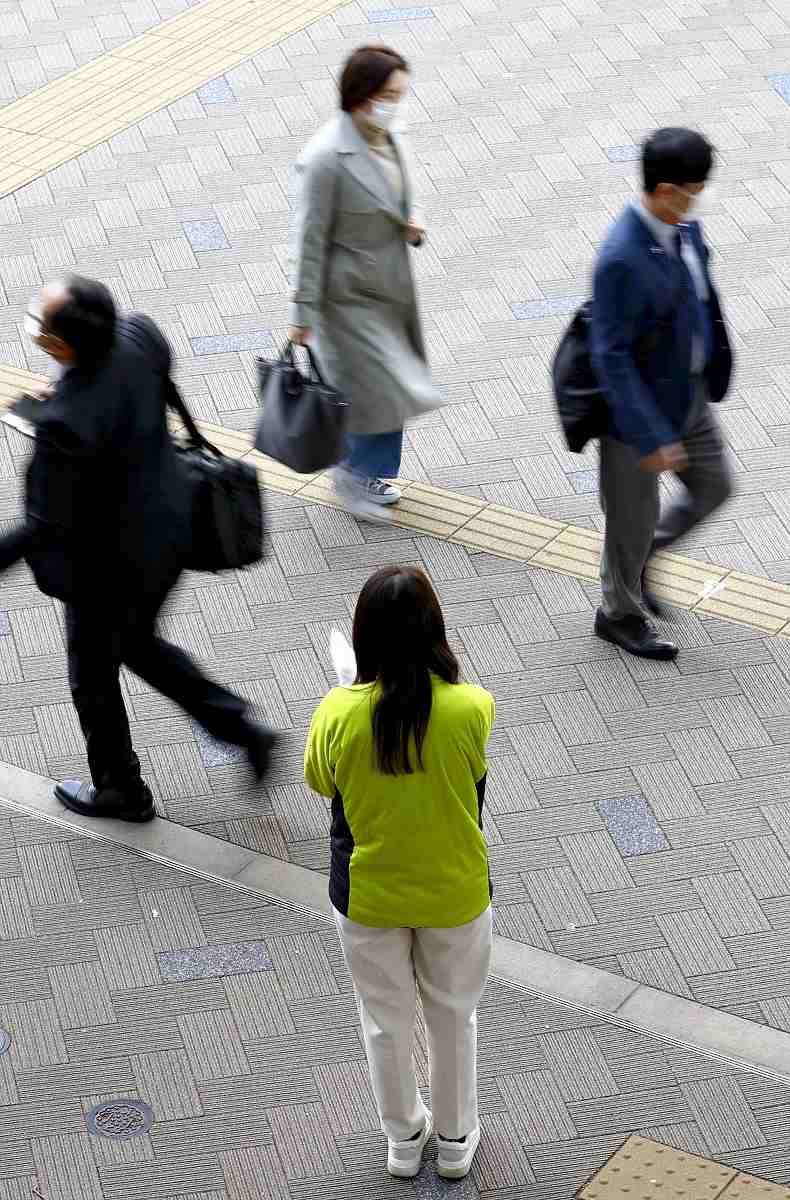 16:46 JST, April 9, 2023
An increasing number of companies are encouraging employees to run for election in local assemblies and allowing them to work after winning.
Amid a growing shortage of prospective assembly members nationwide, the central government has asked businesses to take such steps before the official start of campaigning for the unified local elections. However, these moves can also place a great burden on small and midsize firms, which are suffering from a serious labor shortage. There seems to be no easy way to secure people who wish to become assembly members.
"I want to work toward strengthening the disaster resistance of condominium buildings, for your safety and peace of mind." This was one of the statements made by a 31-year-old newcomer who plans to run for the assembly in Tokyo's Minato Ward, as she spoke to passers-by in front of JR Tamachi Station on the morning of March 29.
Campaigning for the assembly election officially starts on April 16, with voting and ballot counting on April 23.
After graduating from university, the candidate got a job at the real estate agency Cosmos Initia Co. Through her interactions with clients, she came to believe that private companies alone would struggle to solve issues involving condominiums, such as the aging of buildings and disaster prevention measures.
She has aspired to become a politician since then, but worried that her company would force her to quit if she was elected.
When she consulted with her boss in summer 2022, however, her boss proposed that she take a year's leave if she won a seat in the assembly and after that work reduced hours while serving as an assembly member.
Since February this year, the woman has been preparing to run in the election.
"I still have the option of not having to abandon the career I have built up [at the company]. That is a big source of emotional support," she said.
A member of the personnel affairs section said, "The knowledge she gains from her political activities as an assembly member would surely be helpful for our company."
Subhead: Winning uncontested seats
Elections are the foundation of democracy, but many residents have little interest in local assemblies, and in recent years there has been a serious shortage of prospective members.
According to the Internal Affairs and Communications Ministry, 26.9% of prefectural assembly members and 23.3% of town and village assembly members were elected unopposed in the last unified local elections in 2019. Both percentages were record highs.
The central government's Local Government System Research Council, an advisory body to the prime minister, submitted a report on this matter to Prime Minister Fumio Kishida in December last year. It suggested that companies be asked to create a leave system for employees who want to run for election and allow them to work and serve as assembly members at the same time.
Based on the report, in January this year, the internal affairs ministry asked three domestic economic organizations, including the Japan Business Federation (Keidanren), to help create an environment that would make it easier for people to run for office.
In March, the biotech company Euglena Co. began allowing employees who want to run for election to take leave from the day campaigning officially starts through the day of voting and ballot counting. And even if such an employee resigns after winning a seat, the company will permit them to return to work within one term in office.
Pasona Inc., a major temporary staffing agency, established in 2009 a system allowing a leave of absence for up to four years to prepare for a candidacy and to return to work even if not elected. About five people have used the system so far, the company said.
However, such efforts will result in the loss of valuable labor for companies.
At a hearing of the Local Government System Research Council at the end of last year, the Japan Chamber of Commerce and Industry said "small and midsize enterprises with a serious labor shortage feel burdened when employees leave their workplaces."
"If there is a leave system [to promote employees running for assembly seats], a diverse range of people can run in elections," said Reiko Oyama, a professor of political systems at Komazawa University.
She added: "Companies can gain a lot from their employees' political activities as assembly members. On the other hand, companies are asked to make efforts for that purpose. One possibility is to use public funds to subsidize companies that have lost labor as a result of employees running for election."
Add TheJapanNews to your Google News feed.