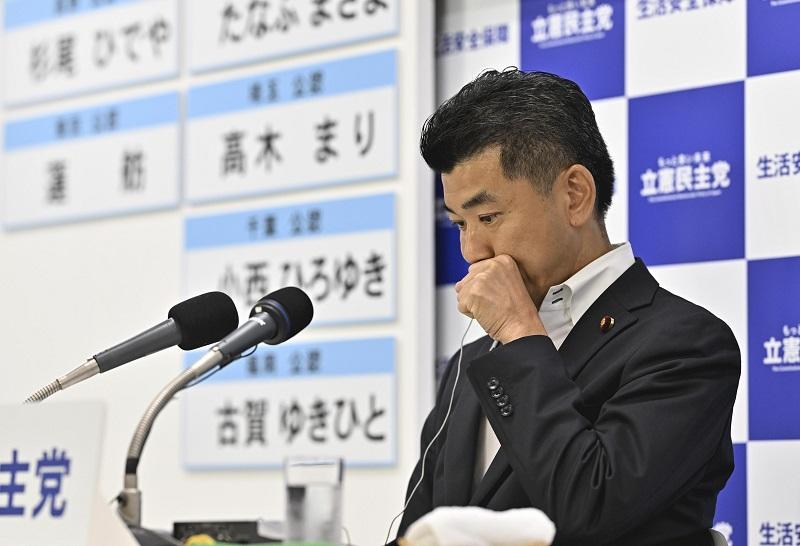 17:25 JST, July 11, 2022
The main opposition Constitutional Democratic Party of Japan did not fare well in Sunday's election, falling short of the 23 seats the party was defending in the House of Councillors election.
The CDPJ's campaign blamed the administration of Prime Minister Fumio Kishida for the rise in prices, decrying "Kishida inflation" allegedly caused by its missteps, but the party's bid to garner votes critical of the government did not garner wide support.
"With the approval rating [for our party] still low, we must put the highest priority on restoring and reinforcing our strength as we move forward," CDPJ leader Kenta Izumi said Sunday night on an NHK program.
Izumi positioned Sunday's election as a springboard for his party to once again be able to vie for control of the government, only to see a tough road ahead to recover its strength first.
Yuko Mori, the party's upper house secretary general, lost her bid for a fourth term in the Niigata Constituency after a head-to-head battle against a Liberal Democratic Party rookie.
In the Kanagawa Constituency, where a total of five seats — four contested and one to fill a vacancy — were up for grabs, the CDPJ fielded two candidates, Yusuke Terasaki and Motoko Mizuno. However, midway through the campaign, the party took the unusual step of concentrating its support on Mizuno, to prevent both candidates from going down in defeat.
As a result, Mizuno managed to be the fifth winner, with a three-year term instead of six, as she will fill the vacant place and her term will therefore be the same as that of an uncontested seat.
The CDPJ did poorly in the House of Representatives election last October. Then leader Yukio Edano resigned to take responsibility, despite having led the party since the CDPJ's founding in 2017.
Shifting from Edano's policy to cooperate with the Japanese Communist Party, Izumi sought to win over conservative voters in addition to CDPJ's original support base of liberal voters. He emphasized realizing policies from the perspective of consumers, dubbed "livelihood security."
Viewing price increases as a key issue, Izumi called for lowering the consumption tax for a limited period of time, providing more in the way of pensions, and reviewing a joint statement advocated by the government and the Bank of Japan to realize a 2% inflation target.
At a press conference Sunday night, Izumi rejected the idea of his resigning from the party leadership. "I'll work to expand our party's influence in the next election," Izumi said. However, some CDPJ members may demand that Secretary General Chinami Nishimura and other executives be held accountable for the defeat.
Add TheJapanNews to your Google News feed.