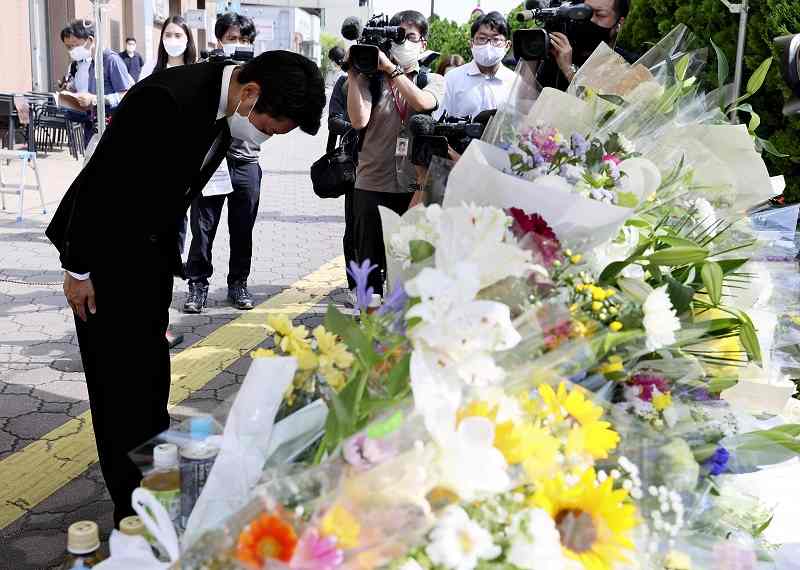 17:17 JST, July 11, 2022
Liberal Democratic Party members who won seats in Sunday's House of Councillors election began carrying out their duties Monday.
For his part, Kei Sato — reelected as an upper house member for the Nara Constituency where one seat was contested — visited Monday morning the Nara City location where former Prime Minister Shinzo Abe was slain Friday. Abe was giving a stump speech for Sato when he was fatally shot.
"I very much appreciate your help, thank you very much," Sato, 43, said around 9 a.m. at a site where flowers have been laid in front of Yamato-Saidaiji Station.
Sato, dressed in black, offered a silent prayer. Many people have visited the site to lay flowers and other offerings.
Sato faced stiff opposition during the end of his election campaign, prompting his camp to ask Abe — the leader of Sato's faction — for support. Abe abruptly changed his schedule for Friday to visit Nara, only to be shot to death as Sato watched on.
Sato could not hide his bewilderment immediately afterward, but he suppressed his emotions and continued with the campaign. "I was somehow able to pull through thanks to the encouragement of many people and my determination to resist violence," he said. "I'd like to work toward realizing former Prime Minister Abe's aims [in areas] such as foreign affairs, security, economic recovery and constitutional revision."
Kiyoshi Ejima won a seat in the Yamaguchi Constituency, where one seat was contested, for the third time.
"Those of us who were under [Abe's] tutelage must join hands and continue to build the nation," Ejima, 65, told reporters at his election campaign office in Yamaguchi on Monday morning.
Abe's constituency also was in Yamaguchi Prefecture.
Add TheJapanNews to your Google News feed.