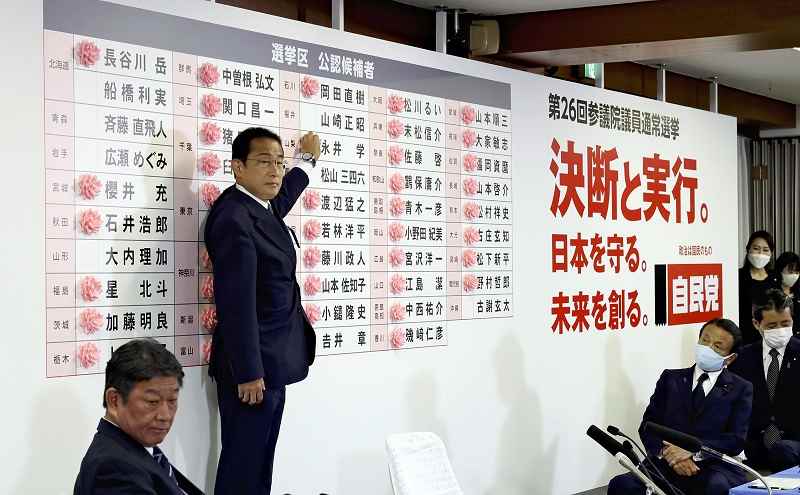 15:05 JST, July 11, 2022
The Liberal Democratic Party won 63 seats in Sunday's House of Councillors election, surpassing a majority of the seats that were up for grabs.
The results of the 26th upper house election were finalized Monday morning for the 124 seats for regular six-year terms, and one to fill a vacancy to serve the three years remaining.
Ruling coalition partner Komeito's seven candidates each won in the constituencies, but the party secured only six seats in the proportional representation segment, falling short of its 14-seat target.
The Constitutional Democratic Party of Japan won 17 seats, losing six it had held prior to the election.
Nippon Ishin no Kai (Japan Innovation Party) won 12 seats, rising from the six seats it was defending. The party received the largest number of votes among opposition parties in the proportional representation system, giving it eight seats in addition to the four won in constituencies.
Both the Japanese Communist Party and the Democratic Party for the People lost seats.
Reiwa Shinsengumi won three seats, giving it a combined total of five, including its two uncontested seats in the upper house.
The NHK Party, the Social Democratic Party and minor party Sanseito each won a single seat in the proportional representation system.
The SDP maintained the requirements for a national political party under the Public Offices Election Law, while Sanseito newly met the requirements.
Pro-revision forces steady
The ruling parties and parties disposed toward constitutional revision — including Ishin and the DPFP — won 179 seats in total, including seats that were not up for grabs, thus retaining a two-thirds majority or 166 of the 248 upper house seats. A two-thirds majority is required in both chambers of the Diet to initiate a public referendum on constitutional amendments.
Add TheJapanNews to your Google News feed.