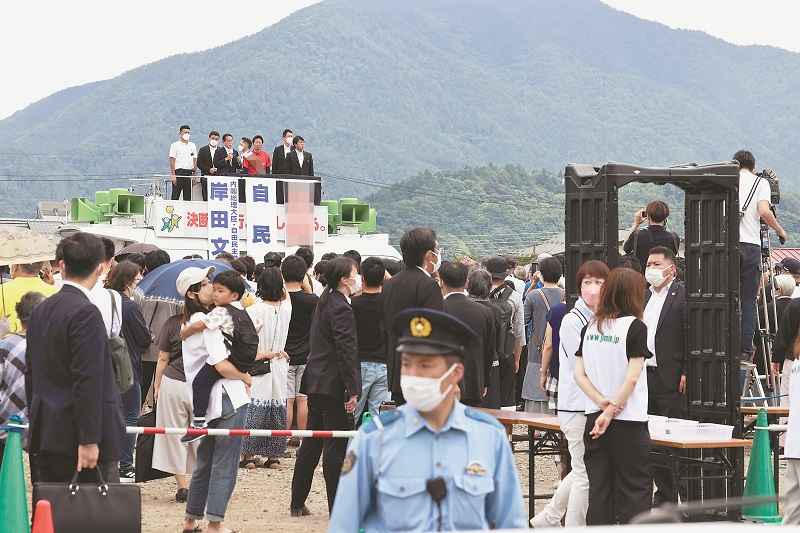 16:55 JST, July 9, 2022
Political party leaders returned to the campaign trail on Saturday, the final day before Sunday's House of Councillors election and a day after halting their activities following the shocking death of former Prime Minister Shinzo Abe from an assailant's bullet.
The party leaders joined candidates in making last-minute appeals to voters, giving speeches in public places under a high alert of readiness and surrounded by a large number of mobilized police.
Prime Minister Fumio Kishida, who is also president of the ruling Liberal Democratic Party, wore a band of mourning on his left sleeve as he made a roadside speech in Fujiyoshida, Yamanashi Prefecture.
"It is absolutely unacceptable for free speech to be stopped by violence amid an election campaign," Kishida said, referring to the attack on Abe, who was fatally shot while giving a speech in Nara City on Friday. "I condemn the brutal act in the strongest possible terms."
The venue was equipped with a metal detector, while uniformed police officers stood guard at 10-meter intervals. Kishida traveled later in the day to Niigata City, where he was to wrap up his campaigning.
Komeito leader Natsuo Yamaguchi also wore a mourning band on his left arm as he made the rounds in Kanagawa Prefecture, a high-priority electoral district for the party. He told a crowd in front of Kawasaki Station, "It is completely unpardonable to silence free speech with a gun or violence."
He also emphasized the party's achievements in the coalition government with the LDP, saying, "During the long administration that we formed with former Prime Minister Abe, we were able to achieve numerous results."
Kenta Izumi, president of the opposition Constitutional Democratic Party of Japan, spoke while riding in a car in the city of Fukushima, saying: "Democracy must never give in to terrorism. We will aim to create a society in which politics cares for people and in which we can support each other."
Osaka Mayor Ichiro Matsui, the leader of Nippon Ishin no Kai, gave a roadside speech in Kameoka, Kyoto Prefecture. "Elections are the foundation of democracy," he said. "We must not succumb to terrorist attacks that resort to violence. The election is to choose the direction of the government."
Kazuo Shii, leader of the Japanese Communist Party, spoke in Saitama City, stressing, "The JCP will never let our society become one in which terrorism dominates."
Yuichiro Tamaki, the leader of the Democratic Party for the People, said in front of Kawasaki Station, "What we would like to take over as a last wish [of Abe] in particular is to change the economic policy into one of aggressive fiscal spending."
Add TheJapanNews to your Google News feed.