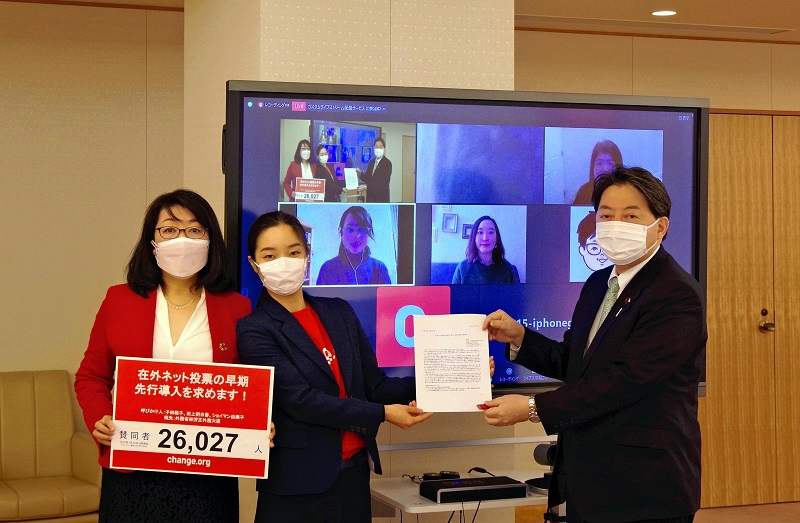 17:38 JST, July 7, 2022
Complicated procedures involved in overseas voting have been cited as a reason why the turnout among Japanese citizens living abroad has typically been low, but from this year, Japanese expatriates have been able to register on the overseas electoral roll online via diplomatic establishments.
Although registrations can be completed online, in order to cast ballots, Japanese citizens living abroad still have to vote via post, in person at an overseas diplomatic mission, or return to Japan, prompting calls for the introduction of online ballots.
Sota Kato, a student at the University of Hohenheim in southwestern Germany, completed his electoral registration online via the Japanese consulate general in Munich on June 22. "The process was pretty quick," said Kato, 24.
Japanese citizens living abroad have to register as overseas voters to cast ballots in national elections. To be registered, people can apply through the election administration commission of the municipality they were living prior to relocating abroad, but Kato had not done so. Before the introduction of online voter registrations, he would have had to travel 200 kilometers to Munich to complete the registration.
In April, the Foreign Ministry changed the process so that the identification check, which had been conducted in person at overseas diplomatic missions, could be done via video call. Application forms and other documents have been accepted via email since June — applicants had been required to submit them in person before.
Kato's video call with the consulate was completed in just a few minutes, during which staff verified his identification, checking his passport photo, among other details.
According to the ministry, registration on the overseas electoral roll had been difficult for expatriates living in areas far from diplomatic missions. Less than 10% of the estimated one million Japanese expatriates eligible to vote are registered on the electoral roll.
However, the number of new registrations in April and May was two to three times higher than in the same period last year. "This is largely due to the fact that the procedures have been online since April," an official said.
Fewer than 20,000 expatriates voted in the House of Representatives election last year, about 2% of those eligible to cast ballots.
The short period between the dissolution of the House of Representatives and election day last year, coupled with delays in international mail amid the coronavirus pandemic highlighted issues with an overseas voting system that includes postal ballots.
Expatriates can either vote in person at a diplomatic mission abroad, submit a postal vote, or return to Japan to cast a ballot at a polling station.
For postal voting, expatriates first need to submit a request by mail for a voting slip from an election administration commission of a Japanese municipality, wait for the ballot to arrive, and then mail back the completed ballot, prompting calls to simplify the process.
In January, a petition signed by about 26,000 people calling for the introduction of online voting for expatriates was submitted to Foreign Minister Yoshimasa Hayashi.
One of the initiators of the petition was Asuka Tagami, 39, a translator living in Perugia, central Italy. Tagami tried to vote by mail in last year's lower house election, but she found the procedure extremely time-consuming.
When she raised the issue on Twitter, she received such comments as, "I've never been able to vote by mail in time," and "I received a notice about voting at a Japanese mission after the deadline."
The diplomatic mission closest to her home is the Japanese Embassy in Rome, which is about 8 hours from Perugia by train. For the upper house election, she cast her ballot at the diplomatic mission in Milan because she happened to be traveling during the overseas voting period. The diversion to Milan costed her about ¥12,000.
"It is physically and financially demanding," she said. "I would like the government to think about how to increase voter turnout."
Security issues
Estonia and France are among some of the countries that have introduced online voting. The Japanese government is also considering adopting it.
In 2020, the Internal Affairs and Communications Ministry conducted an online voting trial in five municipalities, including Chiba and Setagaya Ward in Tokyo.
Local government officials cast mock ballots on a test system via smartphones and computers, using My Number cards for identification purposes. Data was encrypted to prevent information leaks, and an official playing the role of the election administration commission confirmed the procedure for decrypting the data.
Tsukuba in Ibaraki Prefecture, a special zone designated by the national government for trialing cutting-edge technologies aimed at urban development, wants to implement online voting in the mayoral election scheduled for 2024.
However, there are concerns about the security of online voting and whether it is possible to ensure that voters cast ballots of their own volition in the absence of monitoring.
"Security hurdles are being lowered with the improvement of countermeasure technology," said Harumichi Yuasa, professor of information law at Meiji University. "To roll out the system [in national elections], it is important to build up a track record in local elections, among other opportunities."
Add TheJapanNews to your Google News feed.