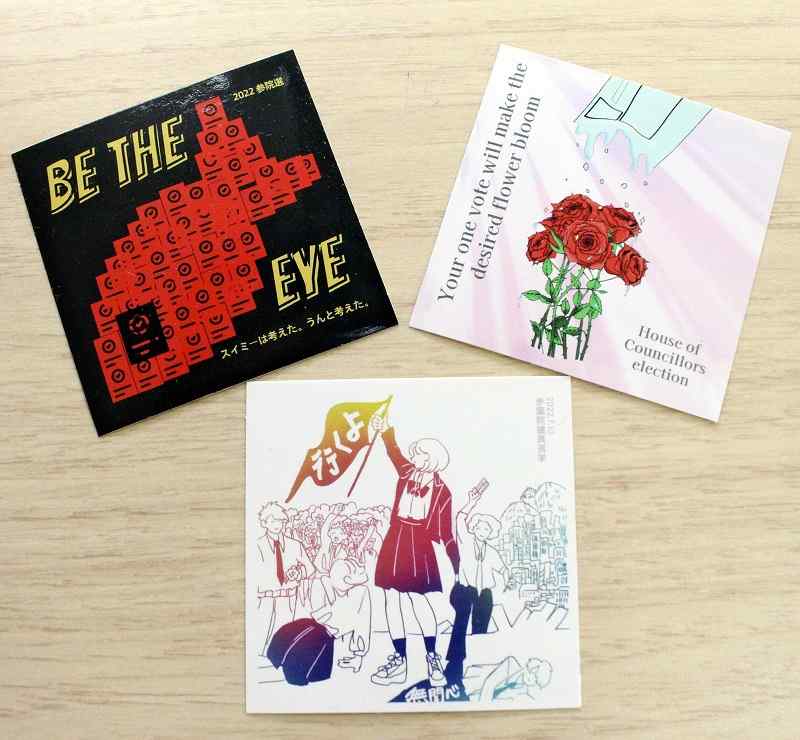 14:14 JST, July 4, 2022
Go vote and get an artistic sticker! Voters in Nerima Ward, Tokyo, are being given pop-style stickers designed by local high school students after casting their vote in the upcoming House of Councillors election.
The sticker is called a "commemorative sticker for voting" and is being handed out to people at the ward's early voting stations.
High schools and the local election council teamed up for the project, hoping to increase public interest in the election amid the trend of low turnout, especially among young voters.
The idea is to use stickers in a bid to win the hearts and minds of the digital native generation, who often put stickers between their smartphone and its clear cover.
The project is the brainchild of Tatsuaki Yoda, 46, a civics teacher at Tokyo Gakugei University International Secondary School (TGUISS).
Alarmed by a lack of interest in politics among young people, Yoda made use of Instagram to work with students on "cool" and "fashionable" ways to raise young people's awareness of elections. Students are working on their own, too, by running the social media account and posting images to encourage voting.
Noticing the trend to use stickers for fashion, the Nerima election board, along with TGUISS and other entities, began soliciting sticker designs on Instagram in April and received about 120 designs by late May, not only from high school students but also from the general public. Three designs were chosen based on the number of "likes" they got.
Among the chosen designs is one by Hana Nagai, 15, a first-year TGUISS student, who was inspired by Eugene Delacroix's painting commemorating the July Revolution of 1830 in France. In Nagai's design, a female high school student holds a flag reading "Let's go" as she leads other students.
"I want young people to feel that they have the power to change society," Nagai said.
Yumi Anzai, 16, also a first-year TGUISS student, drew inspiration from Leo Lionni's popular picture book "Swimmy."
In the book, a black fish named Swimmy joins forces with a school of red fish, forming a giant fish to fight against enemies. In Anzai's design, each fish is replaced with a ballot paper.
"I wanted to express that even a single ballot can have great power when votes are combined," Anzai said.
Karen Ebina, 16, a second-year student at Igusa High School, depicted roses blooming with water dripping from a ballot paper, expressing the idea that "something can be changed by voting."
"I wanted to tell voters that every vote counts and has meaning, regardless of generation, and I hope the sticker will encourage young people to go vote," Ebina said.
According to the Nerima Ward election board, the three stickers have been distributed since June 23 at an early voting station within the ward office, and voters of all ages have picked them up.
From Saturday, the stickers became available at all seven early voting stations in the ward.
Yoda said, "I hope the election becomes a topic of conversation among young people, including students, when stickers are handed out and their designs are posted on Instagram."
Add TheJapanNews to your Google News feed.