Political parties posting short videos on social media to woo voters, especially younger ones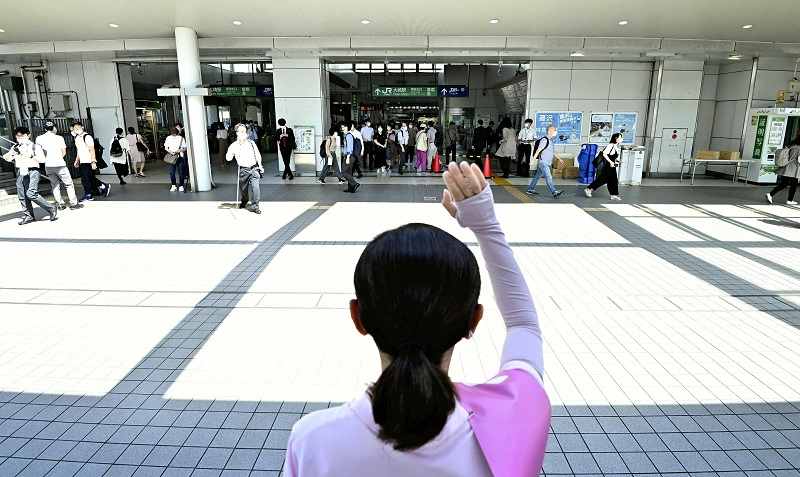 15:35 JST, July 3, 2022
Political parties have been posting short video messages on social media in the House of Councillors election campaigns to attract voters, especially younger ones, and directly delivery their slogans and policy sound bites.
In the videos, each lasting about one minute or less, parties are using their ingenuity to convey simple messages via the use of subtitles, illustrations and livestreaming.
"All the more because this is an era of uncertainty in which we are confronting major challenges, they are the ones considered indispensable," said Prime Minister Fumio Kishida, who is also the president of the Liberal Democratic Party, in a short video, raising his voice while the footage shifts quickly from him to people listening to his message and then to party candidates seeking voters' support.
These documentary-like videos, which the LDP has posted on YouTube and other sites, last about 40 seconds. Each one focuses on characteristics of the party's candidates and adds a slogan such as "To create a country where everyone can feel comfortable to work" or "My affection toward my hometown is my driving force."
The ban on campaigning via the internet was lifted from the House of Councillors election in 2013. The coronavirus has also had an impact on campaigns: During the House of Representatives election last year, parties galvanized forces using social media. Parties keep the videos short, usually less than 1 minute, and tend to format them for viewing on a smartphone.
Komeito has posted one-minute videos that summarize the speeches delivered by its leader Natsuo Yamaguchi, each one touching on specific topics such as diplomacy, security and the consumption tax.
The Constitutional Democratic Party of Japan has posted a 15-second animated video explaining its election promises on TikTok, a social media app for sharing short videos. The party also presents via Twitter its campaign pledges using illustrations on slides.
The Japanese Communist Party has posted videos of party members questioning government officials during Diet sessions. In one, a JCP member pressures a Cabinet member, saying, "How could you give such an evasive answer?" with a subtitle that reads "Our anger is at the Max!"
Nippon Ishin no Kai (Japan Innovation Party) has been livestreaming a "special program for the election" on YouTube every day, with its candidates appearing as guests.
The Democratic Party for the People emphasizes its friendliness by featuring its mascot "Kokumin rabbit."
"With so many videos circulating, viewers won't watch long ones," said Takuma Ohamazaki, an election planner. "What counts is how easy they are to understand, with the main points put concisely."
The areas to be canvassed by the candidates in upper house elections are wider than in lower house elections for both the constituency and the proportional representation bloc systems.
"There are also many cases in which parties make use of social media to introduce a candidate's character to help voters feel closer to candidates who otherwise may seem to be distant from them," Ohamazaki said.
Add TheJapanNews to your Google News feed.