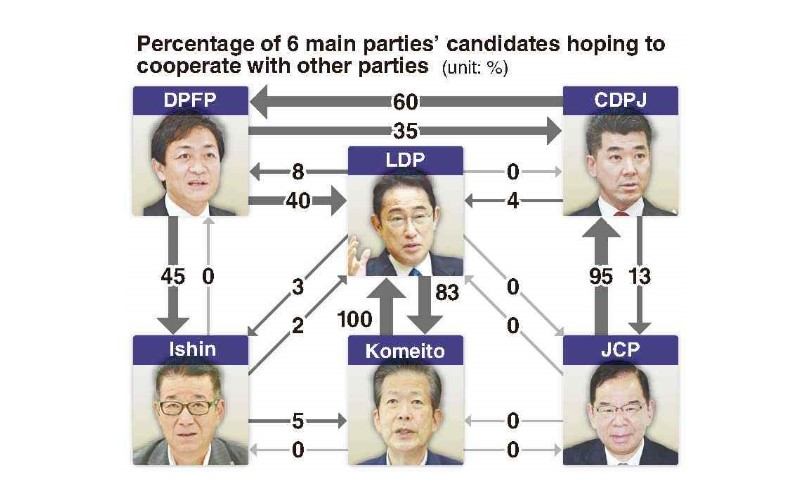 16:17 JST, June 30, 2022
The results of a Yomiuri Shimbun survey of candidates running in the upcoming House of Councillors election suggest that those running for the Liberal Democrinsatic Party and its coalition partner Komeito have a strong mutual hope to cooperate with each other after the election, while many candidates from opposition parties have unrequited hopes for postelection allies.
When asked which party they wanted to cooperate with after the election, 83% of LDP candidates said they wanted to cooperate with Komeito, while 100% of Komeito candidates cited the LDP. The rate almost matches the levels seen before upper house elections in 2016 and 2019.
In this election, the party headquarters of the LDP and Komeito did not enforce mutual endorsements of their candidates. Even so, they are cooperating in most constituencies.
***
The survey results also show that there is no particular discord between the two parties.
Multiple answers were permitted for the question.
The survey found that 95% of the Japanese Communist Party wanted to cooperate with the Constitutional Democratic Party of Japan, but only 13% of CDPJ candidates picked the JCP. The fallout is believed to have continued among CDPJ members over their crushing defeat in last year's House of Representatives election after forming a united front with the JCP.
As many as 60% of CDPJ candidates said they wanted to cooperate with the Democratic Party for the People, but only 35% of DPFP candidates selected the CDPJ.
Although 40% of the DPFP, which is moving closer to the ruling coalition by way of backing the government's latest budget plans, said they wanted to cooperate with the LDP, only 8% of LDP candidates selected the DPFP.
As many as 95% of Nippon Ishin no Kai (Japan Innovation Party) mentioned no political party they wanted to cooperate with, indicating it was distancing itself from other parties.
Add TheJapanNews to your Google News feed.