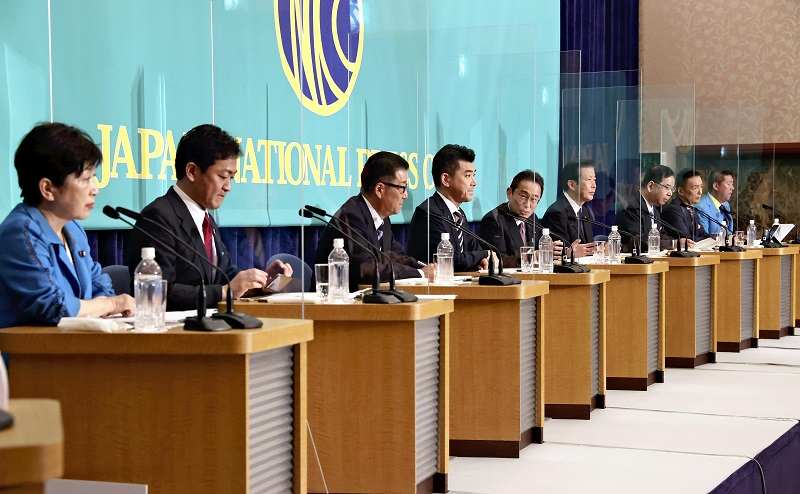 15:38 JST, June 22, 2022
Ruling and opposition party leaders sparred over constitutional revision and security policy during Tuesday's debate at the Japan National Press Club, with most of them supporting the strengthening of the nation's defense capabilities.
Ichiro Matsui, the leader of Nippon Ishin no Kai (Japan Innovation Party) told Prime Minister and Liberal Democratic Party President Fumio Kishida that the Diet should put forth a draft of constitutional revisions in time for the unified local elections to be held next year.
"If the forces positive about constitutional amendment gain two-thirds [of members of both chambers of the Diet] after the upper house election, the schedule for initiating constitutional revision should be arranged to coincide with unified local elections next spring," Matsui said.
Kishida did not make a detailed response, saying only, "It would be somewhat reckless to say that the contents of the draft must be agreed upon by a certain time."
Social Democratic Party leader Mizuho Fukushima criticized the LDP for insisting on the inclusion of a legal basis for the existence of the Self-Defense Forces in the Constitution.
"The prime minister is trying to make [Japan] a military superpower," Fukushima said. Kishida responded by stressing the significance of the LDP's move. "We'll put an end to arguments that the SDF is unconstitutional," the prime minister said.
Kenta Izumi, the leader of the Constitutional Democratic Party of Japan, expressed reluctance toward constitutional amendment, saying, "There is no decisive issue that would plunge the people's lives into turmoil if the Constitution is not changed."
"It's more important to deal with the shrinking population and the decline of rural areas, as well as the disparities in education," Izumi said.
Most party leaders, with the exception of Japanese Communist Party Chairman Kazuo Shii and some others, agreed on the need to bolster the nation's defense capabilities.
Kishida emphasized an increase in defense spending: "We'll prepare the necessary defense capabilities while also keeping an eye on the situation in other countries over the next five years."
Izumi also said, "Defense spending could go up overall." He cited specific areas such as space, cyberspace and the electromagnetic spectrum as new defense domains.
The prime minister challenged Izumi over the CDPJ's response to the security-related laws, which allow the limited exercise of the right of collective self-defense. Kishida asked what part of the laws Izumi thinks are unconstitutional, as the CDPJ insists that it will scrap those sections.
"It is unacceptable to change the interpretation of the Constitution through a Cabinet decision," Izumi answered. Kishida pushed back, saying, "I couldn't clearly understand what parts are unconstitutional and what parts are to be abolished."