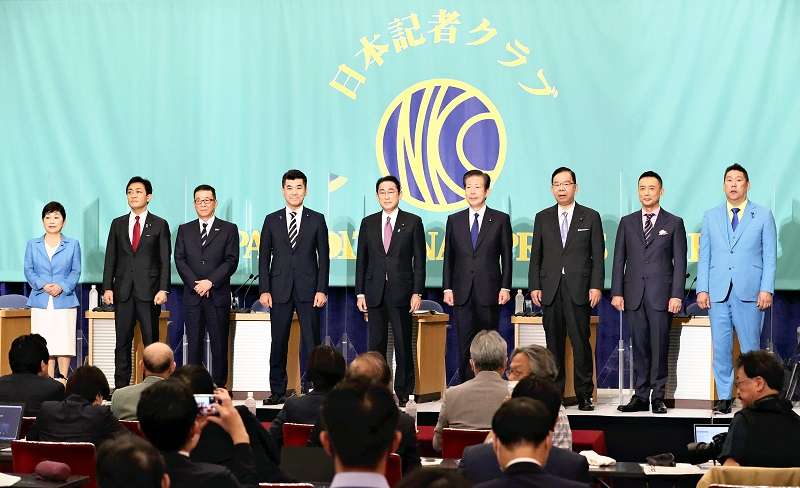 15:49 JST, June 21, 2022
The leaders of nine ruling and opposition parties participated in an in-person debate at the Japan National Press Club in Tokyo on Tuesday, the day before the official start of campaigning for the House of Councillors election.
Voting and ballot counting for the upper house poll are scheduled to take place on July 10.
Topics in the debate included measures to counter rising prices and strengthen the nation's defense capabilities.
Prime Minister Fumio Kishida, president of the Liberal Democratic Party, vowed to "protect the lives and livelihoods of the public in the face of challenges such as Russia's invasion of Ukraine and soaring prices."
"We will realize sustainable growth by overcoming decarbonization and the declining birthrate," he said.
Constitutional Democratic Party of Japan President Kenta Izumi said: "The CDPJ has the most concrete solution to the rapid depreciation of the yen and rising prices. Inflation cannot be left unchecked. We will fight against surging prices for the whole nation."
The debate lineup also included Komeito Chief Representative Natsuo Yamaguchi, Nippon Ishin no Kai leader Ichiro Matsui, Japanese Communist Party chief Kazuo Shii, Democratic Party for the People leader Yuichiro Tamaki, Reiwa Shinsengumi leader Taro Yamamoto, Social Democratic Party chief Mizuho Fukushima and Takashi Tachibana, head of the party to protect the people from NHK (NHK Party).