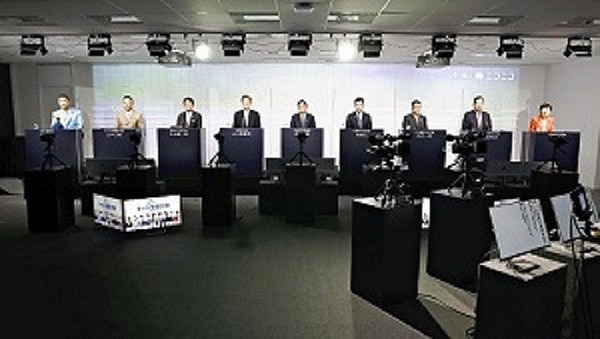 20:00 JST, June 19, 2022
The heads of nine political parties participated in an internet debate on the weekend, discussing such issues as measures to cope with surging prices and how to strengthen the nation's defense capabilities ahead of the upcoming House of Councillors election.
The election will be officially announced June 22, and voting and ballot counting will take place on July 10.
Prime Minister Fumio Kishida, who is also president of the ruling Liberal Democratic Party, said during the debate on Saturday: "I will take measures focused on energy and food, the prices of which have been surging. Raising salary levels is also important."
Kenta Izumi, president of the opposition Constitutional Democratic Party of Japan, said, "We need to provide more in pensions," referring to the reduction of pension payments in April and May. Izumi also urged lowering the consumption tax for a limited period of time.
Komeito Chief Representative Natsuo Yamaguchi said, "We want to deal with price fluctuations by utilizing the discretionary reserve of the extra budget."
To deal with rising energy prices, Nippon Ishin no Kai (Japan Innovation Party) leader Ichiro Matsui said, "Safe nuclear power plants should be reactivated as soon as possible." According to Japanese Communist Party chief Kazuo Shii, "The most effective action is lowering the consumption tax to 5%."
Democratic Party for the People leader Yuichiro Tamaki demanded the provision of a ¥100,000 lump sum to members of the public, saying, "We'll shift to an expansionist fiscal policy."
Regarding the strengthening of Japan's defense capabilities, Kishida said, "I will fundamentally boost [defense capabilities] within five years." Izumi emphasized his opposition to sharing nuclear weapons, saying, "Our stance is to improve necessary defense capabilities."
Also in attendance were Reiwa Shinsengumi leader Taro Yamamoto, Social Democratic Party chief Mizuho Fukushima and Takashi Tachibana, head of the Party To Protect Citizens From NHK (NHK Party).