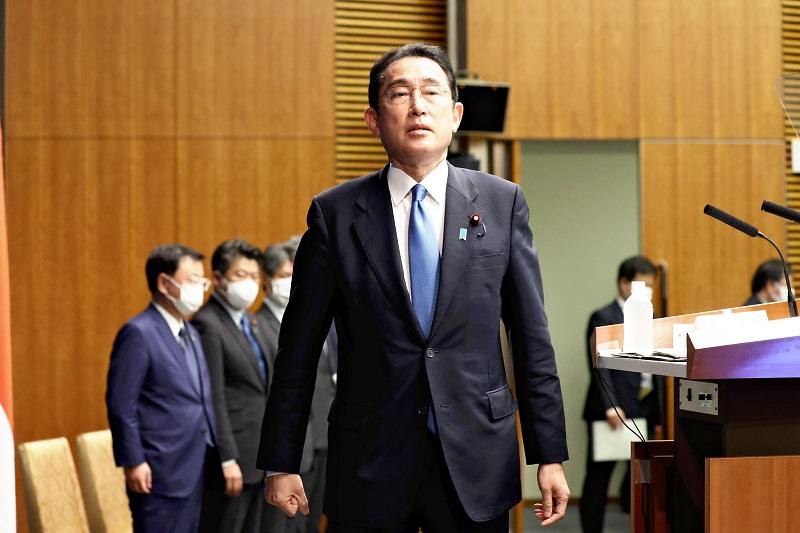 1:06 JST, June 17, 2022
Battling the ongoing novel coronavirus pandemic, limiting price increases and strengthening Japan's defense capabilities are shaping up as the three main issues that could impact Prime Minister Fumio Kishida's prospects in the upcoming House of Councillors election.
Although Kishida's Cabinet is basking in high public approval ratings, the government and ruling parties are wary that a misstep on any of these three issues ahead of the July 10 election could quickly become a tailwind for the opposition bloc.
At a press conference Wednesday, Kishida indicated his view that the nation's coronavirus response should pivot away from efforts to thoroughly prevent further infections and more toward reopening the economy. Kishida said the nation would overcome the coronavirus pandemic and "regain" economic and social activities close to those of "normal times."
His comments came as Japan's coronavirus infection situation remained stable. More than 60% of eligible people have received their third dose of a coronavirus vaccine, and the daily number of new infections stood at about 15,000 cases — about one-seventh of the pandemic's peak — as of Tuesday.
With the upper house election just weeks away, Kishida announced on Wednesday steps including the long-awaited creation of a Cabinet Office infectious disease crisis management agency and a Japanese version of the U.S. Centers for Disease Control and Prevention, giving tangible form to pledges Kishida made during last year's Liberal Democratic Party presidential campaign to strengthen infectious disease countermeasures.
Kishida also said the "kenminwari" regional travel subsidy program will be expanded to the entire nation.
Some government officials had been cautious about announcing heightened measures to promote domestic tourism, but Kishida threw his weight behind the plan. "If we can keep infection numbers at around the current level, there shouldn't be any problem," Kishida said.
The risk of infections surging again remains a constant worry. The prime minister himself said the nation "could not afford to drop its guard" yet because of reports that new variants were emerging around the world. Health, Labor and Welfare Minister Shigeyuki Goto also did not conceal his concern that people's movements and interactions would increase during the summer holidays. "There are fears that infection numbers will rise around summer," Goto said.
Border control measures are still in place, but this month the upper limit on arrivals from overseas was doubled to 20,000 people per day. However, the unfettered return of inbound tourists is yet to begin, and it remains unclear to what extent the government could prevent infected people from slipping into the country.
"I just hope we don't see a resurgence in coronavirus cases during the official campaigning period," a senior LDP official said to The Yomiuri Shimbun. Kishida will face a difficult balancing act as he tries to apply the brakes on infection prevention measures while hitting the accelerator on resuming more economic activity.
Rising prices hurt households
Kishida's second key challenge is rising prices, which are making it harder for people to afford day-to-day life and fueling public discontent. The prime minister insisted that he was committed to taking action to deal with the price increases. "We will resolutely protect the livelihoods of the people," he said at the press conference.
Kishida also indicated the rising prices were not a problem caused by his policies. "Japan is not the only country in this situation," Kishida said. "The soaring prices are certainly a result of Russia's actions, a result of this emergency situation."
Russia's invasion of Ukraine, the yen tumbling to an about 24-year low of ¥135 to the dollar and other factors have triggered price rises for a wide range of items, especially energy and food.
In April, the government compiled a ¥6.2 trillion emergency relief package to mitigate the impact of rising prices. This package included subsidies for oil wholesalers, in a bid to bring down retail gasoline prices. However, limited funding sources made it impossible to include cash handouts for all residents and other steps that would provide an immediate impact on family budgets. Kishida intends to call on the public to save electricity and energy to help get through this difficult period.
Reinvigorating the economy was the major issue in the 1998 upper house election, when the yen exchange rate was at the same level it is now. Then Prime Minister Ryutaro Hashimoto was a popular leader, but his LDP faced a stiff uphill battle and suffered a heavy defeat in the election. Close aides to Kishida are openly anxious about how things stand. "The economic situation is similar to what it was in 1998, and the political winds could shift in an instant," one aide said.
Bank of Japan Gov. Haruhiko Kuroda came under fire after saying on June 6 that consumers had become more "tolerant" of price hikes. The government and LDP made Kuroda to retract the comment two days later and scrambled to put the controversy to bed.
Main opposition Constitutional Democratic Party of Japan leader Kenta Izumi slammed the Kishida administration at a party meeting Wednesday, saying it "had done absolutely nothing" to boost the economy and tackle the cost-of-living crisis. Izumi also set his sights on rising prices that he labeled "Kishida inflation."
A fierce battle of words on this issue looks likely to erupt during the election campaign.
Finding funds for defense
Bolstering Japan's defense capabilities also will be a crucial issue in the election.
Given the heightened tensions in Japan's security environment due to factors such as Russia's invasion of Ukraine and China's military expansion, Kishida promised U.S. President Joe Biden during their summit meeting last month to secure a "substantial increase" in Japan's defense budget.
The LDP's election pledges state that Japan's defense capabilities should be drastically strengthened. The party also calls for increasing the defense budget to 2% of gross domestic product — a level that members of the North Atlantic Treaty Organization aim to spend on defense — by fiscal 2028.
Defense spending in the initial budget for fiscal 2022 was about ¥5.4 trillion. Meeting the 2% target based on the current size of the economy would double defense expenditures to about ¥11 trillion. Securing this massive budget will be necessary, but specific discussions on new equipment and arrangements for allocating these financial resources have yet to begin.
Former Prime Minister Shinzo Abe, who leads the LDP's largest faction, has insisted government bonds should be used to bankroll the budget increase. Abe's current position is that aggressive government spending should be given precedence over restoring the nation's fiscal health.
However, a huge expansion of deficit-covering bonds could spur unease domestically and abroad.
At Wednesday's press conference, Kishida sidestepped giving a clear answer when asked whether tax increases were possible. "What size budget will be needed? Determining where the resources come from will depend on the scale of the budget," Kishida said.
Abe likely will speak out more often ahead of a cabinet reshuffle and other political events following the election. Kishida could find himself with some tough choices to make.
Add TheJapanNews to your Google News feed.