Komeito leans closer to LDP on security, constitutional revision in upper house election manifesto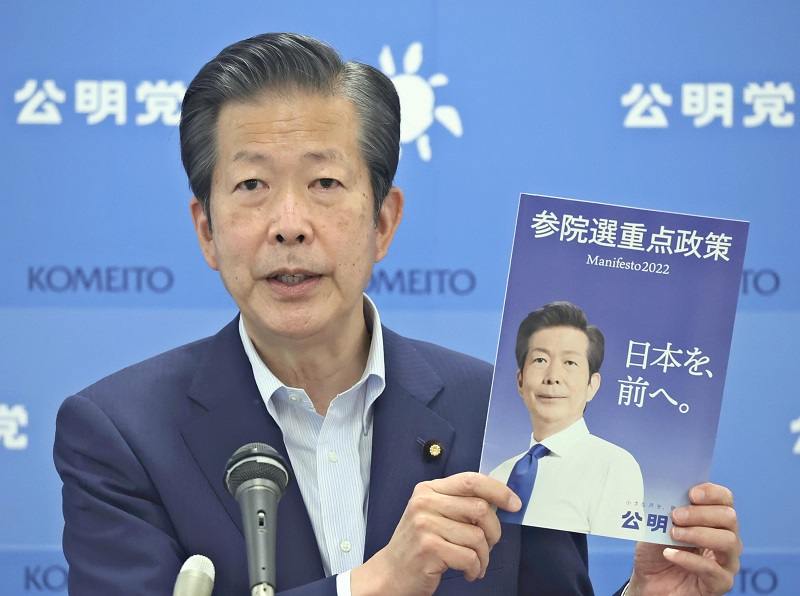 13:37 JST, June 16, 2022
Komeito's manifesto for next month's House of Councillors election shows the party's stances on security and constitutional amendments are coming closer to that of ruling coalition partner the Liberal Democratic Party.
Behind this is the deteriorating security environment surrounding Japan from neighbors such as Russia, with its invasion of Ukraine, and North Korea, with its repeated missile tests.
"Public interest in security has been especially high," Komeito leader Natsuo Yamaguchi said during a press conference in Tokyo on Tuesday to announce his party's upper house election manifesto. "We would like to persuade the public that strengthening Japan's defense and the Japan-U.S. alliance's deterrence and response capabilities are necessary."
Komeito's manifesto says the party will work to "steadily improve and strengthen" Japan's defense capabilities. The word "strengthen" did not appear in the same phrase in last year's manifesto for the House of Representatives election.
Measures spelled out in the latest manifesto include the early practical use of military equipment with artificial intelligence and other state-of-the-art technology and securing Self-Defense Forces personnel.
The manifesto also states that Komeito will "promote discussions" on the LDP's proposal to revise Article 9 of the Constitution to stipulate the SDF. The word "cautiously" that appeared in last year's manifesto was deleted.
Komeito's campaign pledges thus appear to be largely in line with those of the LDP, which has called for drastically strengthening Japan's national defense capabilities and improving the treatment of SDF personnel.
The junior partner in the coalition, Komeito seems to be promoting itself as part of an administration stably run by the government and ruling parties.
Komeito proclaims itself as a party with a commitment to peace, but the latest manifesto shows itself moving in a pragmatic direction in terms of security policies because there are growing concerns among party supporters over Japan's defensive readiness, bearing Russia, China and North Korea in mind.
During a private event on June 5 in Tokyo, Yamaguchi was asked by a party member, "Doesn't Japan need to enhance its means of counterattacks?"
There is a sense of urgency within Komeito that unless the party can present specific steps to protect the people, support for the party will wither.
Regarding defense spending, Komeito's manifesto states that it will make efforts to secure a budget that is truly necessary without prioritizing the scale of the budgetary framework. The LDP, however, calls for a drastic increase in this regard.
As for a nuclear sharing arrangement with the United States, proposed by LDP members such as former Prime Minister Shinzo Abe, Komeito stressed in the manifesto that it absolutely rejects the idea.
A senior Komeito lawmaker said, "We will not necessarily accept everything that the LDP has proposed."
Add TheJapanNews to your Google News feed.