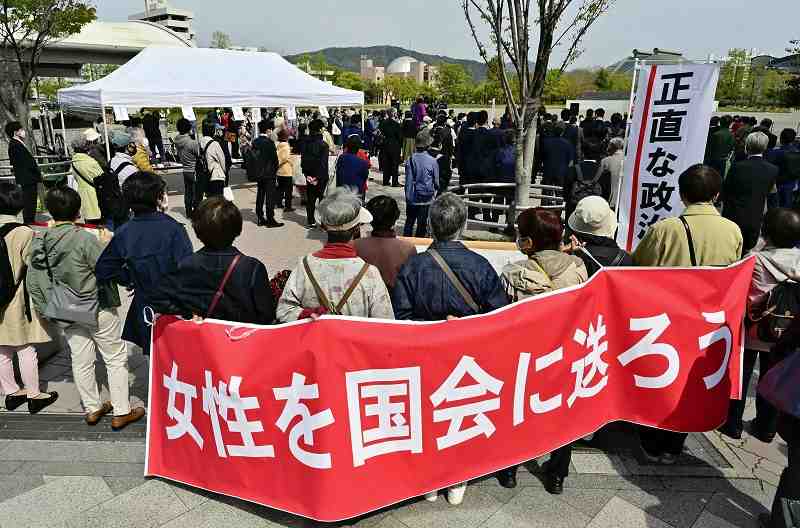 15:52 JST, May 30, 2022
Both the ruling and opposition parties are working to field more female candidates in the House of Councillors election this summer, aiming to demonstrate their commitment to women's empowerment.
Some parties have created their own support system, but a number of issues remain to increase the number of female candidates.
The ruling Liberal Democratic Party's Federation of Yamagata Prefecture Party Branches decided Sunday to field Rika Ouchi, a former Yamagata prefectural assembly member. The LDP headquarters is expected to officially approve her candidacy soon for the Yamagata Constituency, in which one seat will be contested.
"It's very important to create a framework in which women can participate in politics by running for office," said Toshiaki Endo, chairperson of the LDP's Election Strategy Committee and of the Yamagata federation.
However, only 15 women are scheduled to run for the LDP in the upper house election, including Ouchi, or 19.2% of all 78 LDP candidates. This is higher than the 14.6% in the previous upper house election in 2019, but still a low figure.
The LDP has enjoyed stable victories in House of Councillors elections since regaining power in the lower house in 2012. Many of the party's upper house members are men, and it has been difficult to field women in constituencies unless the incumbent lawmaker decides to retire.
Therefore, the LDP will focus on fielding female candidates in the proportional representation section, instead of constituencies.
To choose candidates, the LDP headquarters has interviewed almost 10 women since this spring, it said.
The party is planning to approve the candidacy of four of these women, which will bring the percentage of female candidates in the proportional representation section to 30.3%.
The leading opposition Constitutional Democratic Party of Japan plans to field 20 female candidates in both the constituency and proportional representation sections. This accounts for 46.5% of the 43 CDPJ candidates.
In the party's 2022 activity plan, the CDPJ set a goal of having 50% of its candidates be women in the upper house election. The party has met this target in the constituency segment, as it plans to field 16 women among 31 candidates total.
Since many of these candidates are seeking their first term in office, it is easier for the party to consider a gender balance in its choice of candidates.
The CDPJ established a support team for female candidates in April. Incumbent female Diet members offer advice, and candidates who are raising children can receive financial aid from the party.
Other opposition parties are also making efforts to support female candidates. Nippon Ishin no Kai (Japan Innovation Party) and the Democratic Party for the People have created programs to subsidize childcare expenses to help women who are raising children to run for office.
A number of issues have emerged regarding women candidates, including harassment from voters. Female candidates have sometimes been touched or verbally insulted during campaigning, and this kind of harassment has been cited as one of the reasons why women are hesitant to stand in elections.
The Law on Promotion of Gender Equality in the Political Field that came into effect in 2018 stipulates that parties and others should aim to make "the number of male and female candidates as even as possible."
Some LDP lawmakers have called for the creation of a long-term human resource system.
"There should be a system to foster female candidates on a long-term basis, rather than rushing to field female candidates just when an election approaches," one lawmaker said.
Add TheJapanNews to your Google News feed.