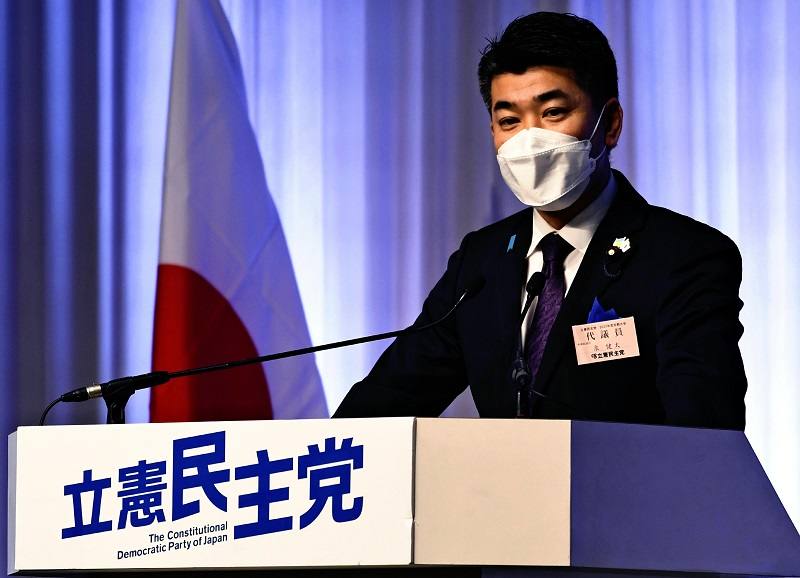 18:07 JST, May 26, 2022
The Constitutional Democratic Party of Japan was unable to finalize its campaign pledges for the upcoming House of Councillors election when CDPJ lawmakers of both chambers of the Diet met on Wednesday.
The main opposition party was initially scheduled to announce its campaign pledges earlier this month after Golden Week.
During the 150-minute closed meeting, about 30 participants expressed their opinions on key policies to be included in the party's election pledges, such as expanding free education, which was announced by CDPJ President Kenta Izumi last month.
According to people who attended the meeting, the participants also discussed an income compensation program for farmers and medical system reforms, among other proposals.
Regarding an increase in defense spending, a policy for which Izumi has indicated support, some of the attendees asked for confirmation that the CDPJ will not simply boost the amount, but compile the necessary budget.
There is a cautious view of increasing defense spending within the CDPJ, especially among left-wing members, including an intraparty group dubbed "sanctuary," which consists of former Socialist Party members.
Some CDPJ lawmakers have said the situation could lead to a "return to the days of the former Socialist Party."
The delay in the process of drawing up campaign pledges is largely due to the fact that Izumi and Junya Ogawa, chairperson of the Policy Research Committee, have prioritized "intraparty harmony."
Izumi and Ogawa have also taken into consideration criticism mainly among the party's local chapters of the top-down approach of former CDPJ President Yukio Edano.
Following the CDPJ's humiliating defeat in last year's House of Representatives poll, the party compiled a post-election review in which it stated that "it takes a certain amount of time for its policies to permeate." As a result, the party had planned to speed up its formulation of campaign pledges for the upper house election.
However, it is not yet clear when the party will finalize its campaign pledges.
Some CDPJ upper house members who will stand for reelection have expressed concern, with one saying, "If we fail to communicate our policies in time for the race, it will end up being a repeat of the lower house poll."
Add TheJapanNews to your Google News feed.