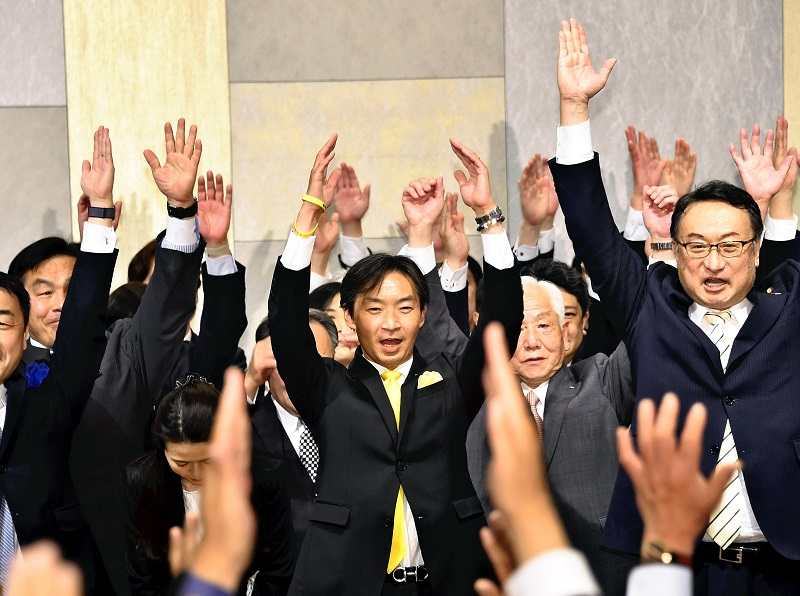 20:58 JST, April 25, 2022
A Liberal Democratic Party candidate won a House of Councillors by-election Sunday in Ishikawa Prefecture, providing the ruling parties with a fillip in the runup to the upper house election in summer.
Shuji Miyamoto, 51, ran for the constituency backed by coalition partner Komeito after giving up his upper house seat under proportional representation. He defeated three rookie candidates, including Tsuneko Oyamada of the Constitutional Democratic Party of Japan. Turnout for the vote was 29.93% — turnout for the 2019 upper house election was 47%.
Four parties fielded candidates in Sunday's by-election, which was seen as a prelude to the upcoming upper house election. Senior members of the ruling and opposition parties, including Prime Minister Fumio Kishida and CDPJ leader Kenta Izumi, had campaigned in the prefecture.
The by-election was held after former LDP upper house member Shuji Yamada stepped down to run for the Ishikawa gubernatorial race in March.
Miyamoto won Sunday's election with strong support from the LDP and Komeito. Oyamada, 43, was unable to fully grow her CDPJ support base having been a late entrant to the race.
Miyamoto's term will last until July 2025.
Building momentum
The government and ruling parties are hoping that Sunday's victory will help build momentum heading into the summer vote. To that end, the government aims to expeditiously implement its emergency economic measures — to be decided Tuesday — to minimize the impact of soaring prices. The CDPJ, meanwhile, is undergoing reforms after faltering in its first national election since Izumi took office as party leader.
"We were able to win the preliminary race of the upper house election," LDP Secretary General Toshimitsu Motegi told reporters at party headquarters on Sunday "We'll prepare for a summer upper house election with a sense of tension."
When LDP President Kishida visited Ishikawa Prefecture on April 17, he delivered a street speech in Nanao City, asking people to "support the ruling parties so they can pursue their policies."
Motegi and LDP General Council Chairperson Tatsuo Fukuda also visited the prefecture during the campaign to offer support.
The party was rocked by internal rifts in the runup to the March gubernatorial election, in which three candidates supported by different LDP party members fought a fierce battle, leaving a "large knot" in the LDP prefectural chapter, a senior party official said. There had been fears that the March election would negatively affect Sunday's by-election, but since Miyamoto took a neutral stance in the gubernatorial election, discord within the prefectural chapter failed to surface.
Even so, a former Cabinet minister opined that upper house elections tend to conjure up an atmosphere in which "voters feel they should teach the ruling parties a lesson."
The LDP was set Monday to hold the first meeting of its upper house strategy planning headquarters, comprising party executives, to prepare for upcoming election. Meanwhile, the government will be working flat-out to compile and pass a supplementary budget for fiscal 2022 that backs its emergency economic stimulus package.
The CDPJ failed to gain sufficient support to win Sunday's by-election despite Izumi making two trips to the prefecture, including a joint visit with other senior party members before the campaign.
"It was of great significance that we were able to present an option to the people in the prefecture," said CDPJ election strategy committee chairperson Kensuke Onishi in a statement released Sunday. "The result was regrettable, but we'll work as one toward the upper house election."
Add TheJapanNews to your Google News feed.