DPFP, Ishin to back each other's candidates in key upper house constituencies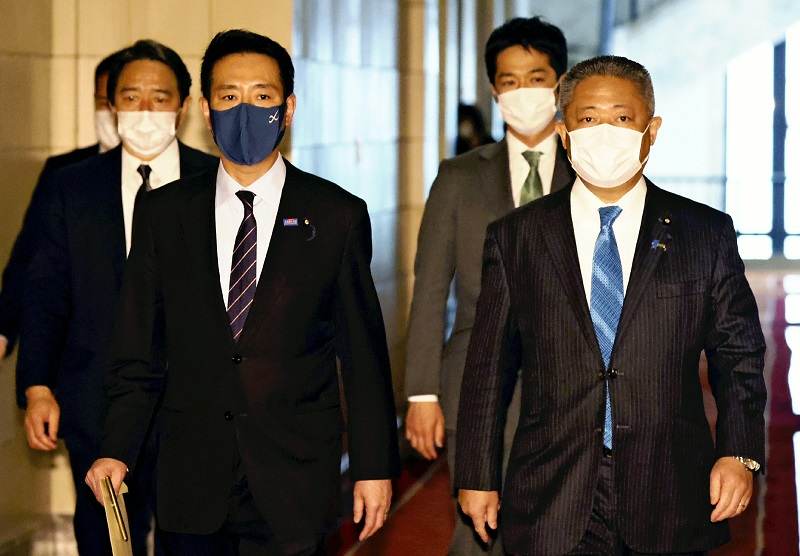 2:00 JST, April 22, 2022
The Democratic Party for the People has said it will endorse a candidate who is also planned to be officially backed by Nippon Ishin no Kai (Japan Innovation Party) in the Kyoto prefectural constituency during this summer's House of Councillors election.
There are two seats up for grabs in that constituency this year, one of which is currently held by a member of another opposition party, Tetsuro Fukuyama of the Constitutional Democratic Party of Japan. Fukuyama, a former secretary general of the CDPJ, is scheduled to seek reelection in the race. The DPFP's announcement, on Wednesday, shed light on the conflict between the DPFP and the CDPJ.
In addition to the deal on the Kyoto constituency, Ishin and the DPFP also agreed Wednesday that Ishin would support a DPFP-supported independent incumbent in the Shizuoka prefectural constituency.
DPFP acting representative Seiji Maehara, a House of Representatives member from Kyoto Constituency No. 2, held a joint press conference with Ishin's coleader Nobuyuki Baba and others on the same day. Regarding the aim of deepening cooperation with Ishin through the mutual endorsements in the election, Maehara said: "The main party of the centrist conservative reform forces is Ishin. We will cooperate where we can in a framework outside of the Liberal Democratic Party and the Japanese Communist Party."
The CDPJ had asked the DPFP, through Maehara, to also extend support for Fukuyama, but the DPFP gave priority to cooperation with Ishin. The CDPJ has already agreed with the JCP to coordinate their candidates for single-seat constituencies in the upper house election. The DPFP has increasingly kept its distance from the CDPJ.
On the other hand, after the DPFP backed the government's latest budget plans, Ishin had been reviewing its cooperative relationship with the party. However, it shifted its stance to join hands in the election based on the circumstances of the constituencies. Ishin, which aims to expand its influence beyond Osaka Prefecture, has regarded the Kyoto constituency as its "most important electoral district," according to Baba. The party has high hopes that support from Maehara, whose political base is Kyoto Prefecture, will be effective.
In the Shizuoka prefectural constituency, where two seats will be contested, DPFP Secretary General Kazuya Shimba won a seat in a fierce battle with a CDPJ candidate in the upper house election three years ago. Shimba is not up for reelection this time around, as upper house members serve six-year terms, but the DPFP wants to help another incumbent that it supports in the constituency keep the seat, with support from Ishin.
The two parties thus share a mutual interest in these key constituencies.
Add TheJapanNews to your Google News feed.