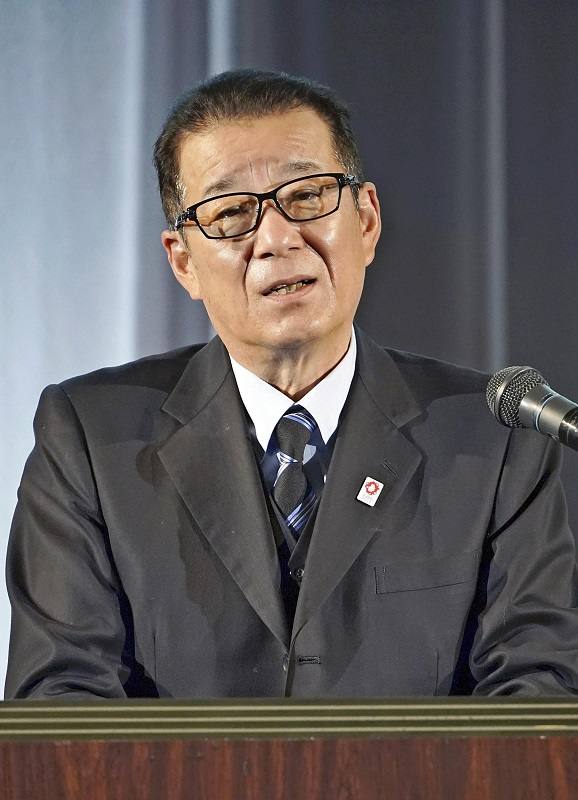 17:00 JST, April 18, 2022
Nippon Ishin no Kai (Japan Innovation Party) has aggressively fielded candidates in local elections this year, drawing on the momentum from its success in the 2021 House of Representatives race. However, the weakness of the party's regional bases has caused it to struggle outside Osaka Prefecture and the surrounding areas.
Ishin is therefore actively working to get in shape ahead of the House of Councillors election this summer.
On April 10, a never-before-elected candidate from Ishin won the by-election for the Kyoto prefectural assembly, defeating candidates from the Liberal Democratic Party, the Japanese Communist Party and the Constitutional Democratic Party of Japan (CDPJ).
The victory highlighted Ishin's strength, as the election was viewed as a prelude for the upper house contest in the Kyoto constituency, where two seats are up for grabs. However, Nippon Ishin no Kai head lchiro Matsui quickly warned against complacency.
"Outside of Osaka [Prefecture and the surrounding areas], the LDP is overwhelmingly the No. 1 party. If we ease up, the voters will soon notice," he told reporters the day after the race.
In fact, there is little optimism among Ishin members for the upper house election.
In local elections this year, official or recommended candidates of Ishin, including those of the regional political party Osaka Ishin no Kai, have shown strength in Osaka Prefecture. However, they failed to achieve the desired results elsewhere, including mayoral elections in Nishinomiya, Hyogo Prefecture, and Machida, Tokyo.
In the 2021 lower house election, Ishin gained support from swing voters critical of the CDPJ and won 41 seats, nearly four times the number it held prior to the race. It has also garnered a higher support rating than the CDPJ, creating an optimistic mood within the party.
However, tough battles in some local elections have been changing the atmosphere.
At the party convention in March, Ishin set a goal of more than doubling its seats in the upper house election from the six it currently has and becoming the No. 1 opposition party in the next lower house race.
To achieve these goals, it is essential for the party to expand local organizations and strengthen its activities.
"Its local organizations and supporters associations are weak, even in the constituencies where the party elected people to the lower house," a senior Ishin member said. "There's a limit to what we can do simply by relying on the favorable winds that may blow for us."
"Fighting a futile battle will only drain your energy. I hope you'll examine the situation carefully," Ishin coleader Baba Nobuyuki said at the meeting, intimating that the party will revise its policy of aggressively fielding candidates in local elections.