Japan's 9 political party leaders travel enough distance campaigning to circle Earth 1½ times
18:05 JST, October 31, 2021
The nine political party heads traveled 68,744 kilometers across Japan during 12 days of campaigning for the House of Representatives election, about the equivalent of circling the Earth 1-1/2 times, a Yomiuri Shimbun survey found.
The Earth's circumference is about 40,000 kilometers.
The ruling and opposition party leaders traveled great lengths to appeal to voters during the campaign.
The decrease in coronavirus cases may have been a factor in the distances traveled, which were similar to those in past lower house election campaigns.
Prime Minister Fumio Kishida, who is also the president of the Liberal Democratic Party, covered the most ground: 13,046 kilometers.
When the official campaign started on Oct. 19, Kishida interrupted his campaign tour because North Korea test-fired ballistic missiles.
However, on Thursday Kishida gave speeches in five prefectures from Tohoku to Shikoku. A chartered plane enabled him to visit many parts of the country.
Kishida traveled to 24 prefectures, the most by a party chief during the campaign. He visited Hiroshima Prefecture, his home turf, for two days.
Constitutional Democratic Party of Japan leader Yukio Edano traveled 7,153 kilometers. He repeatedly stayed overnight to effectively cover places where close battles were expected in constituencies. Edano traveled to 23 prefectures, one less than Kishida and the second-highest number.
Komeito head Natsuo Yamaguchi and Japanese Communist Party leader Kazuo Shii focused on the proportional representation ballots, placing priority on urban areas.
Yamaguchi also visited prefectures where candidates endorsed by Komeito ran, such as Hokkaido and Hiroshima Prefecture.
Shii traveled 11,308 kilometers, the second-highest number after Kishida. Shii also went to Okinawa Prefecture.
Ichiro Matsui, leader of Nippon Ishin no Kai (Japan Innovation Party), visited Osaka Prefecture and neighboring prefectures that constitute Ishin's political base. Matsui also traveled to the Kanto region, where the party fielded candidates.
Democratic Party For the People leader Yuichiro Tamaki went to Nagasaki Prefecture, which the party regarded as a priority location, for three days.
The figures were calculated by measuring linear distances between places where each of the party heads delivered speeches, based on official announcements made by the parties.
Distances within municipalities and inside Tokyo's 23 wards, as well as those traveled for official duties or inspection tours, were not included in the calculations.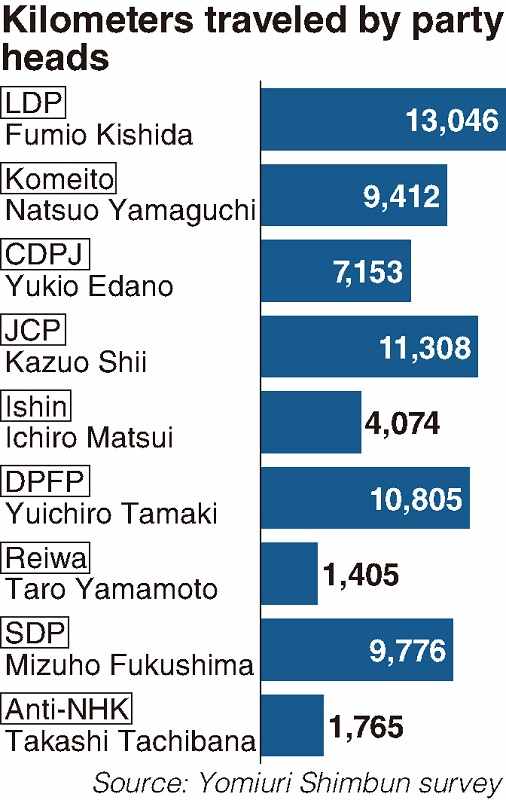 Add TheJapanNews to your Google News feed.