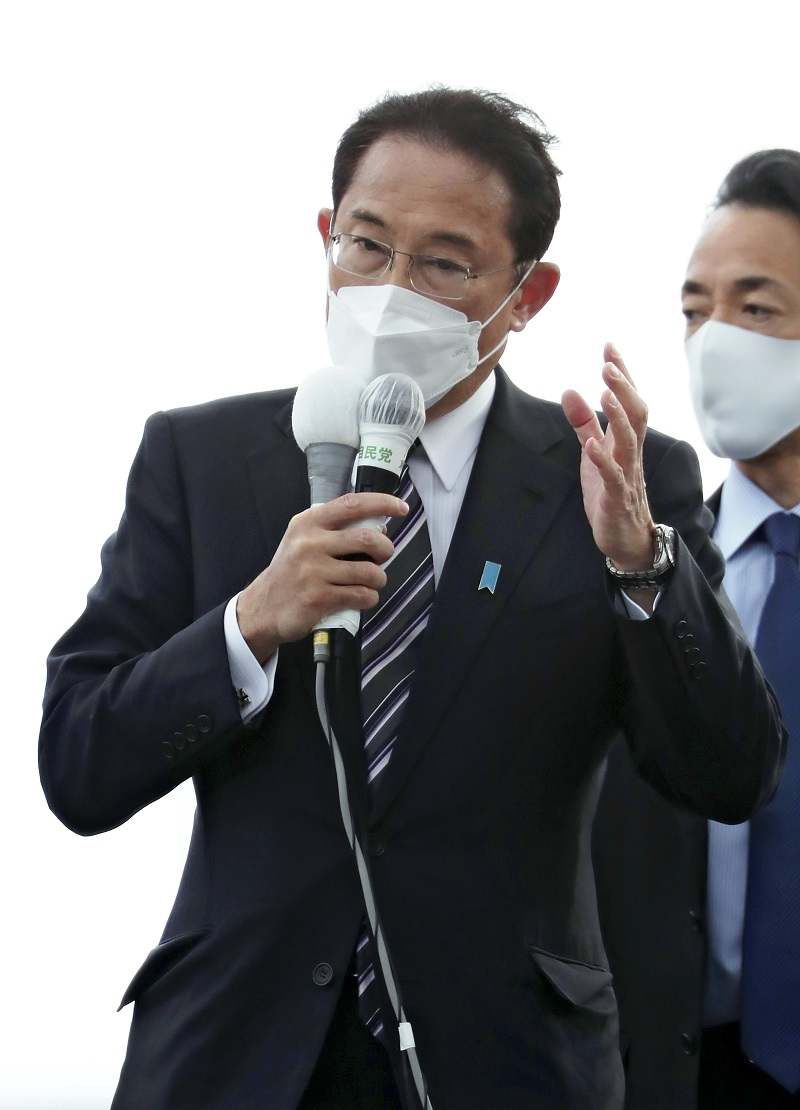 17:24 JST, October 29, 2021
A recent Yomiuri Shimbun survey has shown that 104 Liberal Democratic Party candidates, including party executives and Cabinet members, will likely face tight races in the House of Representatives election on Sunday.
Nearly half of the Constitutional Democratic Party of Japan's candidates are also facing neck-and-neck battles. Whether the ruling or opposition camp clinches the election depends on how many seats they will be able to win in closely contested constituencies.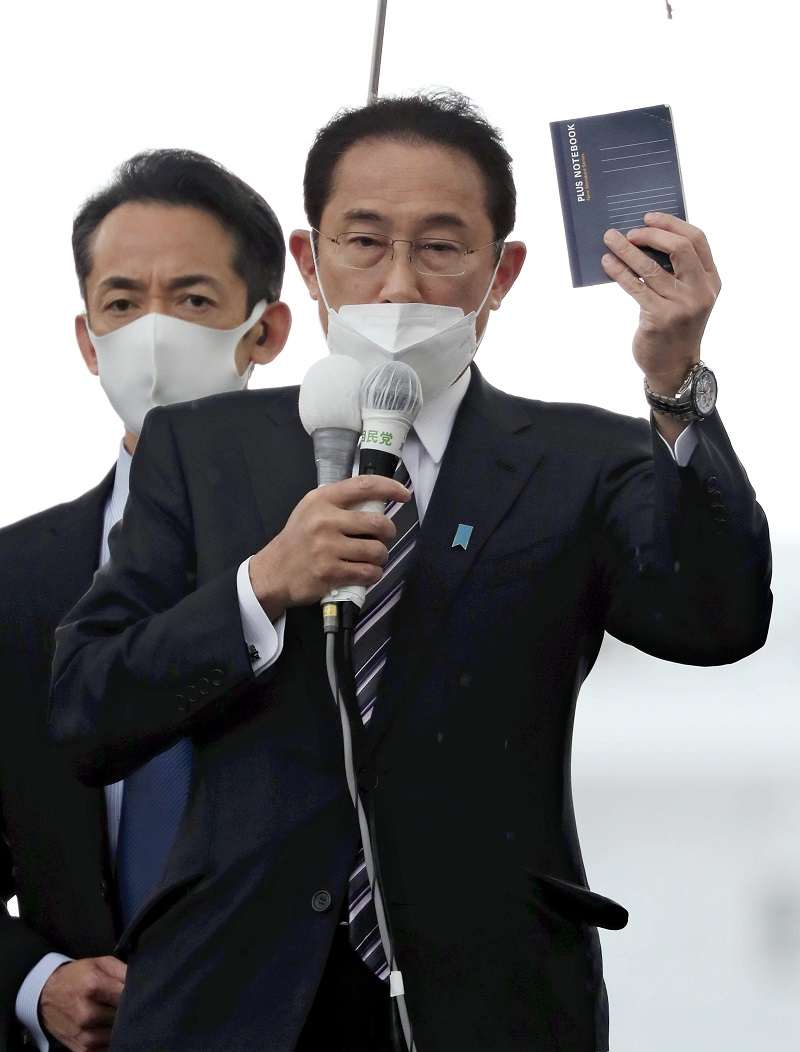 "From Hokkaido to Okinawa, constituencies everywhere are in neck-and-neck races. I want you to push us up and give us victory," Prime Minister and LDP President Fumio Kishida said, expressing a sense of crisis in a speech Thursday in Odate, Akita Prefecture.
On the same day, Kishida visited Aomori, Akita and Ishikawa prefectures, which all have closely contested constituencies.
Just 10 days after taking office, Kishida dissolved the lower house for an ultrashort decisive battle. Some LDP members were pinning their hopes on riding the buoyant mood around the newly formed Kishida Cabinet. However, the LDP ended up with one win and one loss in House of Councillors by-elections in Shizuoka and Yamaguchi last Sunday. A senior LDP member lamented, "Our hopes have been dashed already." The LDP did not receive the favorable wind it expected, and now its ability to move forward under its own power will be tested at the ballot box.
Things got more difficult for the LDP when the CDPJ reached agreements on unified candidates with four opposition parties — the Japanese Communist Party, the Democratic Party for the People, Reiwa Shinsengumi and the Social Democratic Party — in 213 constituencies.
In the last lower house election in 2017, a profusion of opposition candidates had the effect of helping the LDP. But this time, the LDP must engage in one-on-one battles against unified opposition candidates in 132 constituencies.
Of the 277 LDP candidates running in single-seat constituencies, 104, including party executives and Cabinet members, are fighting neck-and-neck battles, many of which are one-on-one races with the unified opposition candidates.
Kanagawa Constituency No. 13 is a symbolic example. LDP Secretary General Akira Amari is running neck and neck with the CDPJ's Hideshi Futori as the campaign reaches its final stage.
Amari, who had been cheering for his fellow candidates all across Japan, arrived Thursday in his electoral turf of Yamato, Kanagawa Prefecture, and said, "I will certainly revive Japan by reforming the LDP."
In Fukushima Constituency No. 2, former Health, Labor and Welfare Minister Takumi Nemoto appeared to hold the upper hand but then found himself losing ground amid tough competition from the CDPJ's Yuki Baba.
Similar close battles are being fought between World Expo 2025 minister Kenji Wakamiya and the CDPJ's Yoshio Tezuka in Tokyo Constituency No. 5 and between former Education, Culture, Sports, Science and Technology Minister Ryu Shionoya and the CDPJ's Kentaro Genma in Shizuoka Constituency No. 8.
On Wednesday, Kishida visited Tokyo Constituency No. 8 to make a campaign speech for struggling former Economic Revitalization Minister Nobuteru Ishihara. Even so, the CDPJ's Harumi Yoshida, supported by the JCP, is slightly ahead of Ishihara.
However, the prevailing winds don't necessarily favor the CDPJ, either.
Of the 214 CDPJ candidates running in single-seat constituencies, only 37 hold the upper hand, up slightly from the beginning of the campaign, while 94 are expected to face tight races. Like the LDP, the CDPJ's big-name candidates are being forced into fierce battles.
In Iwate Constituency No. 3, Ichiro Ozawa, who has been elected 17 times, is in a tight race with Takashi Fujiwara of the LDP. On the starting day of official campaigning on Oct. 19, Ozawa made his first speech on his own turf, instead of campaigning all over Japan. This surprised his campaign club because it was "the first time since he was first elected that Ozawa started a campaign on home ground," one of the supporters said.
In Fukushima Constituency No. 3, former Foreign Minister Koichiro Genba, who has been elected seven times in a row in a single-seat constituency, is in a close race with LDP candidate Kentaro Uesugi.
On Thursday, CDPJ leader Yukio Edano toured close-fought constituencies in Tokyo, Nagano and Saitama prefectures.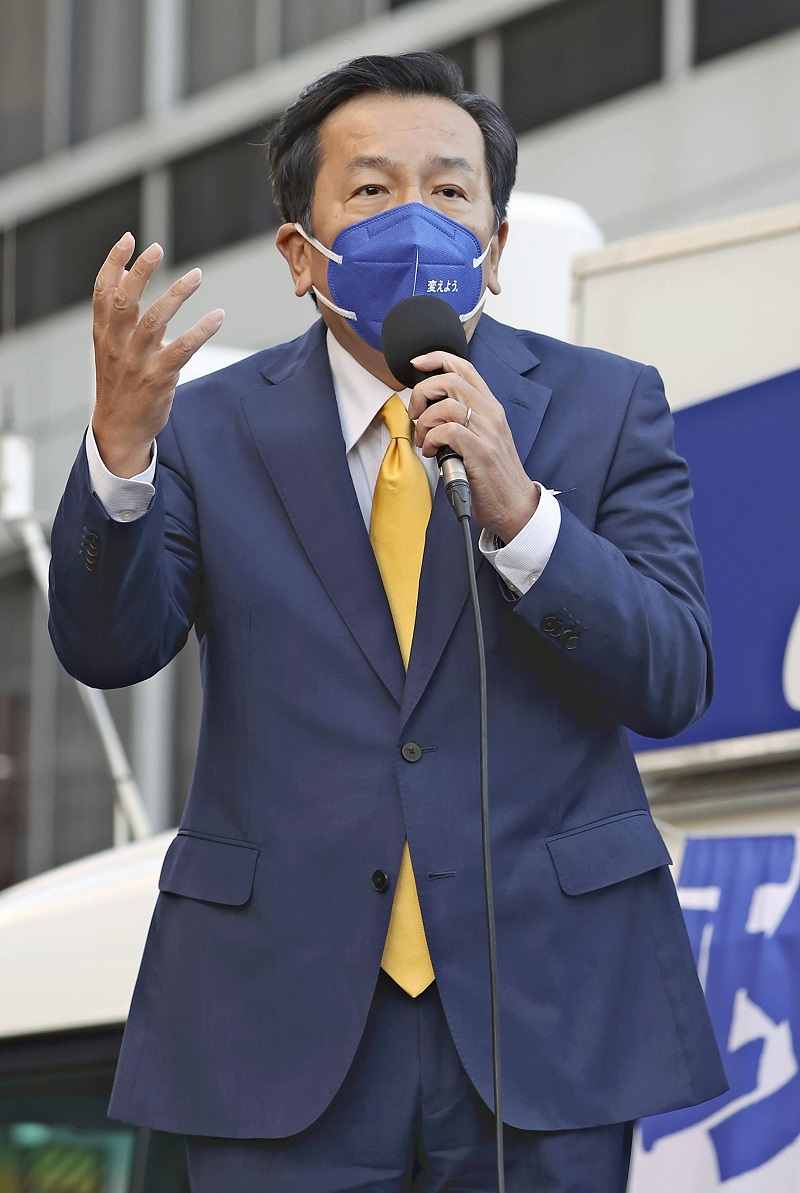 "We have a concrete plan. Let's do it," Edano said in Komoro, Nagano Prefecture, with a microphone in his hand, emphasizing the necessity of a political regime change. "We have no choice but to change politics."