17:32 JST, October 28, 2021
A Yomiuri Shimbun survey of candidates running in the upcoming House of Representatives election has shown clear differences among the parties regarding foreign and security policies.
Ruling coalition candidates of the Liberal Democratic Party and Komeito were split over the issue of possessing the capability to attack enemy bases based on the right of self-defense.
In the survey, 77% of LDP candidates were in favor of having the capability, while 83% of Komeito candidates were against it.
Among the opposition parties, almost all respondents from the Constitutional Democratic Party of Japan, Japanese Communist Party and Social Democratic Party were against the idea, while 93% of Nippon Ishin no Kai (Japan Innovation Party) candidates supported it.
Regarding defense spending, 79% of LDP candidates and 89% of Ishin candidates said it should be increased, the highest percentages among the parties, while 69% of Komeito candidates and 59% of CDPJ candidates said spending on defense should remain unchanged. Nearly all JCP candidates said defense spending should be reduced.
Candidates' stances on defense capabilities appeared to be linked to their party's views on Japan's relationship with the United States and China: 59% of the candidates who prioritized ties with the United States were positive about increasing defense spending, while 72% of those who thought Asia was the priority said defense costs should be cut.
A similar trend was seen regarding whether Japan should have the capability to attack enemy bases.
The responses also appear to have been influenced by the candidates' views on China's maritime expansion — such as its intrusions into territorial waters around the Senkaku Islands in Okinawa Prefecture and the navigation of its warships in waters around the Nansei island chain.
Overall, respondents appeared to be concerned about human rights issues in China, which has strengthened hegemonic moves by steadily building up its military. However, most were in favor of maintaining the bilateral relationship with Japan's largest trading partner in the economic field.
Western countries have continued to impose de facto economic sanctions against China over human rights concerns in the Xinjiang Uygur Autonomous Region. Just under 60% of the respondents said Japan should also impose sanctions — 66% of LDP candidates, 51% of CDPJ candidates, 61% of JCP candidates, 86% of Ishin candidates and 63% of Democratic Party for the People candidates.
On the other hand, 61% of respondents said they are in favor of maintaining the status quo regarding economic ties with China, with little difference among the ruling and opposition parties. Notably, the figure was also 61% among respondents who said sanctions should be imposed against China.
Meanwhile, the majority of Komeito candidates were negative about sanctions, with 86% of its candidates saying dialogue with China should continue.
The Japan-China relationship was once described as being "politically cool and economically hot," with economic ties maintained even when diplomatic relations deteriorate.
The results of the survey indicate that candidates still seem to favor such a relationship.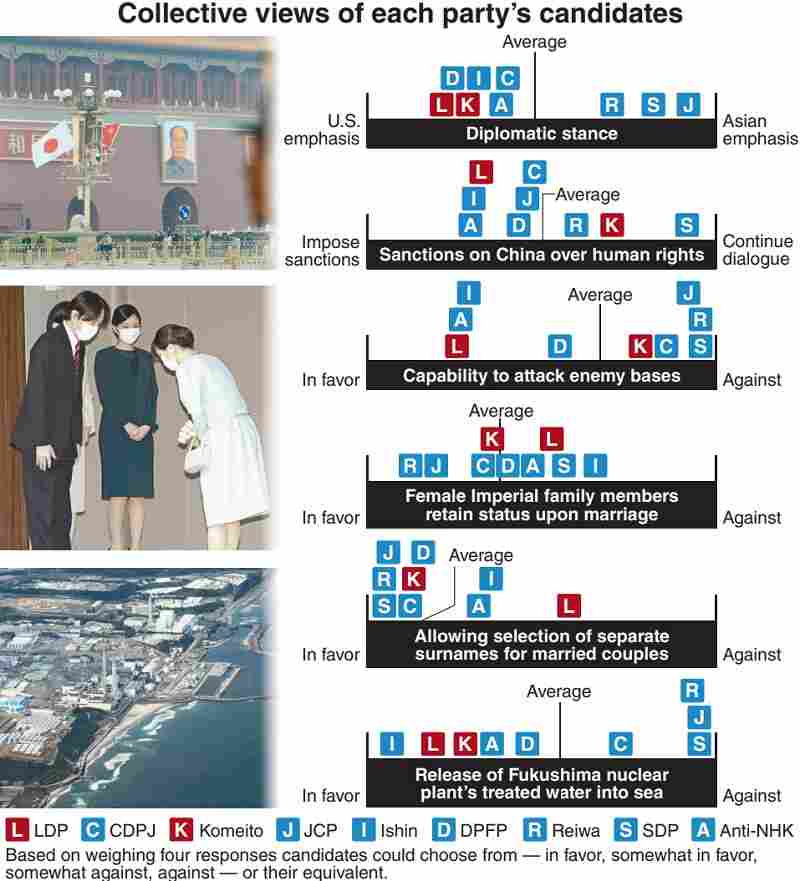 Add TheJapanNews to your Google News feed.