Neck and Neck / Sensing tough election battle, a 'king' makes rare appearance in his realm in northeast Japan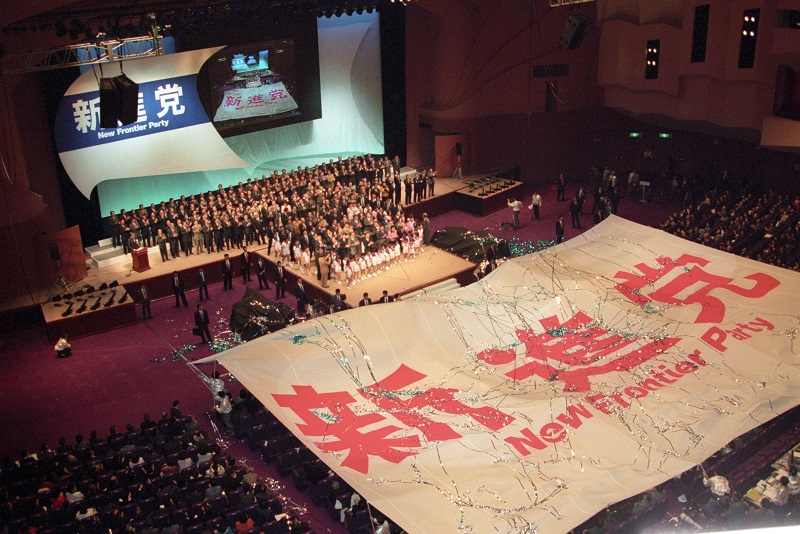 17:47 JST, October 24, 2021
A crowd of about 500 people gathered in a shopping district that few people usually visit, eager to see the return of the "king" who has often been absent from his realm.
Most of the people were elderly and wearing coats as the temperature dropped to nearly 10 C on Tuesday as Ichiro Ozawa made a speech in the Mizusawa district in Oshu, Iwate Prefecture.
It was the day official campaigning for the Oct. 31 House of Representatives election kicked off, an unusually early appearance for Ozawa on his home turf.
"I've been working hard for a long time with support from you," Ozawa said to the people assembled. "But this election will be very tough."
Ozawa, 79, is running as an official candidate of the Constitutional Democratic Party of Japan in Iwate Constituency No. 3.
Yoshimoto Kazue, secretary general of a support association who has backed Ozawa for 50 years, was surprised at his appearance.
"I think this is his first visit to his home turf on the first day of campaigning since he ran in an election for the very first time," the 72-year-old Kazue said.
According to sources, because Ozawa felt there was not much leeway for optimism in this election, he decided on his own to visit his home turf to get his campaign off to a good start.
Since the 1969 lower house election, Ozawa has been elected 17 consecutive times, meaning he has been a Diet member for more than half a century. Because he has always boasted a solid support base, dubbed the "Ozawa kingdom," it was customary for him to travel across the country to support the campaigns of other candidates in his party from the first day of official campaigning.
As Ozawa ages, so do his supporters. The more than 100 support groups spread across seven cities and towns that have backed his kingdom have been forced to reduce their activities year after year.
There was a time when a majority of the members in the 48-seat Iwate Prefectural Assembly were connected to Ozawa, but the number of assembly members viewed as being close to him is currently only less than 10. Some voters in the construction industry who used to be united in their support for Ozawa have returned to backing the Liberal Democratic Party.
Ozawa had been the center of attention in politics. At 47, he became the LDP secretary general. After leaving the party, he repeatedly founded new parties, then disbanded them, earning the nickname "the Destroyer."
His presence today has undeniably been diminished now that he is a non-executive member of the CDPJ under the leadership of Yukio Edano, 57, with whom he was at odds when the now-defunct Democratic Party of Japan held the reins of government.
In late September, Hirofumi Hirano, 72, chairperson of the CDPJ Election Strategy Committee, offered Ozawa a role as a negotiator to meet other opposition parties in the interests of forming a joint front against the ruling camp. This did not come to pass, however, as Edano, wary of Ozawa's return to power, expressed reservations about the idea.
Ozawa's supporters have also been frustrated, with one heard saying: "What has Ozawa been doing in Tokyo? I don't even see him on TV."
Another sign of Ozawa's declining influence was apparent in a row over the candidate to be fielded in Iwate Constituency No. 1. Ozawa represents the CDPJ's Iwate prefectural chapter and urged Edano to field a first-time, female candidate in the constituency, with backing from Iwate Gov. Takuya Tasso. Despite Ozawa's direct appeal, Edano had his way and the party fielded Takeshi Shina, 55.
Shina used to be a close ally of Ozawa, but their relationship soured when Ozawa left the DPJ. The grudge from this incident is said to have been behind Ozawa's attempt to exclude Shina.
Ozawa eventually settled the matter by getting the female candidate listed under the proportional representation system, reportedly saying, "I don't like it, but I don't want to give people the impression that the party is divided."
A former lower house member who was familiar with Ozawa during his DPJ days said: "The old Ozawa would have split the party. This is proof that he has lost power."
Nevertheless, Ozawa's underlying strength cannot be underestimated.
In his home turf, Ozawa has many ardent supporters who make remarks such as, "I've never written a name other than 'Ozawa' when I vote."
Whenever his supporters hear that Ozawa is planning to return to his kingdom, his support groups are inundated with inquiries about when and where he can be seen.
Ozawa is scheduled to visit again before the Oct. 31 election.
"In any case, the best thing is to show him fit," Kazue said. "If he shows up in person, people will no longer say things like, 'Oh, he's too old now.'"
Takashi Fujiwara, a 38-year-old LDP member, has run against Ozawa since the 2012 lower house election, but has lost in the past three battles in the single-seat constituency. Fujiwara, however, has managed to secure a Diet seat under the proportional representation system.
"For the past nine years, I've listened to people in my constituency, and I'm confident in saying that I've taken their issues to the national government," Fujiwara said. "It is important for Diet members to solve the issues, one by one, that local people face."
Standing on the street in the Mizusawa district on Tuesday, Fujiwara called attention to his strengths as a candidate of the ruling party, citing, for example, progress in the development and maintenance of roads.
Fujiwara has made a point of selling aspects that Ozawa lacks: youth and engagement. He has been active, visiting 40 to 50 locations in a day. He has also made efforts to build a network with young executives and others using YouTube and social media.
While he has refrained from criticizing Ozawa in public, Fujiwara has reportedly told people around him, "Perhaps some people might be getting tired of Ozawa."
Add TheJapanNews to your Google News feed.