Neck and Neck / LDP, Komeito join hands to ensure win in Kishida's political home turf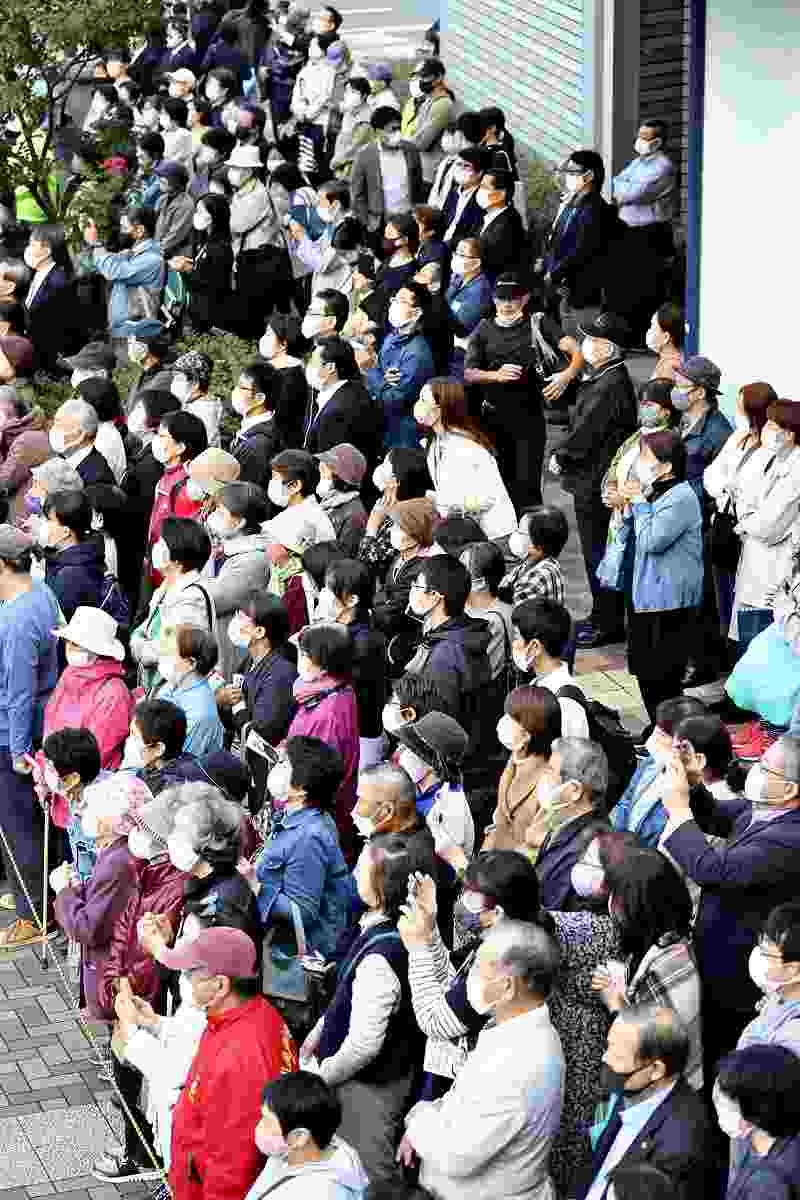 17:14 JST, October 22, 2021
Ahead of the Oct. 31 House of Representatives election, this article is the first in a new series that looks into constituencies where candidates are facing close battles.
"My father was a village council member who was a staunch rank-and-file LDP member. The LDP constitutes 95% of my blood."
These words were spoken by someone who is not a member of the Liberal Democratic Party himself. It was Land, Infrastructure, Transport and Tourism Minister Tetsuo Saito, the deputy chief of Komeito.
The remark drew laughter from the audience and briefly eased the tense atmosphere at a municipal hall in Asaminami Ward, Hiroshima, on Oct. 15, the day after the House of Representatives was dissolved.
Saito, 69, participated in a campaign rally held by the LDP's Hiroshima prefectural chapter for Rintaro Ishibashi, 43, who is running in the Chugoku bloc of the proportional representation system on the LDP ticket.
As an invited guest, Saito sat onstage in a chair with his back straight, bowing so deeply that his head almost touched his knees every time LDP-related people greeted him.
Saito is a unity candidate jointly supported by the ruling coalition of the LDP and Komeito in Hiroshima Constituency No. 3. However, he has been highly attentive to the LDP because Komeito's basic support in the constituency, estimated to provide 20,000 to 30,000 votes, is far short of the 80,000 votes his campaign team projects that he will need to win.
And there were certain circumstances leading up to Saito's running in the constituency.
In December last year, the LDP prefectural chapter asked the party headquarters to field Ishibashi as a candidate for the No. 3 constituency after former Justice Minister Katsuyuki Kawai, 58, left the LDP over a politics and money scandal. However, Komeito was determined to field Saito in the constituency and did not flinch as local supporters expressed their strong desire not to support LDP candidates. Fearing a spillover effect on LDP-Komeito cooperation at the national level, the LDP headquarters decided to settle the matter by having Ishibashi run in the proportional representation system. However, the prefectural chapter was left feeling frustrated.
Hiroshima Prefecture is the political home turf of Prime Minister Fumio Kishida, 64. When Takashi Nakamoto, 63, president of the Hiroshima Prefectural Assembly who also serves as acting chairman of the LDP's Hiroshima prefectural chapter, visited the Prime Minister's Office on Oct. 5, Kishida told him: "We can't lose in Hiroshima Constituency No. 3. I want the prefectural chapter to do everything it can to support [Saito]."
If Komeito candidates lose in Kishida's stronghold, the relationship of trust between the LDP and Komeito could deteriorate and that could weaken the prime minister's clout. Kishida appointed Saito as land minister, taking into account Komeito's intent to use Saito as a boost to the party's election campaign. Kishida's wife Yuko, 57, attended an event to launch Saito's election office, and the prime minister himself appeared in Hiroshima on Wednesday, the day after official campaigning for the election started.
However, Hiroshima has its own complications as a conservative stronghold that has many ardent LDP supporters.
"If Saito is elected, the No. 3 constituency will be taken over by Komeito," one influential LDP supporter, 59, said with frustration. "I believe the LDP is good, and I even pay membership fees for the party. Why do we have to join hands with Komeito?"
In a House of Councillors by-election in the Hiroshima prefectural constituency in April, opposition parties were united and won after making the issue of politics and money a focus in the election.
Mayumi Ryan, 58, a member of the Constitutional Democratic Party of Japan, is hoping to replicate that upper house win in the current lower house race. She has made "clean politics" her catchphrase and criticized Kishida and Saito, saying in a street speech that Japan has become "a country where even the post of minister is used to win elections."
Attention will be on whether the ruling camp will demonstrate the fundamental strength of LDP-Komeito cooperation or the opposition camp will win a victory once again. The battle in Hiroshima Constituency No. 3 is also likely to indicate how the government will be managed after the general election.
Candidates running in Hiroshima Constituency No. 3
Hiroshi Oyama, 73, Independent, new
Shuhei Yajima, 29, Anti-NHK, new
Tetsuo Saito, 69, Komeito, elected nine times
Noritaka Tamada, 64, Independent, new
Mayumi Ryan, 58, CDPJ, new
Hirochika Segi, 57, Ishin, new
(In order of filing a candidacy. Ages as of election day.)
The constituency consists of areas such as Asaminami and Asakita wards in Hiroshima.
Add TheJapanNews to your Google News feed.