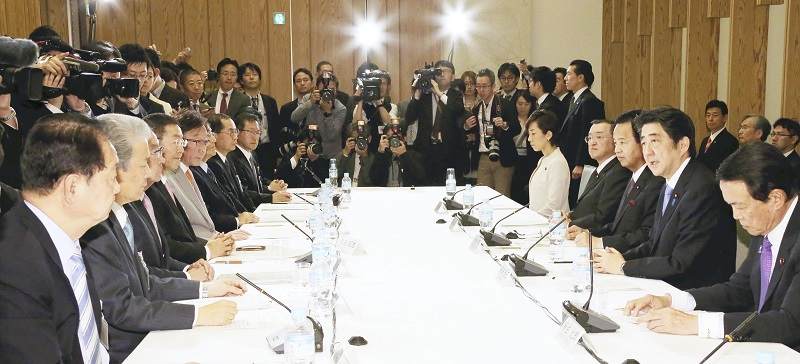 17:48 JST, October 20, 2021
Economic policies will take center stage during campaigning for the House of Representatives election, with the leader of the Liberal Democratic Party, Prime Minister Fumio Kishida, pledging to create a "virtuous cycle of growth and [wealth] distribution."
A big challenge for the Japanese economy is how to raise pay, which has barely increased in real terms over the past 30 years.
Government-led spring labor negotiations have been the norm since former Prime Minister Shinzo Abe launched his Abenomics policy package in his second administration.
The government hopes its push for pay increases will be heeded by companies, which have the final say on hikes. If wages increase, people will consume more and the economy will pick up.
Annual pay increases of more than 2% were realized in the seven years through 2020. However, increases in Japan are meager compared to countries in Western Europe and North America.
According to data compiled by the Organization for Economic Cooperation and Development (OECD), at purchasing power parity, which adjusts for price level differences across countries, annual pay in Japan averaged $39,000 (or about ¥4.4 million) in 2020, a 4% increase compared with annual pay 30 years ago.
During the same period, annual pay increased by 48% in the United States and 44% in the United Kingdom.
In terms of average pay, Japan has been overtaken by South Korea in the last 30 years.
Japanese businesses have been enjoying robust earnings, with their internal reserves reaching a record ¥484 trillion at the end of fiscal 2020, marking a record for the ninth consecutive year.
Shinichiro Kobayashi, a senior researcher at Mitsubishi UFJ Research and Consulting Co., said, "The profits of Japanese companies increased as they expanded overseas, but the return was minimal for their workers in Japan."
Observers have said that this is because companies prioritized the expansion of non-regular employees over pay increases.
Another factor is that the number of people working in industries with relatively high wage levels has not increased.
In fiscal 2020, the number of workers in the finance, insurance and manufacturing sectors, where wages are higher than average, was almost the same as it was 10 years before, according to a labor survey by the Health, Labor and Welfare Ministry.
Meanwhile, the number of workers in the hotel, dining, wholesale and retail sectors, where wages are relatively low, has increased by 10-30% over the same period.
Although wages have remained low, people's financial burdens have increased.
The ratio of taxes and social security premiums to gross national income stood at 46.1% in fiscal 2020 and is expected to reach a record high this fiscal year.
Disposable income was up 3.2% from a year earlier in fiscal 2020, thanks to the ¥100,000 cash handout that was part of the government's COVID-19 support measures.
But from fiscal 2016 to 2019, disposable income remained almost at the same level, prompting many people to feel that few benefits have been gained from the economic growth achieved through the Abenomics policy package.
Although political parties are vowing to correct income disparities, the gap between the rich and the poor is not as large in Japan as it is in Western countries.
According to data from the OECD, the top 1% of earners in the United States own 40% of the country's total wealth, while in Japan the top 1% own 10% of the wealth.
Political parties are pledging to give cash handouts to households hit hard by the COVID-19 pandemic.
But a one-off handout will not lead to a boost in people's average annual income.
Although the earnings of businesses such as restaurants and hotels have plunged, profits have surged in some sectors.
Increasing the number of employees in growth industries is key to increasing pay.
Workers who perform tasks with high added value must earn appropriate salaries and their pay should increase accordingly.
Keiji Kanda, a senior economist at Daiwa Institute of Research Ltd., said, "For companies to create an environment in which pay can be increased, policies need to be implemented that will improve productivity, including digitization of business operations."