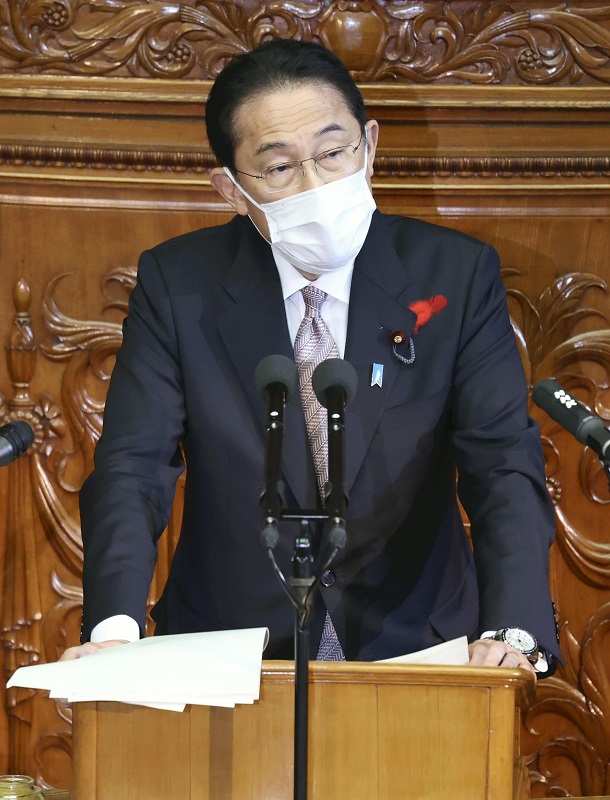 17:19 JST, October 12, 2021
Ahead of the dissolution of the House of Representatives on Oct. 14, Prime Minister Fumio Kishida faced off with the Constitutional Democratic Party of Japan (CDPJ) leader Yukio Edano for the first time during a plenary session of the lower house on Monday.
The party leaders exchanged views on economic policy and COVID-19 measures, which are expected to be major issues in the upcoming election.
"In the LDP presidential election, you said it was necessary to raise income tax on capital gains and dividends, but you failed to mention it in your policy speech and effectively denied it in a TV program," Edano said, slamming Kishida for his alleged "inconsistency."
During the LDP presidential election, Kishida pledged to increase the tax on gains from stock transactions. However, stock prices fell, stoking concerns among market observers that the policy had cooled investor sentiment.
Kishida's stance appeared to have changed when he appeared on a Fuji TV program that aired on Sunday. "I'm not thinking of touching [the issue] for the time being," he said.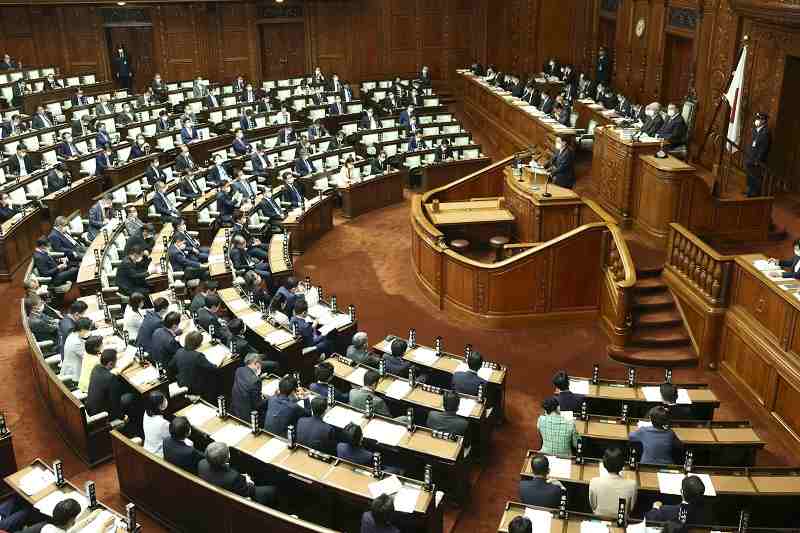 During Monday's plenary session, Kishida said that a review of the taxation system on financial income would be "one of the options in my distribution policies," and that he intends to prioritize taxation aimed at raising wages and measures to improve the treatment of subcontractors.
Edano also touted his party's economic policies, with an eye on the upcoming lower house election. Regarding Kishida's pledge to create a "new capitalism" to achieve a virtuous cycle of growth and distribution, Edano described it as "an abstract policy that lacks concrete measures."
"The starting point for a virtuous cycle is proper [wealth] distribution," he stressed.
Edano listed emergency measures such as a cash relief of ¥120,000 per year to low-income earners and a temporary reduction in consumption tax to 5%.
However, Edano did not specify where the money for the measures would come from, prompting criticism from an LDP executive, who said the policies were "irresponsible" and involved throwing money around.
Kishida responded to Edano, saying: "It is extremely important to aim for growth first. That's what I learned from the failures of the administrations of the [now-defunct] Democratic Party of Japan [to which Edano belonged]."
Regarding wealth distribution, Kishida said, "We will consider strengthening support for companies that proactively raise employees' pay."
Opposition parties have long argued for the need for wealth redistribution, claiming that the gap between the rich and the poor has widened under the LDP.
The appointment of a prime minister who has pledged to distribute wealth has obscured policy differences between ruling and opposition parties, making it difficult for opposition parties to attack the government, according to a senior opposition lawmaker.
Edano also criticized Kishida's COVID-19 measures, which the administration has positioned as a top priority.
"No specific measures have been given regarding the strengthening of the functions of the government's control tower," he said, adding that if the CDPJ wins the election, he would establish a powerful control tower under the direct control of the prime minister in his first Cabinet meeting.
Kishida replied: "We will thoroughly analyze and verify the measures taken so far. We will drastically strengthen crisis management, including strengthening the functions of our control tower."
Kishida's play-it-safe stance was conspicuous throughout the session.
In his policy speech, Kishida did not use the word "reform," which was used frequently by former Prime Minister Yoshihide Suga.
"Kishida wants to avoid giving the impression that the new administration was making a sudden change of course [from that of the previous administration]," a source close to the prime minister said.
It is thought that Kishida aims to solidify his political base by winning the lower house election before touting policies that reflect his true colors.
Add TheJapanNews to your Google News feed.