Fractured Nikai faction set to be left out in the cold after Japan's LDP presidential election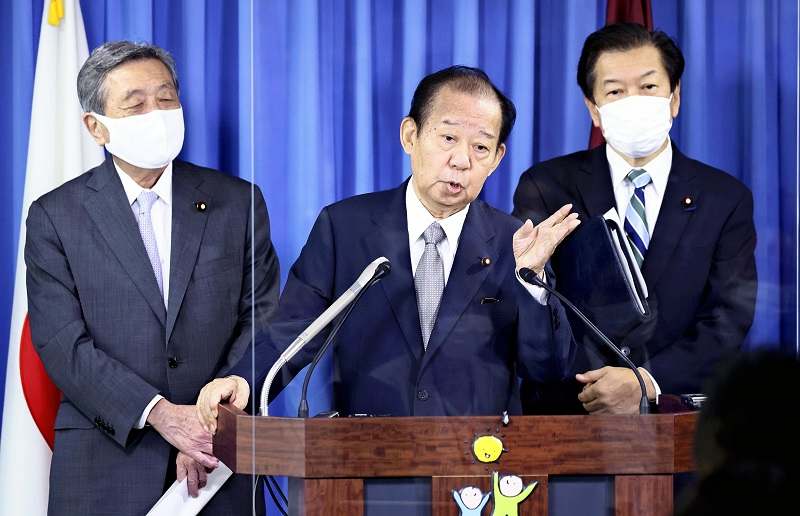 16:22 JST, October 1, 2021
The Nikai faction's influence within the Liberal Democratic Party appears to be waning, with this week's party presidential election bringing its decline into sharp focus.
The 47-member faction headed by LDP Secretary General Toshihiro Nikai is absent from the new lineup of top party executives drawn up by the LDP's new president, Fumio Kishida. During his five-year stint as secretary general, Nikai had built up considerable clout within the party and was able to flex his political muscles in party presidential elections and personnel appointments. However, the Nikai faction was largely a bystander in the latest LDP race because of its inability to unite behind any of the four candidates.
Despite this, Nikai tried to inspire members of his faction at a meeting in Tokyo on Thursday. "A major event has finished. Next, let's do our best to get everyone here [re]elected in the upcoming House of Representatives election," Nikai said.
The faction's acting chairman, former Chief Cabinet Secretary Takeo Kawamura, also urged faction members to stand firm. "I'm sure you all had various opinions about the party election. President Kishida has said the party will work as one team. Let's stay united as we move forward," Kawamura said.
Since being appointed secretary general in August 2016, Nikai has held a leading position during important party events. In February 2017, Nikai was quick to express support for then Prime Minister Shinzo Abe as he sought victory in a third consecutive LDP presidential race. Nikai's actions generated momentum for Abe. Nikai also was instrumental in changing the party's rules to allow the president to serve three consecutive terms. After Abe announced in 2020 that he would step down, Nikai endorsed then Chief Cabinet Secretary Yoshihide Suga and got the wheels turning on the birth of Suga's administration.
On the back foot
However, Nikai appears to have been in a defensive mode more recently.
Kishida got a jump on the field when he announced Aug. 26 that he would run in the LDP race. Kishida floated a reform proposal that would limit tenure in LDP executive positions to three consecutive one-year terms. This apparently triggered Suga's decision to push Nikai out of his powerful LDP spot. "That was a blatant attack on Mr. Nikai," a senior official of the faction said, expressing a sentiment toward Kishida shared widely within the faction.
After Suga announced in early September that he would not run for a new term as LDP president, Nikai initially met several times with former LDP Secretary General Shigeru Ishiba and hinted at the option of supporting Ishiba as a rival candidate to Kishida. In the end, Ishiba decided not to throw his hat in the ring, and the Nikai faction went into the election that would choose Suga's successor without specifically supporting any of the candidates.
Pessimism growing
Ahead of the election, some Nikai faction members became nominators for three candidates: Taro Kono, minister of administrative and regulatory reform; Sanae Takaichi, a former internal affairs and communications minister; and Seiko Noda, the LDP's executive acting secretary general. In the election, the faction members were permitted to vote for the candidate of their choice.
The faction planned to uniformly back a single candidate if the election went to a runoff. However, it was unable to close ranks on this point. Although some lawmakers eventually cast their ballots for Kishida, the impact of those votes was lessened by the fact that veteran members of the party's Hosoda, Aso and Takeshita factions had already declared their support for Kishida and laid the foundations for his triumph in the runoff.
The Kishida Cabinet is set to be launched Monday, but some Nikai faction members are pessimistic on whether their grouping is in line for any juicy posts.
"I don't expect we'll get preferential treatment in personnel appointments like we did for the past five years," a midranking faction member told The Yomiuri Shimbun.