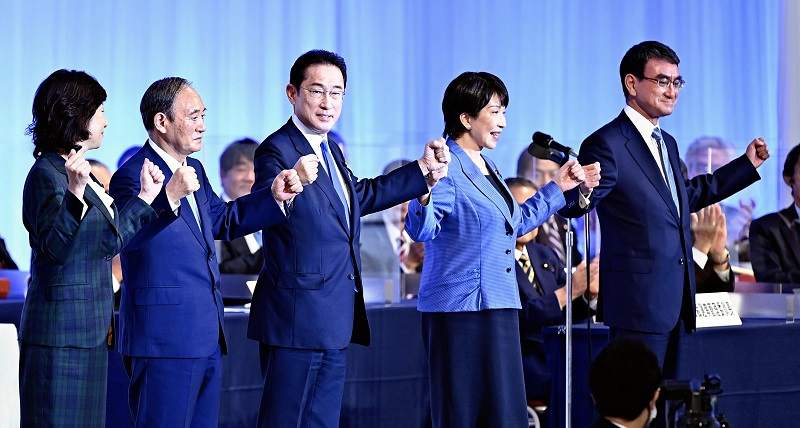 16:45 JST, September 30, 2021
Fumio Kishida, a former chairperson of the Liberal Democratic Party's Policy Research Council, dominated votes from party lawmakers and comfortably defeated Taro Kono, minister in charge of administrative and regulatory reform, in a runoff for the LDP presidency on Wednesday. Kishida's strategy of stressing an image of stability proved successful, resonating widely with members of various party factions.
In the LDP leadership race, former Prime Minister Shinzo Abe, who fully supported Sanae Takaichi, a former internal affairs and communications minister, also showed his influence in the party.
"The presidential election has ended. The competition is over," Kishida said. "Everyone, join me as I strive for an open LDP and a bright future for Japan."
The newly elected LDP president called for party unity in his speech during a joint general plenary meeting of party lawmakers at a hotel in Tokyo, where voting was held.
The Kishida camp had assumed that Kono, with strong name recognition, would have an advantage in garnering votes from rank-and-file party members and members of affiliated groups. In light of this, according to a close Kishida aide, the camp believed the only route to victory would be the classic tactic of steadily boosting support by stressing stability and policy measures, aiming to place second in the first round of voting and achieve a come-from-behind win in the runoff.
However, it turned out that Kishida garnered more lawmaker votes than expected, and the total of their ballots plus those of the rank and file put him on top in the first round, albeit by one vote.
This presidential election was unusual as six of the party's seven factions — all but the 46-member faction led by Kishida himself — effectively allowed their members to vote at their own discretion. Kishida responded by acting to expand support among senior officials and longtime members of factions, including the Hosoda faction, the largest at 96 members, and the Takeshita faction with 51 members, as well as among members of the House of Councillors.
With the entry of Kono, who is known for his criticism of party heavyweights and controversial remarks such as his call for a "nuclear-free Japan," Kishida was received favorably as having a sense of stability, although he had previously been regarded as not distinctive enough.
Headwinds ease for LDP
After Prime Minister Yoshihide Suga announced on Sept. 3 that he would step down, public criticism against the LDP eased, and this also worked to Kishida's advantage. Middle-ranking and younger members of the party, who had been inclined to support Kono with the expectation that he would be a better standard-bearer for the LDP to win elections, began listening to veteran party members who urged that a party leader should not be chosen solely on the basis of popularity.
Kishida also learned lessons from his defeat in the previous presidential election last autumn. In an effort to raise his profile, he let younger party members, who have been elected as lawmakers three times or fewer, take the lead in crafting policies and handling public relations. Announcing his candidacy for the party presidency at an Aug. 26 press conference, Kishida proposed party reforms that included reviewing the term of office for party executives with a view to replacing long-serving Secretary General Toshihiro Nikai. Such younger party members came up with this reform plan.
Abe seen as kingmaker
Within the party, Abe is regarded as a "kingmaker" for making Kishida the new party president. Abe gave his full support to Takaichi, who does not belong to any party faction, and used his clout to help her receive 114 lawmaker votes, the second largest number, although it had initially been difficult for her even to secure nominations from 20 Diet members. Abe also called younger party lawmakers, with whom he usually does not interact, one after another. If they did not offer cooperation, he warned that they would lose votes from conservatives in elections, according to sources.
Within the Kishida faction, Abe's fierce commitment to Takaichi raised suspicion as to whether Abe was seriously planning to let her win instead of Kishida. However, Abe's aim was to help Kishida win over Kono in a runoff by having Takaichi compete well in the first round.
During the election campaign, Kishida secretly met with Abe and often communicated with him by phone to seek his support in the runoff. On Monday, Abe told Akira Amari, chairperson of the LDP's Research Commission on the Tax System who serves as an election adviser for the Kishida camp, that "Kishida has become reliable and tough. I can trust him," according to sources. This remark led Amari to think that an agreement had been reached for the Kishida-Takaichi alliance.
After the vote, Abe told those around him with a satisfied look that votes that might otherwise have been cast for Kono were successfully taken away.