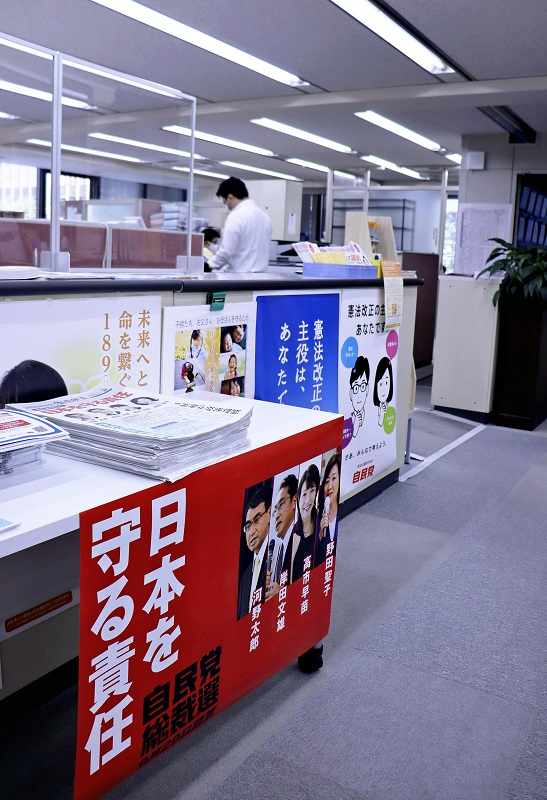 16:00 JST, September 25, 2021
As the campaign for presidency of the Liberal Democratic Party enters the homestretch, sparks are flying not only among Diet members, but also within local chapters.
The aims of Diet members do not always mesh with those of the constituency from which they were elected, and unified support for any specific candidate is regarded as the exception, not the rule.
Outside of their electoral power bases, the camps of the four candidates are also looking for ways to win over general party and members of affiliated groups.
In the LDP's Kanagawa prefectural chapter, over 90 percent of the 49 LDP members of the prefectural assembly are supporting Taro Kono, the minister in charge of administrative and regulatory reforms who was elected to the House of Representatives from the Kanagawa 15th constituency. A victory by Kono will give Kanagawa Prefecture its second consecutive LDP president, following Prime Minister Yoshihide Suga.
"I'd like to see a party president come from Kanagawa Prefecture for the second consecutive time, but from my position, I am unable to say whom I will support," Ryusuke Doi, secretary-general of the LDP prefectural chapter and a prefectural assembly member, said on Friday.
Among Diet members belonging to the LDP Kanagawa chapter, Suga and Environment Minister Shinjiro Koizumi have made clear their support of Kono. But Akira Amari, chairperson of the party's Research Commission on the Tax System and a member of the Aso faction that includes Kono, has become an advisor to the campaign headquarters of Fumio Kishida.
One prefectural assembly member close to Amari said he decided to support Kishida, the former chairperson of the LDP's Policy Research Council, out of what a senior member of the prefectural chapter calls "obligation and sympathy with his boss."
In Yamaguchi Prefecture, former Prime Minister Shinzo Abe, who backs former Internal Affairs and Communications Minister Sanae Takaichi, has gone all out in drumming up support, including personally phoning a number of LDP prefectural assembly members. A large portion of the 26-member bloc favors Takaichi.
Abe appears to still wield strong influence, as one member was heard saying, "I don't know much about Takaichi, but if I'm asked by Abe, I cannot refuse."
In an apparent act of defiance against Abe, Yoshimasa Hayashi, chairperson of the Kishida faction and a former minister of education, culture, sports, science and technology, is trying to expand support for Kishida.
Hayashi recently resigned as a member of the House of Councillors to make a run for the lower house seat in the Yamaguchi 3rd constituency in the next election. Many in the LDP prefectural assembly bloc view Hayashi as a future prime minister candidate, and one member close to him said, "Some assembly members are suffering from Abe's strong pressure but are working in support of Kishida."
Former Chief Cabinet Secretary Takeo Kawamura, the incumbent lower house member from the Yamaguchi 3rd constituency who opposes Hayashi's leaving the upper house to run for the seat, intends to support Takaichi at the request of Abe.
In Fukuoka Prefecture, neither Taro Aso, a former prime minister and now deputy prime minister and finance minister, nor Makoto Koga, former party secretary-general, has publicly stated who they will support. The party's prefectural chapter intends to allow assembly members to vote as they wish.
Meanwhile in Kishida's home base of Hiroshima Prefecture, most Diet members belong to the Kishida faction and are united in support of him. Senior prefectural chapter leaders have paid visits to about 40 local chapters nationwide to garner support outside the prefecture.
In Takaichi's home turf of Nara Prefecture, support for her within the prefectural chapter is gaining momentum, while in Acting Secretary-General Seiko Noda's base of Gifu Prefecture, the Gifu city branch has decided to back her.
Add TheJapanNews to your Google News feed.