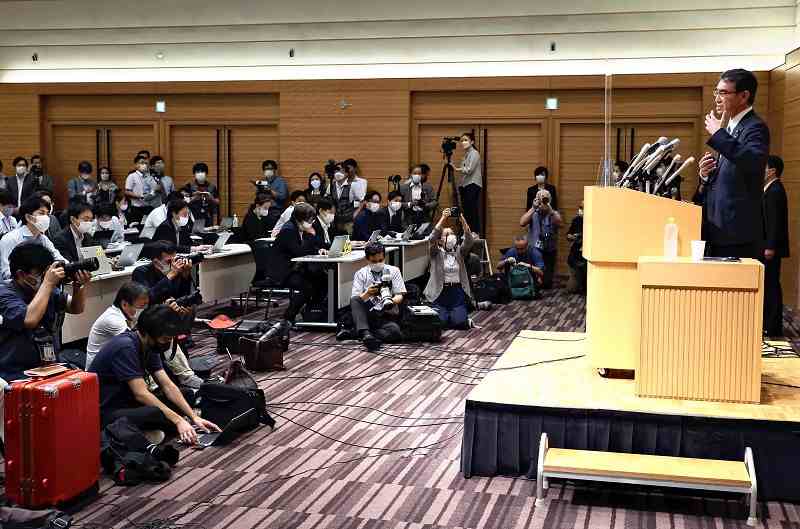 19:31 JST, September 11, 2021
The overall picture of the upcoming Liberal Democratic Party presidential election is coming into sharper focus, as Taro Kono, minister in charge of administrative and regulatory reform, has officially declared his candidacy for the party presidency.
The major candidates for the party presidency are likely to be Kono; Fumio Kishida, a former chairperson of the LDP Policy Research Council; and Sanae Takaichi, a former internal affairs and communications minister.
With no front-runner, the race is expected to be closely contested. The competition to succeed outgoing Prime Minister Yoshihide Suga is heating up.
When Kono was asked to describe his own strengths at a press conference Friday, he mentioned his record as the cabinet minister in charge of the coronavirus vaccine rollout. "My abilities to get things done and get through difficulties are incomparable," he said proudly.
In a Yomiuri Shimbun nationwide opinion poll conducted on Sept. 4 and 5, Kono was the top choice to succeed Suga. He has demonstrated his capabilities in reforming regulations and eliminating administrative inefficiencies and is not afraid to generate friction. Such an attitude is believed to be the reason why Kono enjoys high popularity among the public.
At Friday's press conference, however, a different Kono appeared. He emphasized that he would work to create a "warm society" and toned down his language.
Advice from Aso
As for the issue of reducing nuclear power to zero, Kono said, "Nuclear power will go away in the future, but I think that, for now, a realistic option is to resume operations of nuclear power plants whose safety is assured." When he was asked if he considered himself a supporter of a "society free from nuclear power," Kono avoided answering the question directly, saying, "I don't think it's appropriate to bracket people with a single phrase."
Concerning a policy to ensure stable succession to the Imperial throne, Kono once insisted on discussing the possibility of a female-line emperor. However, after deciding to run for the presidency, Kono now takes the stance of respecting the discussions of the government's expert panel.
Kono is popular among mid-ranking and junior lawmakers who need a leader who can help them win reelection. On the other hand, quite a few experienced lawmakers are concerned about Kono's views, his attitude of underestimating the necessity of behind-the-scenes work, and his blunt manner. Kono toned down his language because he intended to ease such negative impressions and win wider support within the party.
In his first LDP presidential election in 2009, Kono called for reforming the party, targeting factions and party heavyweights. At Friday's press conference, however, Kono touched on relationships with factions and party heavyweights, saying: "There are a lot of opinions to be heard. Equally listening to those opinions is a leader's job."
Balancing act
Behind the change in his attitude is the advice of Deputy Prime Minister and Finance Minister Taro Aso, who leads the faction to which Kono belongs. In the week from Sept. 3, when Kono decided to run in the election, he visited the Finance Ministry and met with Aso four times. Following his advice, Kono made several visits to an experienced lawmaker who was negative about Kono's candidacy.
The lawmaker said to him, "I can't support you this time, but I hope we will work together in the same faction after the presidential election."
However, shifting to a softer approach involves risks for Kono, too. After watching the press conference, a senior LDP official said, "I think his image as a reformist is now watered down." Kono also needs to maintain just the right distance from former LDP Secretary General Shigeru Ishiba, who is also popular in opinion surveys, just like Kono. This is because Ishiba is considering supporting Kono if the two can find common ground on party reform measures and other policies, but at the same time, Ishiba is deeply at odds with Aso and former Prime Minister Shinzo Abe.
From here on, Kono will be required to maneuver difficult issues while balancing offensive and defensive approaches.
Polar opposites
Kishida is aiming to become a vessel for lawmakers and party members who have concerns about Kono, who has been seen as a "heretic of the LDP."
"My appeal is my ability to listen and work as part of a team," Kishida told reporters on Friday. "Many politicians speak eloquently but fail to listen to what others have to say. If you just yell at people, you can't demonstrate teamwork."
It is believed that Kishida was alluding to Kono, whose intimidating behavior toward bureaucrats has often come under scrutiny.
Kishida lags behind Kono in terms of national name recognition, but Kono's support tends to be high among younger people.
A senior member of the Kishida faction said, "LDP members are older and seek stability rather than reform. We hope to capture the votes of party members and veteran lawmakers who are concerned that Kono may be reckless."
To build name recognition, Kishida has increased his TV appearances and communications on the internet, and he has announced a series of economic policies and measures against the novel coronavirus.
He has also shown consideration to Abe and conservatives who have influence in the Hosoda faction, the largest faction in the LDP, by suppressing his original dovish views and mentioning the possibility of constitutional revision and his opposition to considering female-line emperors.
Meanwhile, Takaichi, who is backed by Abe, has gained strong support from conservative voters for her policies, such as having Japan possess the capability to attack enemy bases, and her stated intention to visit Yasukuni Shrine if she becomes prime minister, but it will be a challenge for her to win over a wide range of supporters.
In a television program on Friday, she argued for the necessity of constitutional reform, a long-held policy of hers, while also demonstrating the breadth of her policies by presenting measures to support childcare, such as stating that a certain percentage of the cost of using babysitters and housework support services would be tax deductible.
Takaichi, a member of no faction, also said, "I have the Hosoda faction, the Takeshita faction and the Nikai faction working together with me," stressing to reporters that she was getting a certain level of support from each.