17:29 JST, September 9, 2021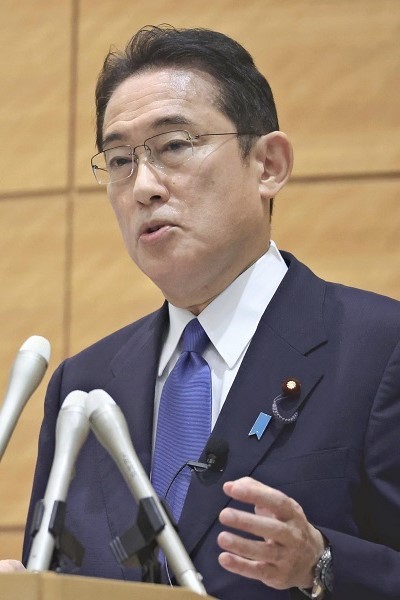 Issues related to the Imperial succession and nuclear power have been thrust into the spotlight in the Liberal Democratic Party leadership battle, following Sanae Takaichi's announcement that she will run in the upcoming election.
On such issues, Takaichi stands far apart from administrative and regulatory reform minister Taro Kono, who plans to declare his candidacy on Friday.
She is believed to have more in common with former LDP Policy Research Council Chairman Fumio Kishida, who has already thrown his hat in the ring.
"The state's ultimate mission is to protect the lives and assets of its people, and its land, waters, airspace, resources, sovereignty and honor," Takaichi said at a press conference on Wednesday. "I will devote myself to fulfilling that mission."
Takaichi, a former internal affairs and communications minister, said constitutional reform and acquiring the capability to "swiftly nullify enemy bases" were key policy issues. She also indicated her intention to continue visiting Yasukuni Shrine if she becomes prime minister.
"I have been doing so, based on my freedom of religion," she said.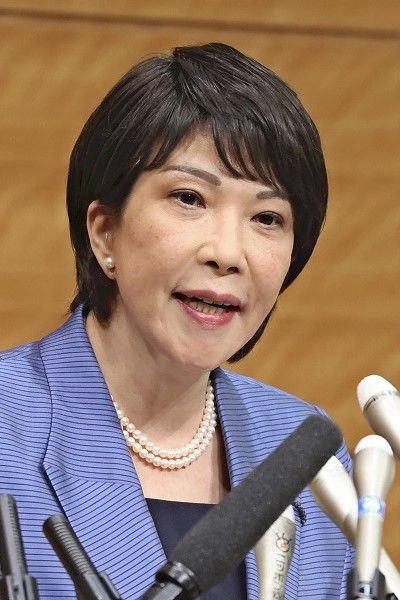 Takaichi shares the conservative political beliefs of former Prime Minister Shinzo Abe, who is backing her election bid.
In a nod to the Abenomics economic policy implemented by Abe, Takaichi announced she would promote "Sanaenomics," a policy that centers on monetary easing, flexible fiscal spending and investment in a bold growth program. Takaichi said she would freeze the goal of returning Japan's primary balance to the black until annual inflation reached 2%.
She also said she would consider crafting a legal framework that would enable lockdowns as part of the measures for tackling the novel coronavirus pandemic.
Takaichi is the second woman to stand in an LDP presidential election since 2008, when current Tokyo Gov. Yuriko Koike ran.
Takaichi has expressed support for the rules governing Imperial succession — under which only men in the paternal line can ascend the throne — arguing that the tradition has been carefully passed down and protected for many years. "I feel extremely strongly about whether it would be right for our generation to destroy this," Takaichi said.
There is strong support for maintaining male-only Imperial succession in the LDP, especially among conservatives such as Abe, and there has been resistance to the idea of female-line emperors who descend from the maternal line.
Takaichi and the party's conservative wing are closely aligned on the issue.
At the Wednesday press conference, Takaichi said the "peaceful use of nuclear power" was necessary in Japan, and she showed a willingness to invest in next-generation nuclear power plants.
The LDP's conservative camp is keeping a watchful eye on Kono.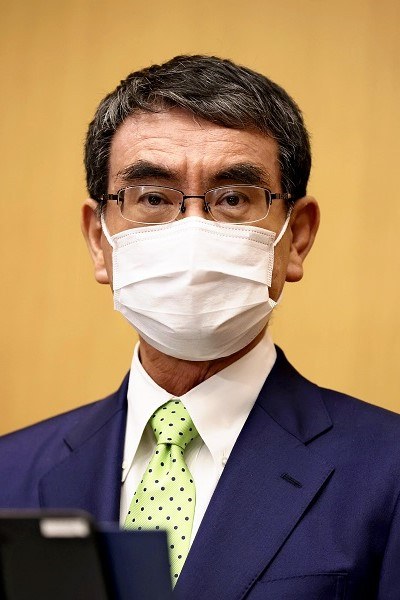 In a 2016 blog post, Kono said the Imperial family "should be maintained, regardless of whether it was through the male or female line." He is also known to be in favor of abandoning nuclear power.
Consternation among conservatives could hamstring Kono's efforts to drum up wider support in the election, so he has adopted a softer approach on key issues to avoid stirring up controversy.
On Wednesday, Kono met with Shigeharu Aoyama, a House of Councillors member who heads a group of 67 conservative lawmakers. "Just so there is no misunderstanding, I want to tell you that I'm not an advocate for female-line succession," Kono told Aoyama during their meeting.
Kono also met with Abe the same day, apparently to convey the same message.
Kono has recently toned down his language when discussing nuclear energy policy. Speaking to reporters in Tokyo on Wednesday, Kono insisted that renewable energy sources would be his top priority, but added that "nuclear power plants that have been confirmed safe to operate will be used for the time being" to cover any energy shortfalls. However, Kono was adamant that he "had not changed" his support for ending nuclear power in Japan.
"Nuclear power will disappear sooner or later. I don't plan to say we should stop using it tomorrow or next year," Kono said.
Meanwhile, Kishida said at a press conference on Wednesday he would push ahead with restarting the nation's nuclear power plants.
The former LDP Policy Research Council chairman, who stands with Takaichi on the issue of Imperial succession, has been quoted as saying he "strongly feels the weight of history that has upheld the male line of succession."
Campaigning for the LDP election is scheduled to start on Sept. 17, with voting to be held on Sept. 29.