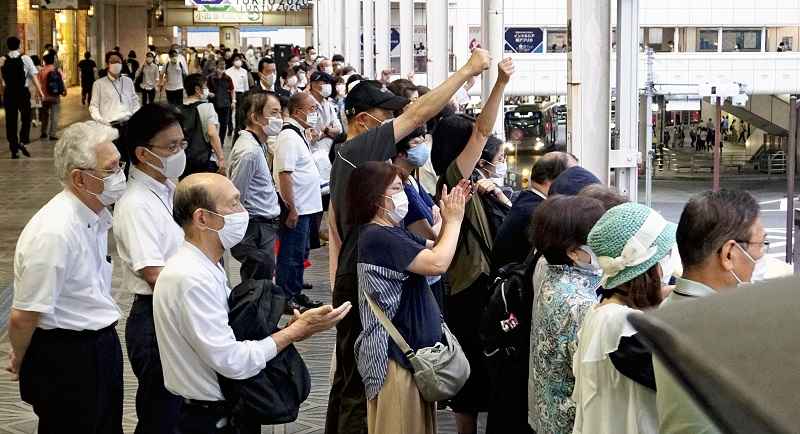 17:11 JST, June 29, 2021
Several political parties are cautious about what Tokyo Gov. Yuriko Koike will do once she returns from the hospital, where she has been recuperating for several days due to excessive fatigue.
It is uncertain when she will come back, but the popular governor's actions may boost the party she founded as campaigning for Sunday's Tokyo Metropolitan Assembly election enters its final stretch.
Koike serves as a special adviser of the regional Tomin First no Kai (Tokyoites first), which is the ruling party in the assembly.
Taimei Yamaguchi, chairperson of the Liberal Democratic Party's Election Strategy Committee, took to the street for a campaign rally in front of Yoga Station on Tokyu Railways' Den-en-toshi Line in Setagaya Ward on Monday.
At the start of his speech, Yamaguchi expressed concern for Koike, who was a longtime member of the LDP, after her hospital stay was extended. The governor had initially planned to return to her official duties on Monday.
"She has been hospitalized for fatigue," Yamaguchi said. "But I hope she will get well soon to spearhead various issues."
In a Yomiuri Shimbun opinion poll, 59% of respondents approved of Koike. The poll was conducted on eligible voters from Friday through Sunday and the result was two percentage points higher than in the previous poll from May 28 to 30.
Regarding the party affiliation of candidates for whom respondents intend to vote, 23% picked the LDP, down seven percentage points from the previous survey, while Tomin First scored 17%, up six percentage points.
Komeito, which unlike the previous assembly election has been keeping its distance from Tomin First, is another of the parties feeling nervous about the upcoming vote. Komeito leader Natsuo Yamaguchi challenged Tomin First during a campaign rally on Monday,
"There are limitations for a political party to which no Diet members belong," he said in front of Machida Station, adding that Tomin First's "ability to pave the way to the future cannot be expected."
The Constitutional Democratic Party of Japan and the Japanese Communist Party have also taken a confrontational stance against Tomin First.
"We need assembly members who can raise objections to the governor," CDPJ Secretary General Tetsuro Fukuyama said at a rally in front of JR Shin-Koiwa Station in Katsushika Ward. "Unless there are such members, the metropolitan assembly will not function."
Head of the JCP Secretariat Akira Koike, no relation to the governor, has said at a news conference, "This is a battle pitting the JCP against the LDP, Komeito and Tomin First, regardless of whether the governor emerges to take center stage during the campaign."
Add TheJapanNews to your Google News feed.