Kishida summit with Biden, Yoon solidifies unity on North Korea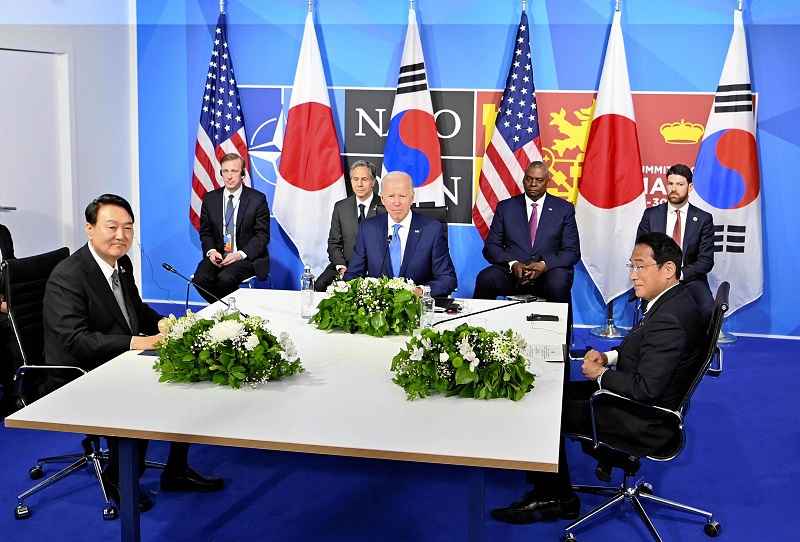 14:58 JST, June 30, 2022
MADRID — The leaders of Japan, the United States and South Korea agreed on Wednesday afternoon to strengthen cooperation in the Indo-Pacific region and work together to address North Korea's nuclear weapons and ballistic missile development.
Prime Minister Fumio Kishida, U.S. President Joe Biden and South Korean President Yoon Suk-yeol met on the sidelines of the NATO summit in Madrid. The North Atlantic Treaty Organization, an alliance grouping the United States and mainly western European nations, invited Japan and South Korea to this year's summit.
This was the first trilateral summit between the three nations in almost five years. In September 2017, then Prime Minister Shinzo Abe, U.S. President Donald Trump and South Korean President Moon Jae-in met in the United States.
"I look forward to additional dialogues in this format as we continue to strengthen our trilateral engagement," Biden said as a preface to the meeting. The U.S. president expressed concerns over a seventh nuclear test by North Korea that some observers say will likely be conducted soon.
"The deterrence capabilities of the Japan-U.S. and U.S.-South Korea alliances need to be upgraded as part of the essential effort to strengthen the trilateral partnership between Japan, the U.S., and South Korea," Kishida said, adding, "In order to strengthen the deterrence and response capabilities of our alliance with the U.S., Japan will fundamentally reinforce our defense capabilities."
Yoon, who took office this year, said, "North Korea's nuclear and missile threats continue to evolve, and the global landscape is facing increased uncertainties, thereby rendering our trilateral partnership all the more significant."
According to the White House, Biden "underscored the United States' unshakable commitment to the defense of both Japan and the Republic of Korea."
During the meeting, the three leaders are believed to have discussed measures to increase sanctions against Pyongyang.
The latest trilateral summit was arranged at the behest of Washington to have dialogue with its Asian allies. Dialogue between Tokyo and Seoul has been at a standstill due to issues such as the court cases regarding wartime requisitioned workers from the Korean Peninsula.
Add TheJapanNews to your Google News feed.