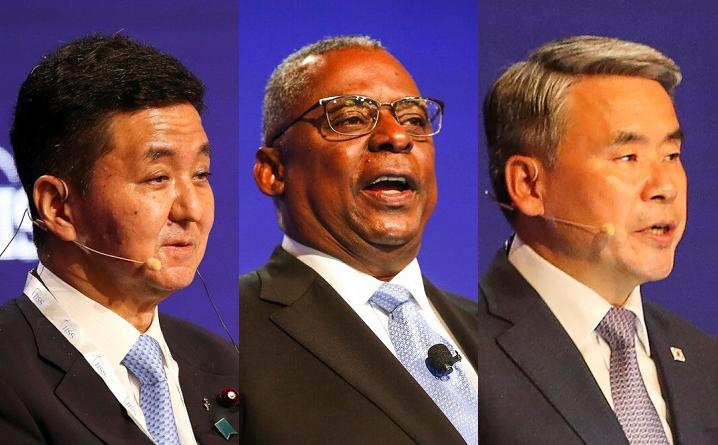 15:03 JST, June 12, 2022
Tokyo, June 11 (Jiji Press)—Defense chiefs from Japan, the United States and South Korea on Saturday agreed to conduct trilateral missile warning, search and tracking exercises, in response to progress in North Korea's missile development programs.
Japanese Defense Minister Nobuo Kishi, U.S. Secretary of Defense Lloyd Austin and South Korean Defense Minister Lee Jong-sup also agreed at their meeting in Singapore to make efforts to rebuild relations of trust between Japanese and South Korean defense authorities. The meeting was held on the sidelines of the Asia Security Summit, also known as the Shangri-La Dialogue, which started in Singapore Friday.
In a joint statement released after their meeting, the three defense chiefs "strongly condemned" North Korea's "repeated unlawful ballistic missile launches."
They also "emphasized the importance of peace and stability in the Taiwan Strait," apparently mindful of China's growing military threat, expressing "strong opposition to any unilateral actions that seek to alter the status quo and increase tensions in the region."
The last time Japan, the United States and South Korea announced their plan to conduct joint exercises was in December 2017.
Since the beginning of this year, North Korea has repeatedly fired missiles, including intercontinental ballistic missiles. Some observers say that the country may conduct a nuclear test soon.
Japan, the United States and South Korea apparently tried to highlight their resolve to cope with such circumstances through trilateral cooperation.
Saturday's meeting was the first in-person meeting of defense chiefs of Japan, the United States and South Korea since November 2019.
Relations deteriorated between Japanese and South Korean defense authorities after a South Korean warship directed its radar at a Japanese Maritime Self-Defense Force plane in December 2018.
On Saturday, the defense chiefs "shared the recognition that defense-related confidence building among countries in the region is important" and agreed to continue related efforts.
Meanwhile, the SDF remains deeply distrustful of the South Korean military, according to sources familiar with the situation. This is because the South Korean side has flatly denied the radar lock-on and the issue has yet to be resolved.
"We don't want to conduct bilateral drills" with the South Korean military, a senior SDF official said, expressing concerns over similar incidents.
Speaking at a press conference, Kishi said that the radar lock-on incident was not taken up at the latest trilateral meeting.
"The importance (for Japan and South Korea as well as the two plus the United States) to jointly deal with the situation in North Korea has increased more than ever," the Japanese defense minister said, suggesting his intention to prioritize the resumption of bilateral or trilateral exchanges of troops.
Add TheJapanNews to your Google News feed.