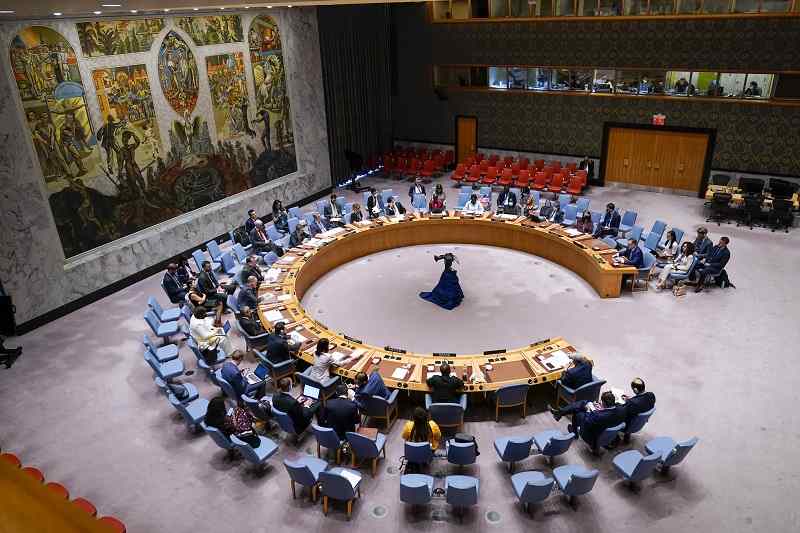 1:00 JST, June 12, 2022
After securing a nonpermanent seat on the U.N. Security Council, the Japanese government is eager to lead the way on denuclearizing North Korea. However, U.N. diplomacy had become increasingly difficult of late due to such issues as Russia's invasion of Ukraine, and Tokyo will face multiple challenges in pursuit of its goal.
Japan was elected as a nonpermanent member for the 12th time — more than any other member nation — during a General Assembly session on Thursday. The two-year term will begin in January.
"The Security Council has been in a situation where it's not functioning effectively," Foreign State Minister Kiyoshi Odawara told reporters at the U.N. headquarters in New York after Thursday's vote. "It can be said that this is a challenging time."
The United Nations Charter states that members "confer on the Security Council primary responsibility for the maintenance of international peace and security." The Security Council acts as a diplomatic arena for the five permanent members with veto power — the United States, Britain, France, China and Russia — to discuss and negotiate matters, while seeking out common ground.
When Japan last served as a nonpermanent member — from 2016-17 — the Security Council adopted six resolutions to impose sanctions on North Korea in relation to that country's nuclear and missile development. The resolutions were mainly based on a compromise agreed between the United States and China.
Dysfunctional council
The political situation has changed drastically since Russia's invasion of Ukraine. At present, the United States and China appear to have little room to discuss the Ukraine crisis and the North Korea issue.
In May, the United States submitted a draft resolution to strengthen sanctions against Pyongyang in response to North Korea's repeated ballistic missile launches, but the resolution was rejected due to vetoes from China and Russia. It is unclear whether the Security Council will be able to agree on sanctions against North Korea if the country conducts a nuclear test.
The Security Council faces a multitude of issues, including the ongoing civil war in Syria and problems related to Myanmar, where the military staged a coup last year. In attempts to deal with these matters, the Security Council has failed to function due to the United States and Europe locking horns with China and Russia.
'World voice'
Against this background, Japan will strive to break the deadlock by working together with nonpermanent members. Ten nonpermanent members are elected to represent five world regions, including the Asia-Pacific countries and Africa. As such, nonpermanent members represent the "voice of the world," and have a certain degree of influence.
However, the other newly elected members include Mozambique, which abstained from voting on a resolution condemning Russia at a General Assembly session in March. Japan considers China and Russia to have a strong influence on the southern African nation and intends to work to encourage Mozambique to align itself with Tokyo on the North Korea issue.
Add TheJapanNews to your Google News feed.