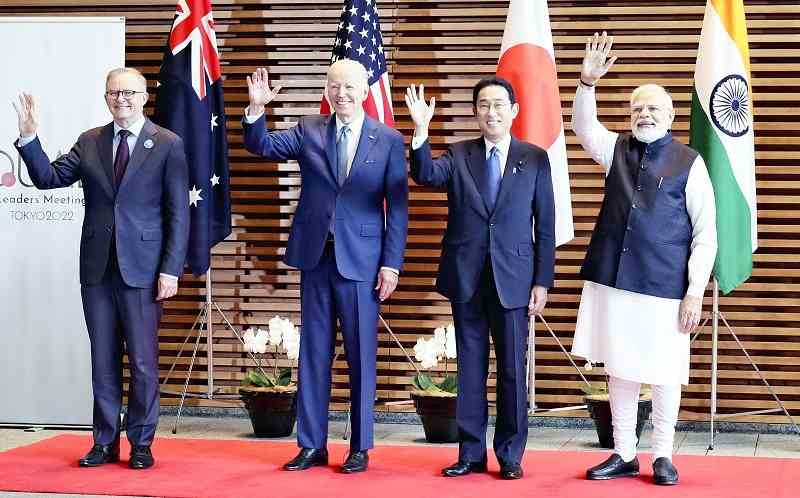 17:30 JST, May 24, 2022
At their Quad summit in Tokyo, the leaders of Japan, the United States, Australia and India reaffirmed on Tuesday their cooperation on realizing a "free and open Indo-Pacific," stressing the importance of a rules-based maritime order with an eye on China's hegemonic actions in the East and South China Seas.
Russia's invasion of Ukraine and North Korea's nuclear and missile development were also agenda issues at the grouping's fourth summit meeting.
"It is extremely significant for us to get together and show to the international community the four countries' solidarity and our firm commitment toward the shared vision of a free and open Indo-Pacific," Prime Minister Fumio Kishida said at the start of the second in-person Quad summit. The first such summit was held in Washington in September last year, and the other two summits were held online.
On Russia's military incursions, Kishida said, "We should never, ever allow a similar incident to happen in the Indo-Pacific."
After being congratulated on being elected and taking office just before the summit, Australia's new Prime Minister Anthony Albanese said: "The new Australian government's priorities align with the Quad agenda.
"We have had a change of the government in Australia, but Australia's commitment to the Quad has not changed and will not change."
Indian Prime Minister Narendra Modi said, "The scope of the Quad has increased and also it is more influential.
"Our mutual trust, our determination are giving democratic forces a new energy and enthusiasm."
U.S. President Joe Biden said, "As long as Russia continues the war, the United States will work with our partners to help be the global response because it's going to affect all parts of the world."
He also said: "We're an Indo-Pacific power, as I said. We're going to stand with you, our close democratic partners. And we're going to stand for the shared values and the shared vision all we have."
The Quad leaders shared their determination not to allow unilateral changes to the status quo in the Indo-Pacific region, while establishing a framework for public-private dialogue on development of the 5G network.
They also launched a major maritime initiative: the Indo-Pacific Partnership for Maritime Domain Awareness (IPMDA), which integrates maritime data obtained via satellite to fully monitor the waters surrounding their shores. The Quad countries plan to invest in IPMDA over five years.
As for measures to combat climate change, a framework for ministerial meetings will be launched, in which transport ministers, for example, will discuss lower-emission shipping methods, and energy ministers will work to strengthen green energy supply networks.
Consideration for India
At Tuesday's summit meeting, the Quad nations struggled to come into line over Russia, which has a deep relationship with India.
Prioritizing consensus with Modi, the other Quad leaders avoided criticizing Russia harshly for invading Ukraine in a joint statement, but strengthened their cooperation in areas where they could.
At the start of the summit, Kishida said, "Russia's invasion of Ukraine is a direct challenge to the principles prescribed in the U.N. Charter."
Japan, the United States and Australia are in step on economic sanctions against Russia. In contrast, India, whose largest arms supplier is Russia, abstained from voting on a resolution condemning Russia at the U.N. General Assembly held after Russia's invasion of Ukraine. India has also shown signs of increasing purchases of Russian crude oil.
For Japan, the United States and Australia, a major challenge was to draw India closer to them and increase the effectiveness of sanctions.
Prior to the Quad meeting, a senior U.S. official told reporters that what was happening in Ukraine is widely understood as a serious threat to the international order, and the key was to find common ground with India through frank exchanges of views.
The following is an edited exerpt of the joint Quad statement.
Today, we — Prime Minister Anthony Albanese of Australia, Prime Minister Narendra Modi of India, Prime Minister Fumio Kishida of Japan, and President Joe Biden of the United States — convene in Tokyo to renew our steadfast commitment to a free and open Indo-Pacific that is inclusive and resilient.
Just over one year ago, leaders met for the first time. Today in Tokyo, we convene for our fourth meeting, and our second in person, to demonstrate, at a time of profound global challenge, that the Quad is a force for good, committed to bringing tangible benefits to the region. In our first year of cooperation, we established the Quad's dedication to a positive and practical agenda; in our second year, we are committed to deliver on this promise, making the region more resilient for the 21st century.
With the COVID-19 pandemic still inflicting human and economic pain around the world, tendencies for unilateral actions among states and a tragic conflict raging in Ukraine, we are steadfast. We strongly support the principles of freedom, rule of law, democratic values, sovereignty and territorial integrity, peaceful settlement of disputes without resorting to threat or use of force, any unilateral attempt to change the status quo, and freedom of navigation and overflight, all of which are essential to the peace, stability and prosperity of the Indo-Pacific region and to the world. We will continue to act decisively together to advance these principles in the region and beyond. We reaffirm our resolve to uphold the international rules-based order where countries are free from all forms of military, economic and political coercion.
Peace and Stability
We discussed our respective responses to the conflict in Ukraine and the ongoing tragic humanitarian crisis, and assessed its implications for the Indo-Pacific. Quad leaders reiterated our strong resolve to maintain the peace and stability in the region. We underscored unequivocally that the centerpiece of the international order is international law, including the U.N. Charter, respect for sovereignty and territorial integrity of all states. We also emphasized that all countries must seek peaceful resolution of disputes in accordance with international law.
The Quad is committed to cooperation with partners in the region who share the vision of a free and open Indo-Pacific. We reaffirm our unwavering support for ASEAN unity and centrality and for the practical implementation of ASEAN Outlook on the Indo-Pacific. We welcome the EU's Joint Communication on the EU Strategy for Cooperation in the Indo-Pacific, which was announced in September 2021, and increased European engagement in the Indo-Pacific region. We will champion adherence to international law, particularly as reflected in the U.N. Convention on the Law of the Sea (UNCLOS), and the maintenance of freedom of navigation and overflight, to meet challenges to the maritime rules-based order, including in the East and South China Seas. We strongly oppose any coercive, provocative or unilateral actions that seek to change the status quo and increase tensions in the area, such as the militarization of disputed features, the dangerous use of coast guard vessels and maritime militia, and efforts to disrupt other countries' offshore resource exploitation activities. …
We reaffirm our commitment to the complete denuclearization of the Korean Peninsula, consistent with United Nations Security Council Resolutions (UNSCRs) and also reconfirm the necessity of immediate resolution of the issue of Japanese abductees. We also condemn North Korea's destabilizing ballistic missile development and launches, including multiple intercontinental ballistic missile tests, in violation of UNSCRs, and call on the international community to fully implement these resolutions. We urge North Korea to abide by all of its obligations under the UNSCRs, refrain from provocations, and engage in substantive dialogue. …
COVID-19, global health security
For more than two years, the world has grappled with the devastating impacts of COVID-19 — on our communities, citizens, health workers and systems and economies. The Quad countries have led and will continue to lead global efforts for COVID-19 response, with a view to building better health security and strengthening health systems. We commit to adapt our collective approaches to get ahead of the virus with a focus on preparing for new variants, and getting vaccines, tests, treatments, and other medical products to those at highest risk.
To date, the Quad partners have collectively pledged approximately $5.2 billion to the COVAX AMC, approximately 40% of the total contributions from government donors. We are proud to have delivered over 670 million doses, including at least 265 million doses to Indo-Pacific. Noting significant expansion in the global supply of COVID-19 vaccines, we will continue to share safe, effective, affordable and quality-assured COVID-19 vaccines where and when they are needed. …
Infrastructure
We reaffirmed our shared commitment to deepen cooperation on infrastructure, which is critical to driving productivity and prosperity in the Indo-Pacific region. We also share a commitment to addressing debt issues, which have been exacerbated by the pandemic in many countries. Quad partners bring decades of skills and experience together to catalyze infrastructure delivery to the region. We are committed to working closely with partners and the region to drive public and private investment to bridge gaps. To achieve this, Quad will seek to extend more than $50 billion of infrastructure assistance and investment in the Indo-Pacific, over the next five years. …
Climate
Recognizing the urgent need to address climate change as emphasized in the latest IPCC reports, we will steadfastly implement the Paris Agreement and deliver on the outcomes of COP26, accelerating our efforts to raise global ambition, including reaching out to key stakeholders in the Indo-Pacific region and supporting, strengthening, and enhancing climate actions by partners in the region including through mobilizing climate finance, both public and private, and facilitating the research, development, and deployment of innovative technology.
Today, we launch the "Quad Climate Change Adaptation and Mitigation Package (Q-CHAMP)" with "mitigation" and "adaptation" as its two themes. Q-CHAMP includes ongoing activities under the Quad Climate Working Group on: green shipping and ports aiming for a shared green corridor framework building on each Quad country's input; clean energy cooperation in clean hydrogen and methane emissions from the natural gas sector; strengthening clean energy supply chains, welcoming the contribution of the Sydney Energy Forum; climate information services for developing an engagement strategy with Pacific island countries; and disaster risk reduction, including disaster and climate resilient infrastructure such as the efforts through the Coalition for Disaster Resilient Infrastructure (CDRI).
Cybersecurity
In an increasingly digital world with sophisticated cyber threats we recognize an urgent need to take a collective approach to enhancing cybersecurity. To deliver on the Quad leaders' vision for a free and open Indo-Pacific, we commit to improving the defense of our nations' critical infrastructure by sharing threat information, identifying and evaluating potential risks in supply chains for digitally enabled products and services, and aligning baseline software security standards for government procurement, leveraging our collective purchasing power to improve the broader software development ecosystem so that all users can benefit.
The Quad partners will coordinate capacity building programs in the Indo-Pacific region under the Quad Cybersecurity Partnership, and will initiate the first-ever Quad Cybersecurity Day to help individual internet users across our nations, the Indo-Pacific region, and beyond to better protect themselves from cyber threats.
Critical & emerging technologies
The Quad remains focused on harnessing critical and emerging technologies to enhance the prosperity and security of the region. In the area of 5G and beyond 5G, while welcoming the Prague Proposals on Telecommunications Supplier Diversity, we will advance interoperability and security through the signature of a new memorandum of cooperation on 5G Supplier Diversification and Open RAN. We are also deepening our engagement with industry, including through Open RAN Track 1.5 events, and exploring ways to collaborate on the deployment of open and secure telecommunications technologies in the region. …
Quad Fellowship
We recognize that people-to-people ties are the bedrock of the Quad and welcome the official launch of the Quad Fellowship, which is now open for application. The Quad Fellowship will bring 100 students from our countries to the United States each year to pursue graduate degrees in STEM fields, and is administered by Schmidt Futures. The first class of Quad Fellows will begin their studies in the third quarter of 2023, and we look forward to building together a talented cohort of next-generation STEM minds who will lead our countries in cutting-edge research and innovation.
Space
Space-related applications and technologies can also contribute to addressing common challenges such as climate change, disaster preparedness and response, and sustainable uses of oceans and marine resources. Each Quad partner will endeavor to improve public access to Earth observation satellite data and applications. We will work together to create an Earth observation-based monitoring and sustainable development framework. We will endeavor to share space-based civil Earth observation data, along with providing a "Quad Satellite Data Portal" that aggregates links to our respective national satellite data resources. …
Maritime domain awareness, HADR
We welcome a new maritime domain awareness initiative, the Indo-Pacific Partnership for Maritime Domain Awareness (IPMDA), designed to work with regional partners to respond to humanitarian and natural disasters, and combat illegal fishing. IPMDA will support and work in consultation with Indo-Pacific nations and regional information fusion centers in the Indian Ocean, Southeast Asia, and the Pacific Islands by providing technology and training to support enhanced, shared maritime domain awareness to promote stability and prosperity in our seas and oceans. IPMDA embodies what the Quad stands for: catalyzing our joint efforts towards concrete results that help to make the region more stable and prosperous.
Delivering on our commitment following our virtual meeting on March 3, 2022, we announce today the establishment of the "Quad Partnership on Humanitarian Assistance and Disaster Relief (HADR) in the Indo-Pacific." This partnership will further strengthen our collaboration to effectively respond to disasters in the region.
Closing
Today, with a shared vision for a free and open Indo-Pacific, we once again emphasize the importance of fundamental values and principles, and commit to work tirelessly to deliver tangible results to the region. In doing so, we will regularize the Quad activities, including regular meetings by the leaders and foreign ministers. We agree to hold our next in-person summit in 2023 hosted by Australia.
(Source: Official website of the Prime Minister's Office of Japan)
Add TheJapanNews to your Google News feed.