Attitudes on death fascinate Czech scholar Gohori, who studies Buddhist social work in Japan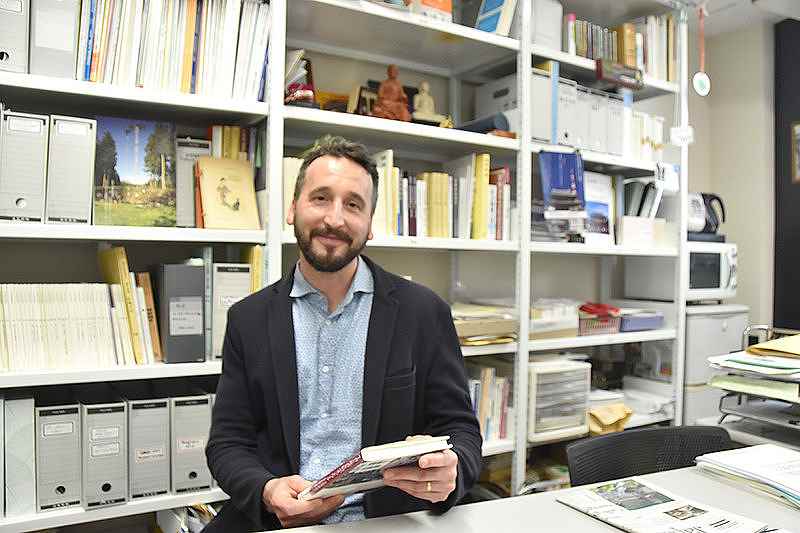 12:56 JST, July 10, 2021
Do the dead have a place in the world of the living? Researcher Josef Gohori first observed this "presence of the dead among the living" about a decade ago in Japan.
The Czech native was in Itoigawa, Niigata Prefecture, to conduct field research on relationship-building among the elderly. He had brought a gift as a token of appreciation when he went to interview an elderly woman. Upon receiving the gift, she immediately placed it at the Buddhist altar in her home as an offering. She then started speaking in front of her late husband's photo placed at the altar.
Gohori remembered that she was expressing her worries to her husband over whether she could be of any help to the researcher.
"I was surprised to see her talking as if her late husband was right there," Gohori said in Japanese. "Buddhist altars are regarded as part of Japanese culture, but they function to allow people to keep their connection with the dead. Placing such things in an everyday space was quite new to me."
People in Western countries visit graves and offer prayers for the dead, and their grief traditionally focuses on the detachment from the deceased, Gohori said. But "intimate communication" with the dead on a daily basis was a novel concept.
Gohori, currently a professor and chief researcher at the Asian Research Institute for International Social Work of Shukutoku University in Chiba Prefecture, added: "People here have everyday conversations with the dead, just as if talking to family members at home, without the presence of religious figures such as priests. I've found it intriguing that people remain close to their loved ones who passed away. Such relationships seem to give people comfort."
He discovered that this practice is common in Japan, so he finds it perplexing when Japanese people describe themselves as non-religious. He sees many aspects of Buddhism, Shintoism and other religions in their everyday lives.
"Many people visit shrines and temples on occasions such as New Year's Day, while funerals and memorial services are usually conducted with Buddhist monks attending," Gohori said. "On the other hand, it's common to hold weddings at churches. That's also intriguing."
He said Japanese people generally have a broad interpretation of religion and are not bound by particular religious affiliations. For example, sometimes both Buddhist and Shinto altars are placed in the same household.
"Japan has the base for various religions to exist together, without sects creating walls," he said. "I think the act of speaking to altars is very religious, but people are not aware that it's religious. It's become part of their way of living."
For Gohori, religion was not a part of his life — at least not officially — growing up in Czechoslovakia when it was under a communist regime that persecuted religious organizations. When he was a child, he went to church with his grandmother, trying not to be caught by secret police.
Such experiences increased his interest in religion, raising a series of questions: "What is religion? Why is it repressed? What role does it play for us?"
"I was fascinated by something that can't be explained scientifically despite the advance of science and something that goes beyond people's power," he said.
After communist rule ended in 1989, Gohori was first introduced to Buddhism when he listened to a speech in Vienna by a Tibetan monk who had fled to Europe. Around that time, he also became fascinated with Asian culture, such as traditional Japanese tea ceremony. Then in 1993, the Czech Republic was formed.
The new nation won the gold in men's ice hockey at the 1998 Nagano Winter Olympics. With ice hockey a popular sport among Czech people, this triumph also boosted Gohori's interest in Japan as he learned about the host nation through the media.
"As freedom had been restricted for years," he said, "I had a hunger to absorb new things at that time."
Having seen his country undergo significant changes after more than 40 years of communist rule, Gohori decided to major in sociology at Charles University in Prague, aspiring to become a journalist. He worked for a campus magazine writing and editing articles.
After graduating, he worked at a palliative care facility. At the time, there was compulsory military service for one year or 18 months of civilian social service for Czech men. This time at the care facility became a major turning point in his life.
"I saw many patients dying there, so my interest in death grew," he said.
That led him to research Japanese welfare systems at Charles University's graduate school.
"With a large number of elderly people, many of Japan's welfare systems and institutional designs looked pioneering and were interesting subjects to study," he said.
In 2005, he arrived in Japan to pursue his studies on a Japanese government scholarship. His initial plan was to study for 1½ years at Joetsu University of Education in Joetsu, Niigata Prefecture, before returning home. He ended up settling in the city with his Japanese wife, whom he had met in Prague.
He started working at Shukutoku University six years ago, but continues to live in Joetsu, about 350 kilometers from Chiba, and makes the long trip when he teaches. "Joetsu is a snowy area, but people are warm-hearted there," he said during the interview in Chiba. "People can't live without helping each other, so it's a good place to live."
Gohori's current research focuses on Buddhist social work, exploring the impact of Buddhism on such activities.
"Many people are afraid of dying, but life and death are two sides of the same coin," he said. "By being more aware of death, you can think about how to live better."
---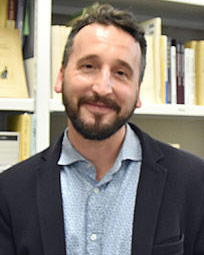 Josef Gohori / Shukutoku University professor
Born in 1979, Gohori grew up in a suburb of Prague. He obtained his undergraduate and master's degrees at Charles University. In 2011, he received his PhD from the Joint Graduate School in Science of School Education, Hyogo University of Teacher Education. He is the chief editor for a series of books on Buddhist social work published by the Asian Research Institute for International Social Work at Shukutoku University. He is the father of three boys and serves as the coach of a local ice hockey team in Joetsu, Niigata Prefecture.
---