Lokahi / Japanese Cuisine Experience and Skill Shine through in Japan-inspired Bowl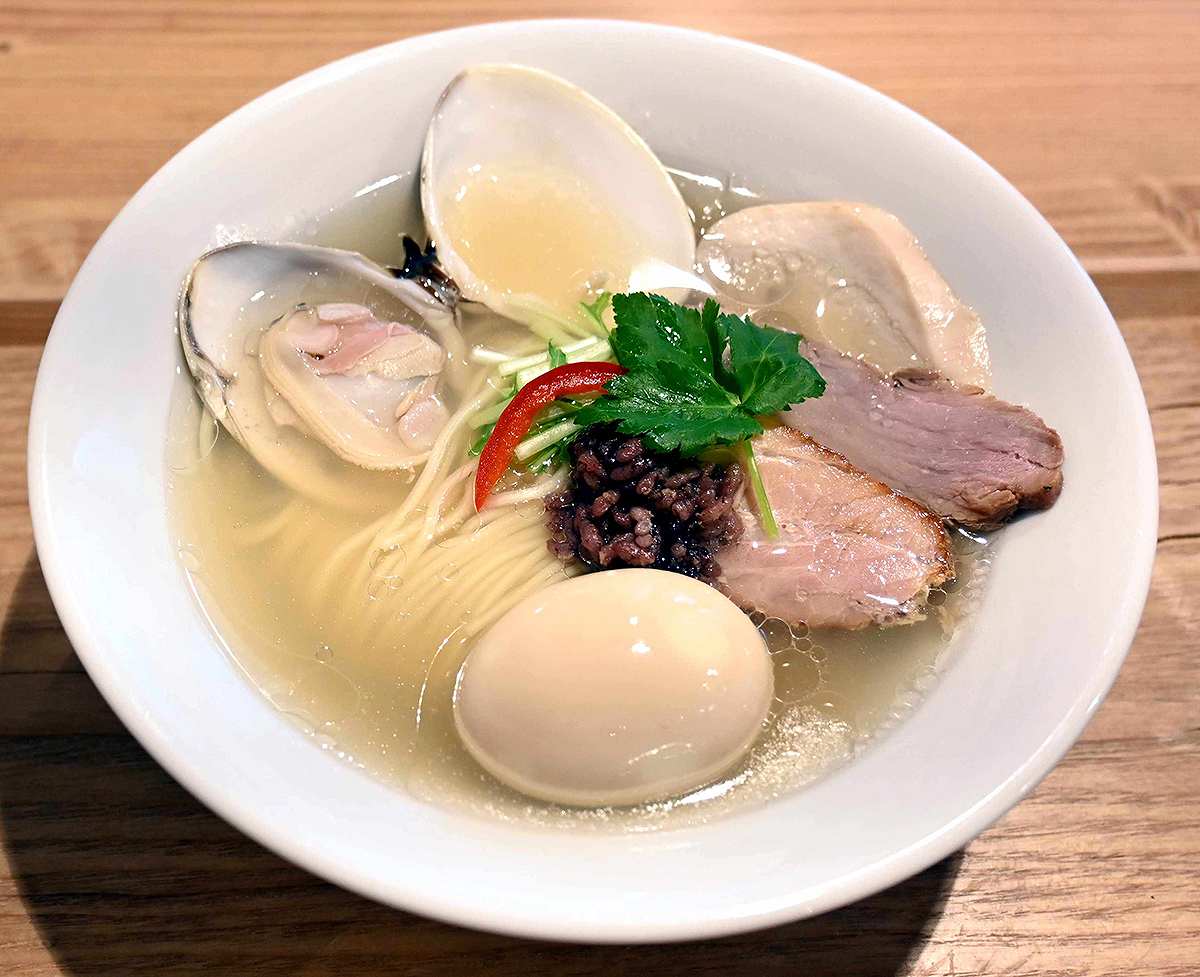 15:57 JST, November 2, 2023
Let's imagine the dining and drinking district in front of you is a tropical beach. Walk northwest from the north exit of JR Otsuka Station in Tokyo's Toshima Ward and you will find Lokahi, a ramen shop which looks like an ocean-side cafe, on your left. Entering the shop as if you were walking up from the beach, you will find yourself in a relaxing and soothing space with Hawaiian-style music playing in the background. However, there is a gap between the atmosphere of the shop and the ramen, which is sure to surprise customers. This is because the owner, who has long worked as a chef in the world of high-class Japanese cuisine, offers ramen backed by his experience and skill.
The exterior of Lokahi has an ocean cafe aesthetic

The exterior of Lokahi has an ocean cafe aesthetic

Counter seating in the shop

Counter seating in the shop

Table seating in the shop
I was welcomed by the owner, Toshiharu Sawada, whose trademark is a brimmed cap, and shown to a table in what could only be the interior of a fashionable cafe. Sawada, 43, is a quiet and reserved man. The fact that he does not have the stereotypical cheery mood associated with the tropics was surprising to me.
There is no ticket machine in the shop, and you pay at the cash register on your way out, which means you can take your time looking at the menu. There are three regular items on the menu: chuka soba (ramen), local hamaguri clam chuka soba, and awapaitan chicken white soup ramen. I ordered the owner's recommendation, the shio (salt) version of the special hamaguri chuka soba (¥1,450).
One of the regular menu items, awapaitan chicken white soup ramen (¥1, 350).

Sawada making ramen

Heating up the hamaguri clam and ushio dashi soup

Pouring the soup into a bowl

Delicious homemade pork belly chashu

Medium-thin, straight noodles specially ordered from Murakami Asahi noodle factory
"I use ushio dashi, and add Daisen chicken broth and dry fish broth in good balance to thicken the ushio dashi," Sawada said. Ushio dashi is a Japanese seafood dashi (soup stock) made by using kombu (kelp), Japanese sake and more. He purchases clams, called "jihama," meaning domestic wild clams, from Chiba, Ibaraki, or Mie Prefecture every day, and uses a large quantity of them to make ushio dashi.
"I am particular about the size of the clams as well," says Sawada. Usually, each clam weighs 60 to 80 grams, and sometimes more than 100 grams. He also put a clam on top of the ramen as a topping. When big clams are not available at certain times of year, two or three smaller clams are added as a topping.
Ramen is served on a tray.

A large, satisfying clam

Medium-thin noodles that become glutinous as they absorb the broth

The ushio dashi soup is delicious.

Chicken breast chashu
While listening to Sawada's explanation, the ramen was prepared and placed on the table in front of me. The ramen is beautifully presented, with clams on the left side of the bowl, three kinds of chashu on the right, and a seasoned boiled egg at the front. I started with the soup. I could taste the clams immediately and it was very tasty. It is truly high-class Japanese cuisine. The chicken and seafood broth blend well with the flavor of the clams and do not detract from their charm at all. To accent the flavor of the ramen, Sawada uses homemade clam oil.
The medium-thin, straight noodles are made from domestic wheat and specially ordered from Murakami Asahi noodle factory in Niiza, Saitama Prefecture, had a unique texture. The noodles, made with a small amount of water, seemed dry at first, but as you eat them, they absorb the broth and become glutinous. This enhances the taste of the ushio dashi. The large clam is a very satisfying, filling and delicious topping because fresh ones are used every day.
There are three types of chashu: Daisen chicken breast, pork belly, and low-temperature-cooked pork shoulder. The small blackish lump in the center of the bowl is Japanese-style risotto with porcini flavor. "It should be eaten first as an appetizer," he said. I failed to ask him about it and ended up mixing the rice into the soup, assuming it was a topping used to change the flavor. Other toppings included sweet pickled peppers to cleanse the palate, mitsuba wild parsley leaves, and mizuna mustard greens.
Of course, I finished my soup. I was immersed in the lingering taste of clams.
Opening in the midst of coronavirus disaster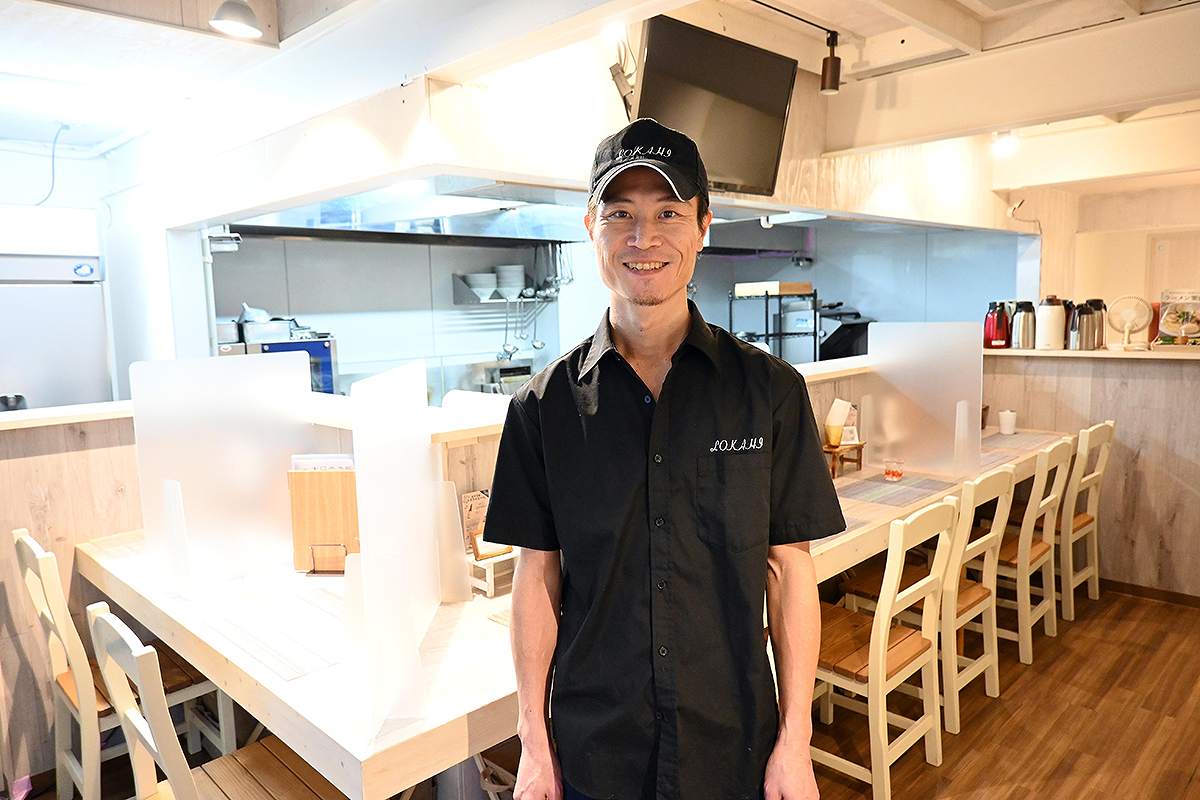 "Thanks to everyone's support, we celebrated our third anniversary on Oct. 8," Sawada said. He recalled the hard work and effort that he had put into the shop over the past three years. He opened the shop in the midst of the coronavirus disaster.
Sawada was born in Tokyo. From a young age, he grew up watching his mother cook and loved to cook himself. However, he went to college and studied car engines in the mechanical engineering department. In an effort to combine the culinary world with what he had learned at college, he worked for a commercial kitchen equipment manufacturer, where he was in charge of kitchen design, but left the company because working for a company did not suit him. After working part-time at a Japanese restaurant, he fully entered the world of Japanese cuisine at the age of 24.
The chef from his part-time job introduced him to a high-end Japanese restaurant in the Marunouchi Building in front of Tokyo Station. The building had just opened and the establishment was busy. Starting there, he worked as a chef for about 16 years including in the Tokyo Station area and Roppongi. In addition to his chef's license, he also acquired a license for cooking fugu (puffer fish). Fugu is poisonous, but it is a luxury food in Japan, especially in winter.
Toward the end of his 30s, he decided to open a ramen shop. He had always liked ramen, and the ramen he had offered as a recommended menu item at a Japanese restaurant had been well received. The local clam ramen is delicious and looks gorgeous and he decided to focus on this ramen.
However, the coronavirus disaster coincided with the time he found the location for the restaurant. People were asked to refrain from going out and the town was devoid of people. It was also difficult to get a bank loan. After much hard work, he was finally able to open the shop in October 2020. Sawada says, "It just so happened that there were no regulations at the time of opening, but soon after shortened business hours and a ban on serving alcohol came into effect." Customers would come in during the day, but at night it would be empty. So he opened the shop at 9:00 a.m. to serve morning ramen and started offering takeout, but he was constantly worried about the future. It was during this time that he came up with the idea of ramen that only he could make.
For example, he came up with a suppon soft-shelled turtle ramen. The soup stock was made from suppon and combined with a fugu broth. The suppon meat was cooked and jellied, and served on top of the ramen. The ramen created for the third anniversary of the shop was kue fish ramen. When he was a chef, he used to cook them quite often. He purchased a kue fish from Nagasaki that was about 130 centimeters long and weighed about 15 kilograms. He served kue ramen with a side of rice topped with matsutake mushrooms and ikura salmon roe.
One of the limited menu items currently offered is the ankimo (monkfish liver) mixed noodle superior set meal (¥1, 890). The set includes mixed noodles, rice with grilled spicy cheese, and ankimo in ponzu.

Ankimo mixed noodles

A bowl of rice with grilled spicy cheese

A corner of the shop features a collection of sea-themed small items.
The current limited menu item is mixed soba with ankimo monkfish liver for 1,150 yen, allowing diners to enjoy the taste of the winter season. The ramen is topped with a mix of ankimo and Daisen chicken. You stir the noodles well with the kaeshi source of ankimo at the bottom of the bowl. It is a long-term limited menu item available until next spring. There is also a short-term limited menu item that changes every two weeks or so. In late October, it was dried seabream niboshi ramen. There are always three regular dishes and two limited items to choose from, so you will never get bored of the menu.
Lokahi means bond or relationship in Hawaiian. However, Sawada has never been to Hawaii. He says that his family all love the ocean and often go to Okinawa. He said, "I wanted to make a place that reminds me of an ocean cafe." He continued, "I want to connect with various customers and vendors, and make Lokahi more widely known. I would also like to do my best to open a second shop in the future and someday go to Hawaii."
Tanrei tsuke soba (dipping noodles), one of the limited menu items offered in October.

Tanrei tsuke soba soup

A Hawaiian language plate placed in the shop

Flowers celebrating the shop's third anniversary were on display.
---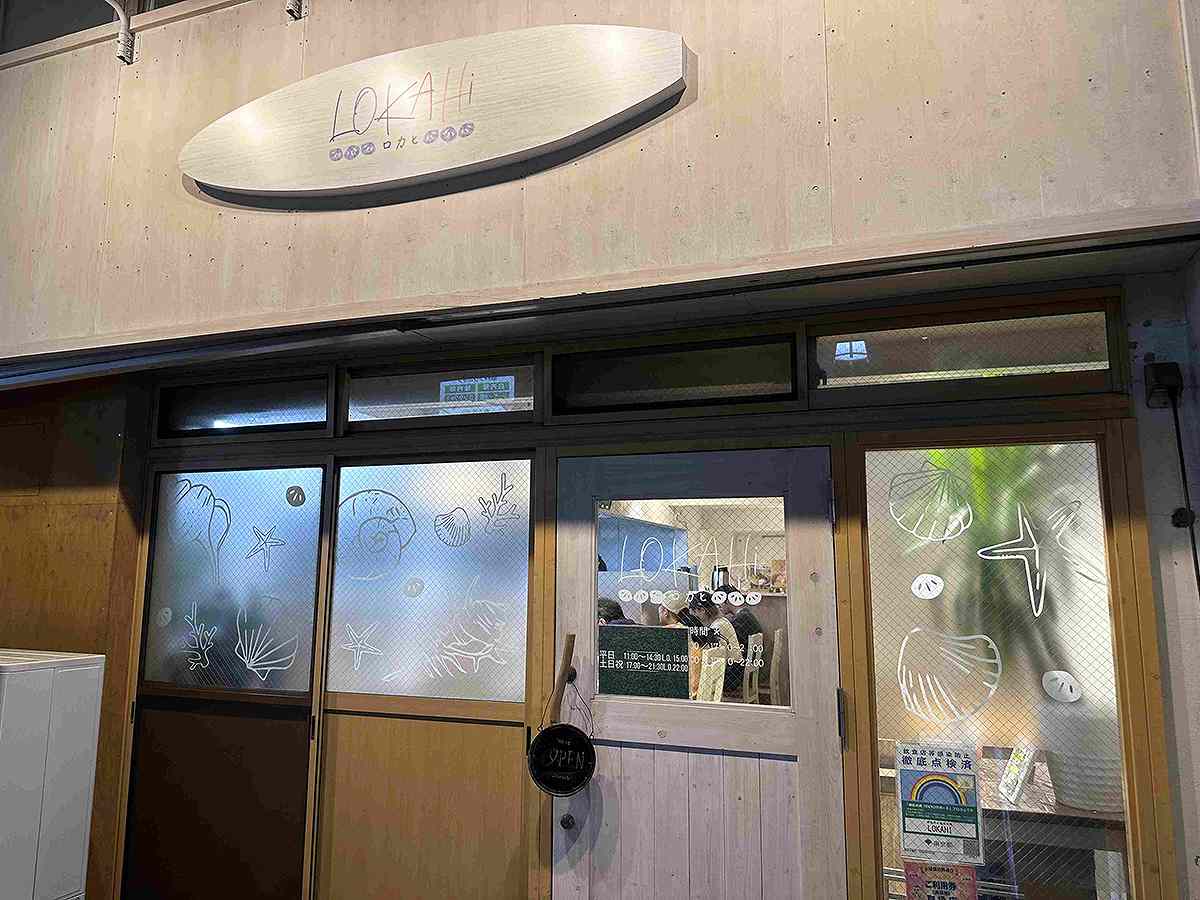 Lokahi
Located at 2-8-8 Kita-Otsuka, Toshima Ward, Tokyo. The shop is for lunch from 11:00 a.m. to 3:00 p.m., and again for dinner from 5:00 p.m. to 10:00 p.m. Closed on Wednesdays. For more information, please visit the shop's X : @LOKAHI34455954 .
---
Futoshi Mori, Japan News Senior Writer
Food is a passion. It's a serious battle for both the cook and the diner. There are many ramen restaurants in Japan that have a tremendous passion for ramen and I'd like to introduce to you some of these passionate establishments, making the best of my experience of enjoying cuisine from both Japan and around the world.
Add TheJapanNews to your Google News feed.