Josui Honten / Simple, elegant presentation belies rich, multi-layered flavors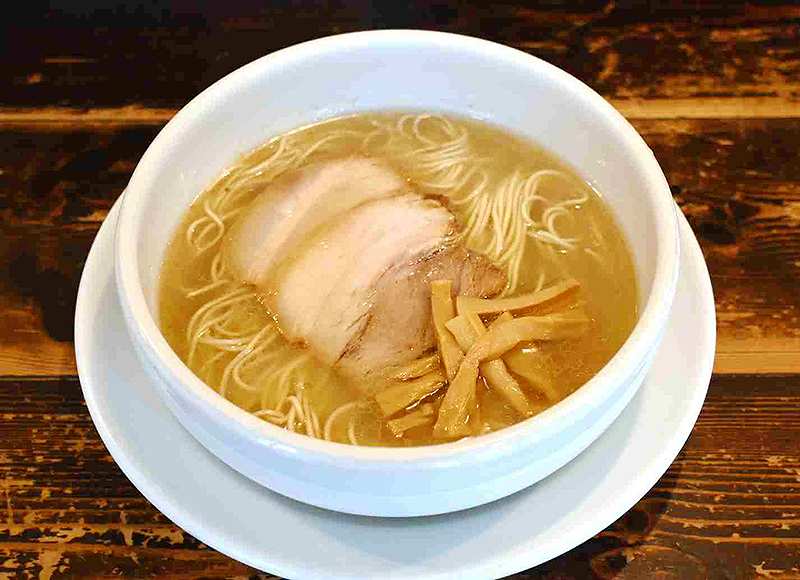 15:45 JST, June 24, 2022
Visiting Nagoya for the first time in 20 years, I saw that work on the maglev Chuo Shinkansen Line, which will link the city with Tokyo, is progressing steadily. Even a corner of the old shopping street at the west exit of Nagoya Station is slowly transforming into a new station.
It struck me that arriving in the city via a 500 km/h maglev train to find an old-fashioned shopping street on the ground level would likely be a novelty, but, upon further reflection, I realized that this part of Nagoya will probably look completely different by then.
After musing about the future, I visited Josui Honten, a popular ramen restaurant in Tokugawa, a historic part of the city. The area is strongly associated with the Owari Tokugawa family, one of the three Tokugawa families of the Edo period (1603-1867).
Josui's main branch is located in Tokugawa, which is closely connected with the Owari Tokugawa family.

Construction work for a new station for the maglev Chuo Shinkansen Line is carried out in front of JR Nagoya Station.

Construction work for a new station for the maglev Chuo Shinkansen Line is carried out in a corner of an old shopping street in Nagoya City.

Skyscrapers soar in front of Nagoya Station.
The spacious shop — about 15 minutes by car from Nagoya Station — features an open kitchen and an L-shaped counter that sits 13. I immediately ordered the restaurant's most popular offering, shio (salt) ramen (¥780).
The dish was prepared by 36-year-old Tomoyuki Maehara, temporarily back in Japan from the United States, where he manages the company's Los Angeles branch. Maehara swung his arm in a dynamic arc as he drained the noodles, and the dish appeared before me quickly. It looked surprisingly simple — the only toppings being two slices of pork belly chashu and some menma bamboo shoots. I surmised that this was a sign of the restaurant's confidence in the product.
Despite its unpretentious appearance, however, the soup was rich and full-bodied, and the umami of the seafood broth (dashi) slowly blossomed in my mouth.
The restaurant is spacious with an L-shaped counter and an open kitchen.

Ramen soup simmering in a large pot

Tomoyuki Maehara preparing ramen

Pouring ramen soup into a bowl

Maehara uses dynamic movements to drain water from noodles.

Maehara adjusts the presentation of noodles.
Company president Takeo Araki, explained; "Our soup is characterized by a single broth made by simmering pork bones, chicken bones and seafood together in a large pot." The locally sourced pork bones are simmered first, followed by the chicken bones, then sodakatsuo (frigate tuna) and mackerel fish flakes, dried sardines, Hidaka kombu (kelp) and other ingredients. The shop makes a new batch of broth each day, simmering the about 30 natural ingredients for 15 hours.
"We don't use any chemical seasonings'" Araki, 45, said resolutely. "We're thoroughly committed to handmade products."
This is probably one of the reasons why the soup, which has a rich umami flavor, is so elegant and does not leave you with a heavy feeling in the stomach. The homemade chashu pork is moist and sweet with a fatty taste, while the menma, also made in-house, is slightly firm and crunchy.
The thin, custom-made noodles are a mix of domestic and imported wheat. Initially, the noodles have a slightly "sharp" texture. However, they absorb the soup quickly, and become well-blended by the latter half of the meal. For those who enjoy a lighter texture, I would recommend eating the noodles quickly.
The simplicity of the shop's shio ramen makes it straightforwardly delicious.
Since I had made a special trip to Nagoya, I ordered another popular menu item, Josui-style Taiwan (¥830). Nagoya is famous for its "Taiwan ramen." Originating at a Taiwanese restaurant in the city, the ramen is made using by stir-frying chili peppers, chives, garlic and minced pork. Interestingly, I learned that the dish, which is served at many ramen shops in Nagoya, is called "Nagoya ramen" in Taiwan.
Josui-style "Taiwan ramen" (¥830) is another of the shop's popular dishes.

An advertisement for the shop's "Taiwan ramen"

Tsukemen also features on the menu.
When it arrived, Josui's Taiwan ramen looked spicy. The soup was hot, but it also had a strong umami taste.
"Our special feature is to fry the minced pork with beef fat," Araki said. "This gives it a potent umami flavor." The spiciness derives from homemade Ra-yu chili oil, while the sliced leeks and chopped onions give the dish a crunchy texture that balances well with the meat.
Los Angeles branch
Company president Takeo Araki (left) and L.A. branch manager Tomoyuki Maehara

Josui Honten menu

All the stores (listed on the back of the menu) are company-operated

A menu of rice dishes to go with the ramen
Araki's working life has centered around the ramen business. He trained at a ramen restaurant in Nagoya and became Josui's proprietor about 20 years ago. He has increased his number of stores based on an "everything is handmade" ethos. He now operates five ramen stores in Nagoya City, each of which serves differently flavored ramen; one of the outlets operates from early morning in a busy market.
Araki says his biggest challenge in recent years was opening a store in Los Angeles. The idea first took root while he was honeymooning in Hawaii, where he first encountered U.S. culture. The notion developed further during a subsequent visit to Los Angeles, where he became even more enamored of the States. "American people have a powerful way of thinking and acting," he said. "The scale [of their thinking] and their boldness is different from that of Japanese people. I was very much inspired [by my interactions with people] and strongly felt that I wanted to open a shop in the U.S."
Exterior view of the Los Angeles branch (courtesy of Josui)

Exterior view of the Los Angeles branch (courtesy of Josui)

Interior view of the Los Angeles branch (courtesy of Josui). The picture of Nagoya Castle was painted by a staff member.

Interior view of the Los Angeles branch (courtesy of Josui).
Three years ago, Araki finally succeeded in establishing a stateside branch, in Los Angeles. As part of his preparations, he spent two weeks of each month in the U.S., using his "broken English" to procure ingredients, research flavors, obtain visas and apply for business licenses. "[Shop manager] Maehara and I rented a one-room apartment and fitted out the shop's interior by ourselves, putting in curtain rails, painting the walls, and so on," he explained. The ramen, which is made in the U.S. and founded on the everything-is-handmade spirit, has been very successful. "It's gone so well, that I'm even surprised myself," Araki said proudly.
The store is currently operated by local employees, but Maehara, who has completed his third round of coronavirus vaccinations, plans to return to the U.S. as early as July.
"America is a multi-ethnic country and people from all walks of life come to eat our ramen," Maehara said. "I'm happy to hear customers say, 'It's delicious.' I feel that ramen is widely accepted in States."
Araki spoke passionately about his vision, saying: "In Japan, I want to refine the flavors without changing current prices, and in the U.S., I want to increase store numbers. In 10 years, I want to have my U.S. business on track."
---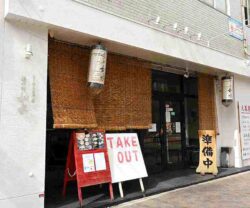 Josui Honten
201 Tokugawa, Higashi Ward, Nagoya City.
Lunch: 11:00 a.m. to 2:30 p.m. Dinner: 5:30 p.m. to 10:30 p.m. (last orders). Closed Tuesdays.
Josui Ramen in Los Angeles: 2212 W. Artesia Blvd, Torrance, CA 90504, United States
---
Futoshi Mori, Japan News Senior Writer
Food is a passion. It's a serious battle for both the cook and the diner. There are many ramen restaurants in Japan that have a tremendous passion for ramen and I'd like to introduce to you some of these passionate establishments, making the best of my experience of enjoying cuisine from both Japan and around the world.
---
Add TheJapanNews to your Google News feed.