Salmon Noodle 3.0 / Innovative eatery redefining the ramen 'norm'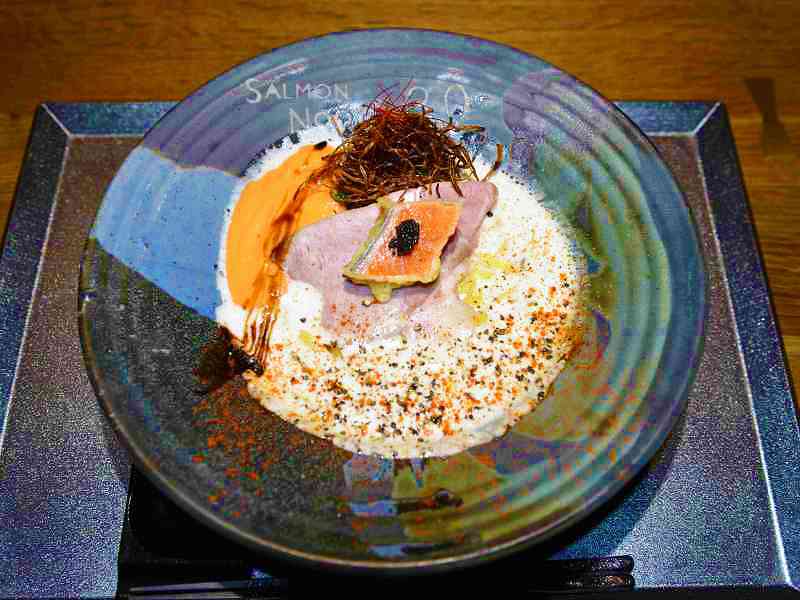 "Ramen with a French feel." So runs the attractive slogan of Salmon Noodle 3.0, a ramen shop that opened January in Kagurazaka, Tokyo.
As the name may suggest, the eatery specializes in salmon-focused ramen dishes. But Salmon Noodle 3.0 is far from a conventional ramen store: It utilizes espuma, or mousse; boasts fried food prepared using a high-tech "molecule-control" cooker; and has a chic interior sets it apart from many "orthodox" ramen outlets.
The shop is located in a small alley off Kagurazaka-dori Avenue, a two-minute walk from Exit 1a of Kagurazaka Station on the Tozai Subway Line. The outlet has a somewhat elongated interior and can accommodate about 20 people at the counter and tables. In Tokyo terms, it feels like a relatively large space, and the atmosphere feels more like a bistro than a noodle-based restaurant.
The chic interior is deep and spacious.

The shop's interior

The shop's exterior

The shop highlights its fusion of French food and traditional ramen.

The shop is located in a small alley off Kaguraza-dori Avenue.
Treats for the eye
At the entrance, I used the touch-screen ticket machine to pay ¥930 for the recommended main dish, shiro (white) salmon. A short time later, the most creatively presented ramen I've ever seen appeared before me in a large, shallow bowl. The manager, 29-year-old Tomoharu Fujioka, explained, "The soup is made from concentrated salmon extract, French consommé soup and soy milk broth."
Thinking, "Ah, that's why it's white and creamy," I took a sip, and the slightly salty, mellow flavor spread out delightfully on my palate. But the best part of this ramen dish was yet to come: The soup was topped with orange carrot espuma, balsamic vinegar, salmon liver-flavored oil, black pepper and cayenne pepper.
A variety of flavors can be enjoyed.

Touch-screen ticket machine

Touch-screen ticket machine

Self-service water
By carefully mixing these different ingredients with the soup, I was able to enjoy various changes in flavor. For example, the balsamic vinegar imparted a slightly sour taste, while the pepper contributed a "tighter" flavor. When eaten by itself, the flavored oil had a bitter taste, but when combined with the soup, it added an element of depth. Adding the sweet and delicious carrot espuma caused the flavor to become even mellower and made the umami more prominent.
"Porcini Salmon" (¥1,030) with porcini mushroom espuma is another of the shop's highlights. The dish's flat noodles were characterized by a glutinous texture derived from durum wheat, which is often used to make pasta, among other foods. (Thin noodles are also available for customers who prefer a more traditional ramen-like experience.)
Fujioka adds salmon extract to a ramen bowl.

Adding soy milk soup

Mixing the soup with a hand mixer

The flat, pasta-like noodles have a glutinous texture.

Noodles are ready

Fujioka prepares fried salmon. The high-tech "molecule-control" cooker can be seen in the background.

The fried salmon is moist inside.

Adding carrot espuma using special equipment
The toppings included sautéed spinach, low-temperature-cooked pork chashu, fried salmon with lumpfish caviar on top, fried green onions and red pepper threads.
It truly was a sight to behold.
The fried salmon was crispy outside and moist inside; its tasty aroma wafted softly into the air. The salmon and green onion were cooked quickly in a state-of-the-art fryer that keeps the food moist and reduces oil absorption, making them gentler on the stomach.
"In essence, this is a full-course French meal condensed into a single bowl of ramen," Fujioka enthused with a smile. "It's also the cheapest French food available in Kagurazaka. I think we're the only shop in the world specializing in salmon ramen. We use the whole fish, from the head to the tail, without wasting a single part."
The dish transcended the commonly held concept of ramen and left a deep impression on me. I savored it to the very end.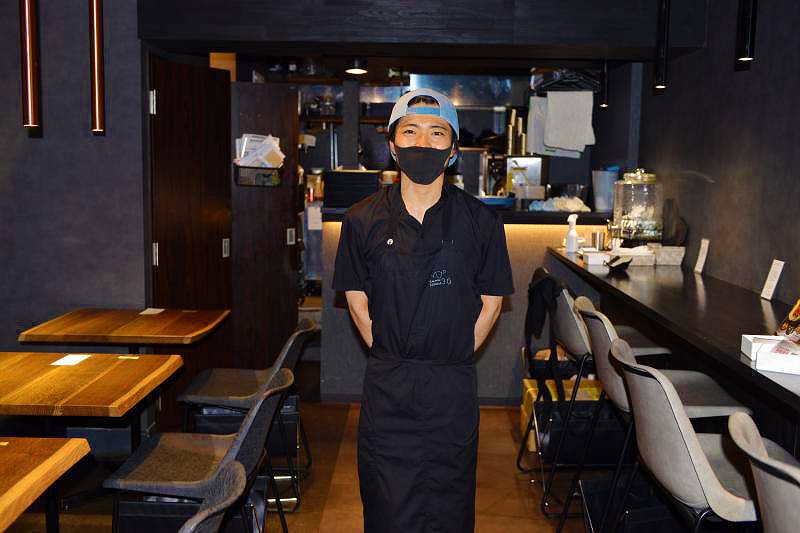 Unusual career path
Salmon noodle 3.0 is operated by En Petit, known for its unique ramen shops in the Tokyo and Osaka areas.
The menu was created by the company's head chef, who trained in French cuisine for 14 years, and features ramen dishes that combine Japanese fare, such as sea bream and oysters, with French cuisine.
The use of "3.0" in the shop name is derived from software-upgrade jargon, reflecting the idea that the shop's ramen is highly evolved and two steps ahead of the competition.
Salmon Noodle 3.0's uniqueness extends to the staff, too, exemplified by Fujioka's unusual career path.
After successfully completing graduate school, he started working for Marubeni, a major Japanese trading company. Around that time, Fujioka — a badminton player since childhood — started eating ramen almost every day. He posted information about his meals on Instagram, eventually covering more than 600 ramen outlets.
On one occasion, he posted about an En Petit-operated shop, and was contacted by the firm's owner. Fujioka says he was drawn to owner's open and generous personality.
Fujioka's love of ramen led him to leave the trading company and join En Petit in January last year. After training at the firm's affiliated ramen shops, he became a manager.
"At the trading company, I was surrounded by lovely people, had good benefits, and would have had a stable life if I'd stayed there," Fujioka mused. "But you only live once, and I wanted to do what I really want to do." These days, Fujioka's former colleagues often drop by his shop to enjoy some ramen.
It seems to me that Fujioka's lively persona is one of the reason's for the shop's popularity — not to mention its wide array of innovative, flavorsome dishes.
The noodles are made at Ohashi Seimen Tama.

Suggestions on the best way to eat salmon ramen can be found on each table.
---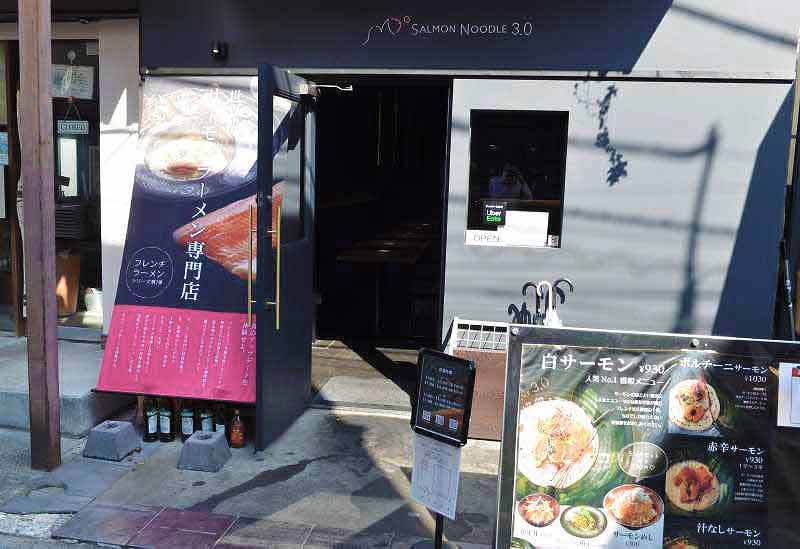 Salmon Noodle 3.0
Located at 6-26 Kagurazaka, Shinjuku Ward, Tokyo.
Lunch: 11 a.m. to 3:30 p.m. (last orders 3:10 p.m.). Dinner: 5 p.m. to 9 p.m. (last orders 8:40 p.m.). No regular holidays.
Instagram: @salmon.noodle3.0
---
Futoshi Mori, Japan News Senior Writer
Food is a passion. It's a serious battle for both the cook and the diner. There are many ramen restaurants in Japan that have a tremendous passion for ramen and I'd like to introduce to you some of these passionate establishments, making the best of my experience of enjoying cuisine from both Japan and around the world.
---
Japanese version
【ラーメンは芸術だ!】フレンチのコースを凝縮、神楽坂の進化系ラーメン「サーモンnoodle3.0」の感動
---